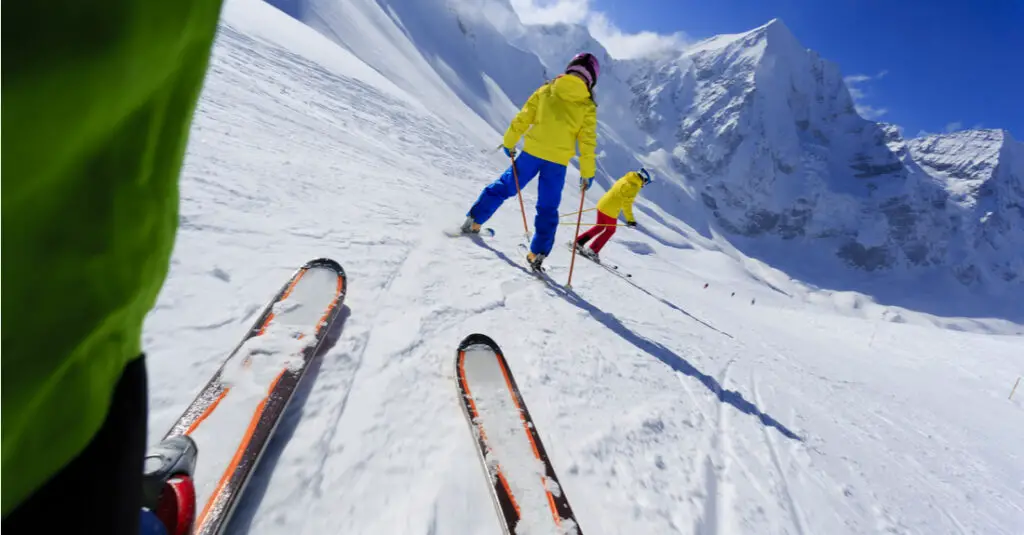 (Credit: gorillaimages/Shutterstock)
Whether you're thinking of going skiing for the first time or you're going back to the slopes after many years off the mountain, taking a professional lesson is hands down the fastest way to success. While you can teach yourself to ski, enlisting the help of a professional will guarantee you pick up the sport more quickly. We asked Deer Valley ski instructor and former Ski and Snowboard Director at Cataloochee Ski Area Mark Rozof for his advice on the best way to learn how to ski. He shared his top tips for maximizing your first days on the slopes.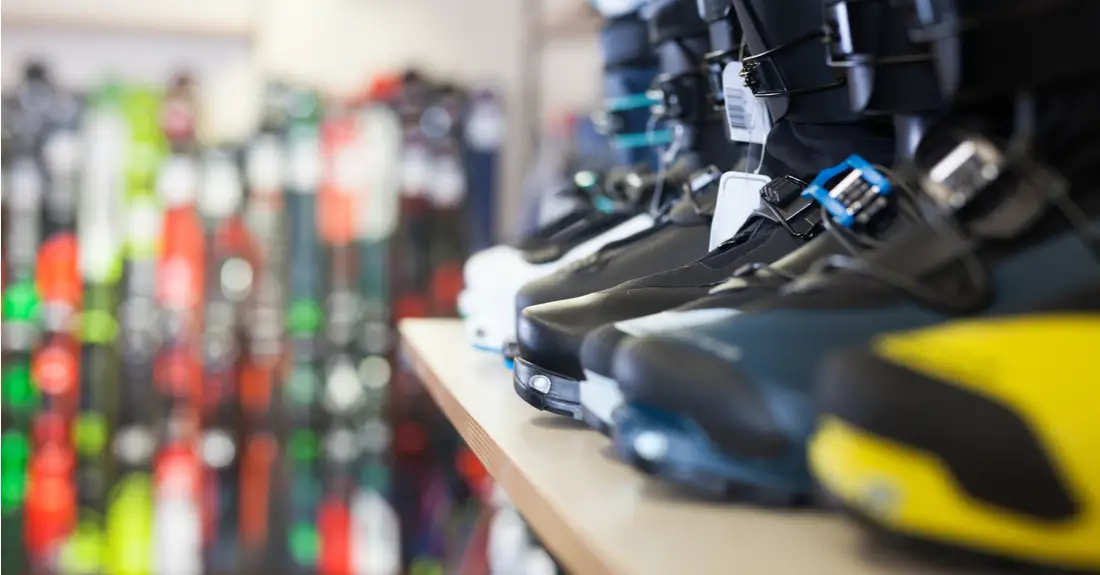 The Best Way to Learn How to Ski: What to Do Before Heading to the Slopes
The process of learning to ski starts before you even set foot on the slopes. Follow these tips to make sure you are fully prepared.
Tip: Don't Buy Ski Equipment Right Away
Before you start to learn how to ski, you need to make sure you have the right equipment, including boots, skis, helmets and poles (although poles for beginners, especially kids are more of a distraction than an aide). You should plan to rent your gear until you're committed to skiing regularly. You may want to look for used equipment, or to mine the end-of-season sales, but you run the risk of buying equipment that doesn't fit. Renting the first few times provides an opportunity to get advice from the rental shop about what size skis and boots you should be wearing, and you can try different ski styles and lengths before going out and purchasing your own.
"One of the biggest mistakes I see new skiers make is wearing boots that are way too big for them. Boots should be snug but not too tight," said Rozof.
However, "If there's one thing you can buy that is worth splurging on, it would be a pair of goggles" Rozof said. "Go to an end-of-the-year sale and buy a nice pair." Fogged up goggles and poor visibility can make it hard to see the contours of the mountain and if you can't see well it's going to be harder to learn. Good ski goggles can also be used for other winter sports like sledding, cross-country skiing or even epic snowball fights.
Tip: Pick Up Your Rental Equipment Early
Rozof recommends renting your equipment off the mountain, and picking it up well before you hit the slopes. "You're more likely to get the attention and expertise you need to make sure your boots fit correctly," he said. Also, "the equipment is generally better maintained, and it's usually cheaper than the rental shop at the ski resort".
The other benefits of renting before getting to the mountain are that you can usually pick up the day before which helps the morning feel more relaxed and you can pick up any extra gear you need to enjoy the day, like hand and foot warmers.
(Prepare for your time on the slopes with our ski trip packing list.)
Tip: Dress for Success on the Slopes
An important part of enjoying the day on the slopes is being comfortable which is why wearing the right clothing is important. "The hardest part for people new to skiing is simply getting out in the cold," said Rozof. "I always contact my private lessons in the morning to let them know the conditions and if they should wear an extra layer, or bring hand warmers."
Your outside layer is going to need to be waterproof. If you are learning to ski in the spring or on a warmer ski day, you can get away with a rain jacket over base layers. Ski jackets and pants can get very expensive, but because they are more about how you look then how you ski, consider borrowing them or purchasing them used if you don't already own them. Wear non-cotton layers, and have good waterproof outer layers. And leave the jeans at home.
Tip: Make Exercise Part of Your Routine
Your balance and fitness level will impact how quickly you learn to ski and your stamina. Do some leg and cardio exercises, like squats and dynamic lunges, that will help you get in shape for the slopes. Here are some exercises that have been proven to help your ski performance.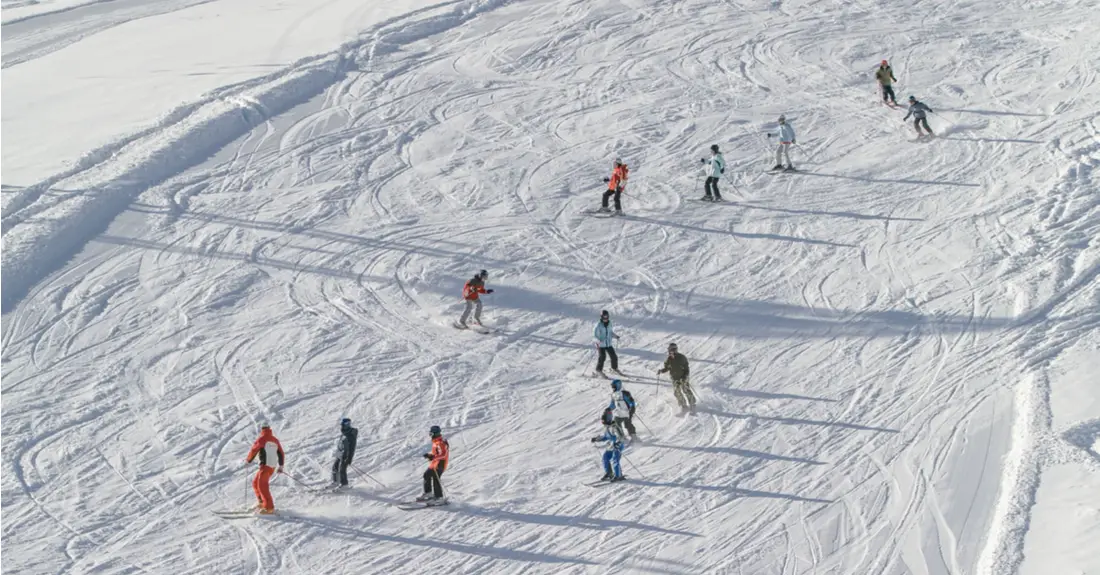 The Best Way to Learn How to Ski: Make the Most of Your Time on the Mountain
Follow these tips to help you learn to ski while optimizing every moment on the slopes.
Tip: Become a Morning Person
Set yourself up for success by starting your day off bright and early. "Giving yourself enough time in the morning is one of the most important things you can do on your first day," Rozof advised. "For example, if the lifts open at 9 am, don't get to the mountain at 9 am. Get there at 8 am." This will help you avoid delays in the parking lot or at the ticket counter.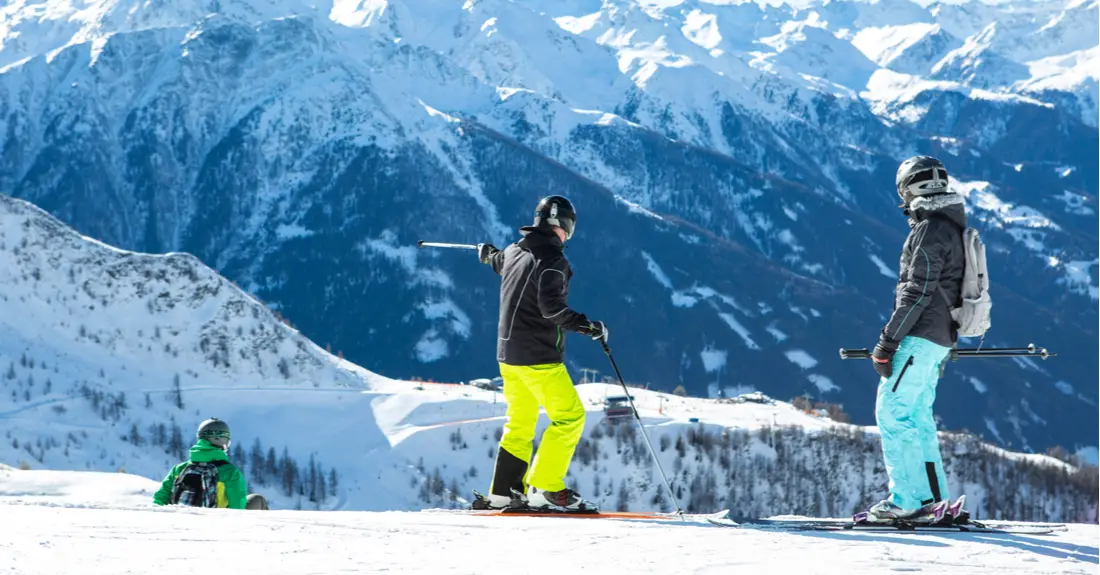 Tip: Take a lesson
It's true that taking a lesson will add some cost to your first trip, but "I always encourage people to get lessons because they are paying all that money and not using all the tools," Rozof explained. "Without [a lesson], you will never know what you're doing wrong and you're likely to build bad habits when teaching yourself."
Group lessons and private lessons are available at most ski resorts. But because everyone learns at different speeds, private lessons will give you the most benefit in the shortest period of time. To get the most out of your lesson, "Let the instructor know if you don't understand something," Rozof advised.
Your instructor can also give you tips on how to make the most of your day on the mountain. Ask them what runs to focus on for your skill level, or even where to grab a bite to eat.
Tip: Choose Practice and Patience Over Glory
After your lesson reinforce what you learned by continuing to ski. "Take a break and recharge, and then go back out and practice," Rozof said. "Mileage is good."
However, avoid the urge to tackle those steeper runs right away. "The biggest mistake most beginners make is going to terrain that is too difficult for their skill level," Rozof warned. While you can give yourself a pat on the back for surviving a more difficult trail, you're likely going to revert to bad habits instead of improving your skills.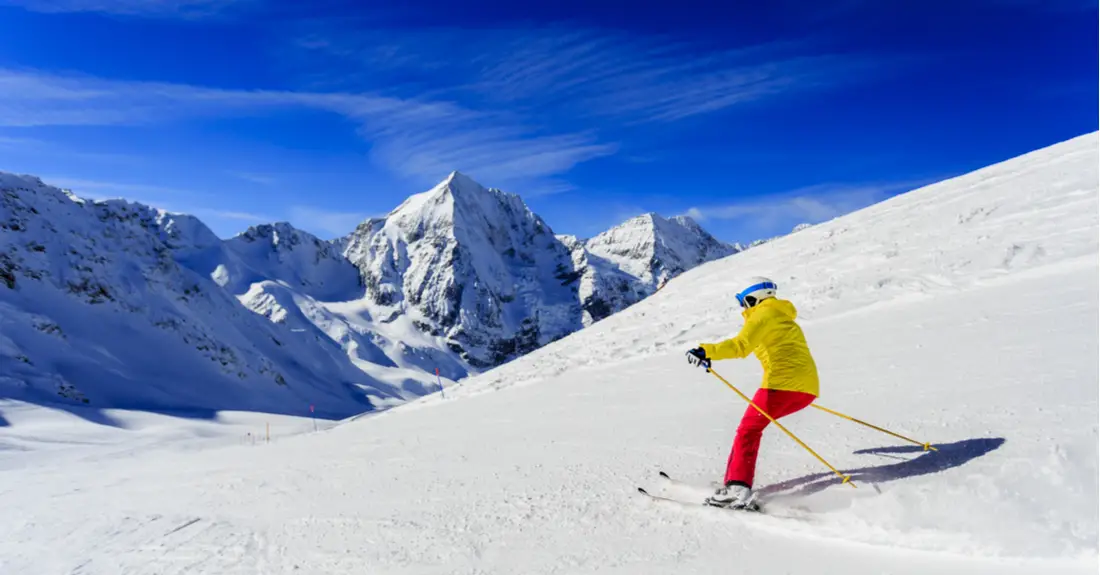 Tip: Listen to Your Body
One of the most important parts of learning anything is enjoying what you're doing. If you're tired, take a break. As your legs grow fatigued, bad habits kick in. Before packing up, tackle an easier run to end your day confidently and focused on good form. That muscle memory will help the next time up.