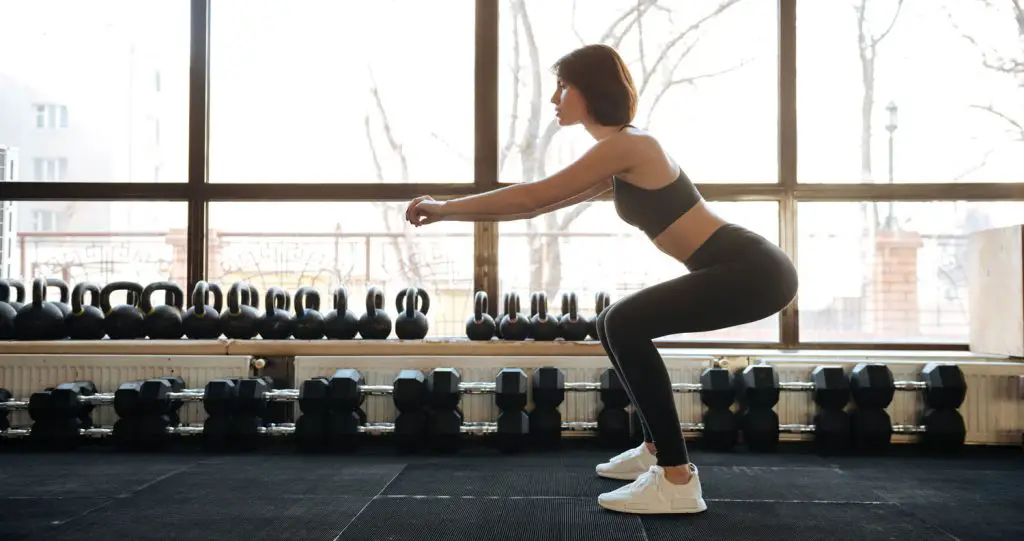 Performing bodyweight exercises like squats can help you get in shape for ski season (Credit: Dean Drobot/Shutterstock)
In the off-season for skiers and snowboarders, it can be easy to let a workout regimen slip when the slopes are far off, but you want to be ready for that first dump of fresh powder. Whether you're a rookie skier or a skilled snowboarder, you need to keep your body top of mind all year round.
"Keeping active throughout the summer is the best way to set yourself up for a successful winter," said Abi Slingsby, an instructor at Steamboat Ski and Snowboard. "A lot of gyms have specially designed ski training programs that are a great way to get your body in shape for the winter; these programs use a lot of squats, lunges and core work."
While structured training programs are a convenient option, skiers and snowboarders can get active in other ways that will help build the necessary strength for the slopes. Anything that involves cardio training and leg work such as bike riding and hiking up and down hills will help build leg power. Slingsby also suggests interval training exercises using your own bodyweight such as push-ups, various leg work, arm raises and sit-ups.
"As in most sports, power comes from the core," said Jonathan Ballou, managing director of Ski & Snowboard Schools of Aspen-Snowmass. "On top of core training, maintaining a reasonable level of both cardiovascular fitness, muscular endurance, and a bit of power will make a person's next trip to the mountains far more enjoyable."
Both skiing and snowboarding require a strong core, hamstrings and hips in order to stabilize your body while going downhill.
Regardless of what you choose to slide on, it's important to train the glutes, said Ballou. Not only is this crucial for building leg power, training your glutes will help protect your back and knees due to constant weight-bearing when you're in action.
Of course, Rome wasn't built in a day.
"The most important thing is to start training early and give yourself at least four to six weeks before you go skiing, as opposed to just one to two weeks," said Nate Hawley, a physical therapist specializing in sports medicine and orthopedic injuries in Highland Park, Illinois.
We've gathered five tips from experts for skiers and snowboarders to help prepare for ski season.
Start training early
It's worth reiterating that you should start your training four to six weeks ahead of when you plan to hit the slopes. "Training for skiing is like a diet; you can't expect to lose 20 pounds in one or two weeks. It will take time to get ready for skiing," said Hawley.
Engage in other sports that strengthen your endurance
When it comes to staying in shape cardiovascular-wise, there are many summer activities you can do to mimic the same movement as skiing and build up your endurance.
Improving or maintaining your cardiovascular fitness is important for the long days of skiing or snowboarding and crucial for those who are outback skiing or snowboarding. Walking up and down hills is one way to do this or try mountain biking in a hilly area to build up endurance for quick bursts, same as in skiing. You can also try using the hill-climber or stair-stepper at your gym.
Strengthen your core
Strengthening your core is essential to pre-season training since a strong core can help prevent back injuries. To strengthen your core, try swimming. Swimming is a full-body exercise where you can also focus on controlling your breathing alongside core stabilization.
In the summer, don't discount water sports such as water skiing or wakeboarding, which can also feel like the same kind of motion or action as skiing and snowboarding, said Hawley.
Other great at-home core-strengthening work-outs include yoga and Pilates. Or, if you prefer to keep things simple, incorporate planks into your daily routine.
Know your vulnerabilities to prevent injury
Slingsby suggests that beginner snowboarders arm work such as push-ups and tricep work since they spend a lot of time trying to get themselves off the ground by pushing with the arms.
Skiers are particularly susceptible to knee injuries, so strengthening quadriceps and hamstrings are vital.
"Adding in a dose of stretching or yoga is recommended to keep the joints and limbs flexible, resilient, and injury-free," said Ballou.
Help your body adjust to higher elevations
If you'll be in an area of high elevation, be mindful of the impact the shortage of oxygen will have on your performance. If not properly prepared or acclimated, you can get altitude sickness, which is a sickness caused by the ascent to high altitude and a resulting shortage of oxygen.
Hawley suggests training with an altitude mask, a device that inhibits your intake of air, in order to strengthen your respiratory system so when you reach those high altitudes, your lungs are better equipped for the change in pressure.
Since your body is working harder at higher elevations, staying hydrated will help your body recover faster. Avoiding alcoholic drinks before and during skiing is also a good idea, since alcohol dehydrates your body. Emphasis on the "après" ski!