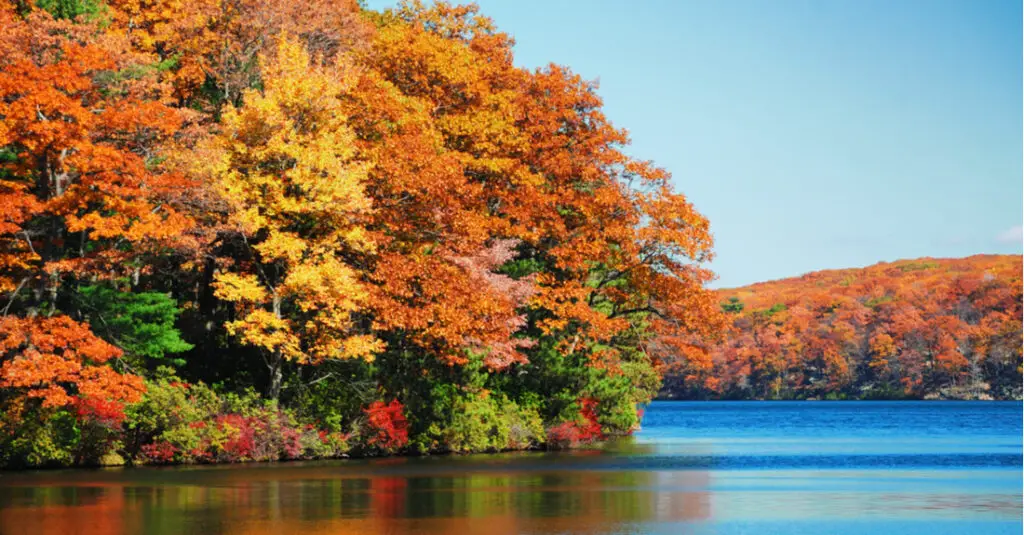 (Credit: Songquan Deng/Shutterstock)
With a crisp chill in the air and the smell of pumpkin spice comes a desire to witness the fall leaf transformation. The North East has earned reputations for its alluring displays of colorful landscapes. But regions around the United States are touting their own fall symphony of colors. We've curated a list of the best fall foliage locations in the U.S. Whether your autumnal excursion includes a scenic drive, a hike, or a kayaking trip, you can count on awe-inspiring autumnal views.
Stowe, Vermont
Vermont is known for its fall foliage, but there's a reason why Stowe has been dubbed the "Fall Colors Capital". Sugar maples dominate the landscape, boasting vibrant hues of red, orange and gold once the weather begins to cool. Experience the colorful landscape on one of the area's hiking trails, or on a gondola ride at Stowe Mountain Resort.
Ozark National Forest, Arkansas
The varying array of trees within Ozark National Forest showcases its colorful fall palate. From golden hues of oak and hickory trees, to reds and oranges of maples, the region is blazing with vibrant colors. Scenic drives are a popular way to appreciate the fall foliage, whether exploring main roads like State Highway 62/412 or countless sleepy country roads.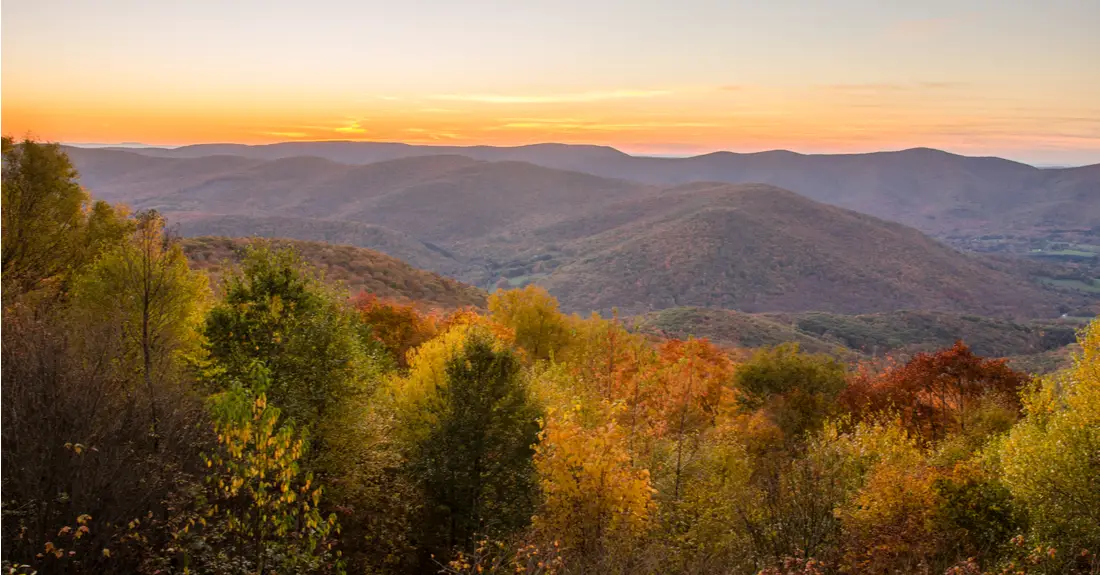 Lenox, Massachusetts
Since the foliage season begins in the western part of Massachusetts, the Berkshires witness this seasonal transformation first. Home to the Tanglewood music venue and Shakespeare & Company theater group, Lenox has long been a favored travel destination. One of the best spots to immerse oneself in the spender of fall is Kennedy Park. With miles of easy hiking trails and a hilltop gazebo, the park offers breathtaking views of the changing season.
Lake Ann, Washington
The Pacific Northwest delivers its own impressive display of fall colors. Leaf-peepers flock to Lake Ann, one of Washington state's most iconic mountain lakes. Hike the 6.4–mile Heather–Maple Pass Loop to see the fall colors reflected on the lake.
Wisconsin Dells, Wisconsin
Located along the Wisconsin River, Wisconsin Dells is a glacially formed gorge hosting some of its most picturesque foliage. The region provides many ways to celebrate the colors of fall. Go on a leaf-peeping excursion, or sample some of the region's best beers at the Dells on Tap festival.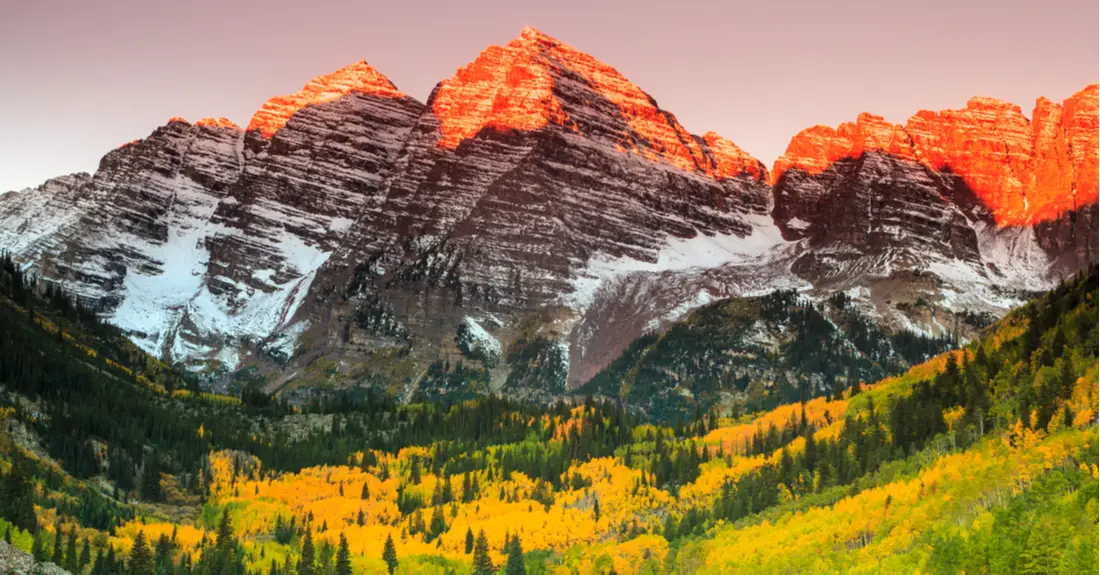 Aspen, Colorado
Pair the golden hue of aspen leaves with snow-capped mountains and clear blue skies, and you'll see why Aspen made this list. The best place to experience Colorado's fall colors may be the state's most photographed mountain pair, Maroon Bells. These dramatic mountains, with a glacier lake at their base, create a picture-perfect scene.
Eastern Shore, Maryland
Dotted with historic towns and stunning vistas, Maryland's Eastern Shore has earned a reputation as a prime leaf-peeping destination. Take a drive on Chesapeake Country National Scenic Byway, or visit Tuckahoe State Park. Both locations offer plenty of biking, hiking and horseback riding amid the fall colors.
Natchez Trace State Parkway, Tennessee
Venture just outside Nashville on the Natchez Trace State Parkway to experience the best of Tennessee's fall foliage. Just off the parkway, the Double Arch Bridge over Birdsong Hollow provides the perfect backdrop for leaf viewing. Stop off in the historic town of Franklin to celebrate the season at Pumpkinfest.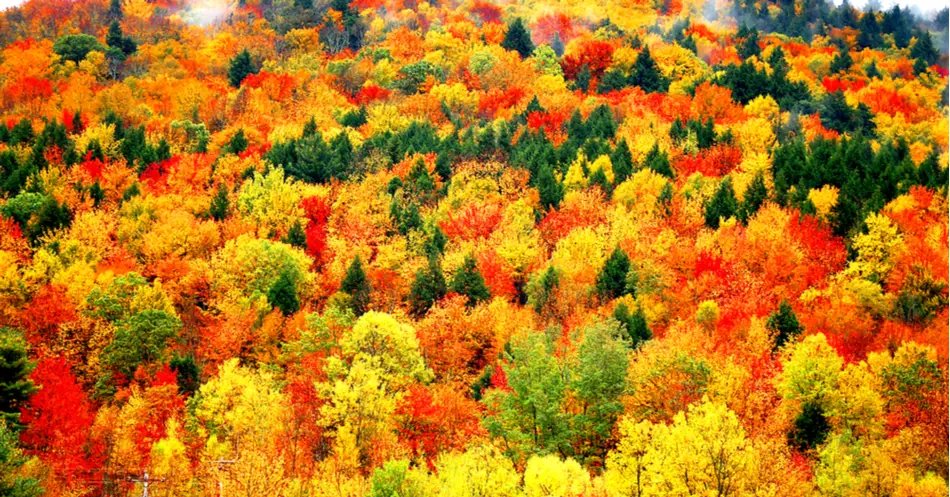 Catskill Mountains, New York
A popular New York retreat, the Catskills come alive each autumn with a vibrant array of brilliant colors. There's plenty to see and do, from zip-lining at Hunter Mountain and hiking at Mount Utsayantha. You can also check out all festivals like Oktoberfest and the German dance celebration, Bauernball. Be sure to visit the state's largest cider house, Bad Seed Cider Company, as the region's rich, fertile soil is ideal for apple crops.
Taos, New Mexico
Nicknamed the "Land of Enchantment" Taos' landscape pops with color come autumn. One of the best ways to experience the changing leaves is a scenic drive on Enchanted Circle Scenic Byway. The route takes you through resort regions of Taos, Eagle Nest, Angel Fire and Questa. The yellow-, red- and orange-hued mountains of Taos Ski Valley are another local hot spot for leaf-peeping.