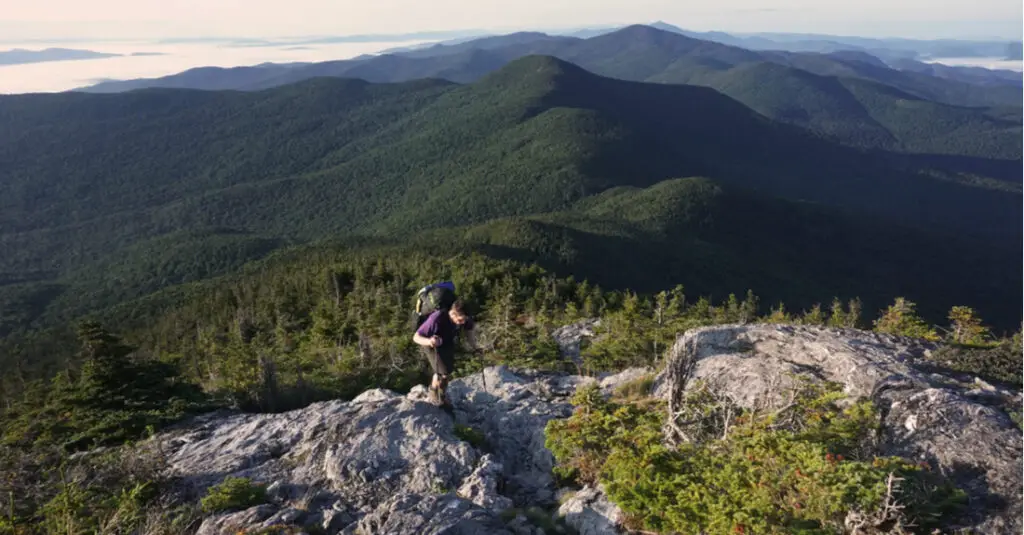 (Credit: Brothers Welch/Shutterstock)
If you're looking to immerse yourself in nature, Vermont's unspoiled landscape won't disappoint. Journeying to mountain peaks while passing cascading waterfalls, and expansive views of rolling hills can become a reality by scouting out the state's most well-trotted trails. We've put together a list of 10 awesome hikes in Vermont, so don a pair of hiking boots and enjoy some fresh air.
Monroe Trail
Located within Camel's Hump State Park, Camel's Hump is touted as one of Vermont's highest peaks. The Monroe Trail is a well-known Green Mountain hiking destination and one of the state's most heavily trafficked trails. The six-mile out-and-back trek delivers epic panoramic views reaching into Canada. With steep inclines and challenging terrains, the Monroe Trail is rated as moderate. As you ascend the peak, the trail connects to Long Trail for the final leg of the journey. Though autumn is unmistakably prime time in Vermont, the views from the summit provide striking scenery in any season.
Deer Leap Overlook Trail
Instagram-worthy vantage points from Deep Leap Mountain's summit, are the payoff on this short, moderate hike near Killington, Vermont, home of the East Coast's largest ski resort. This 1.9-mile out-and-back trail starts off easy, but quickly ramps up the challenge with steep, rocky terrain. From Deer Leap Mountain's summit, a short descent to the rocky overlook concludes the trek with epic scenic views.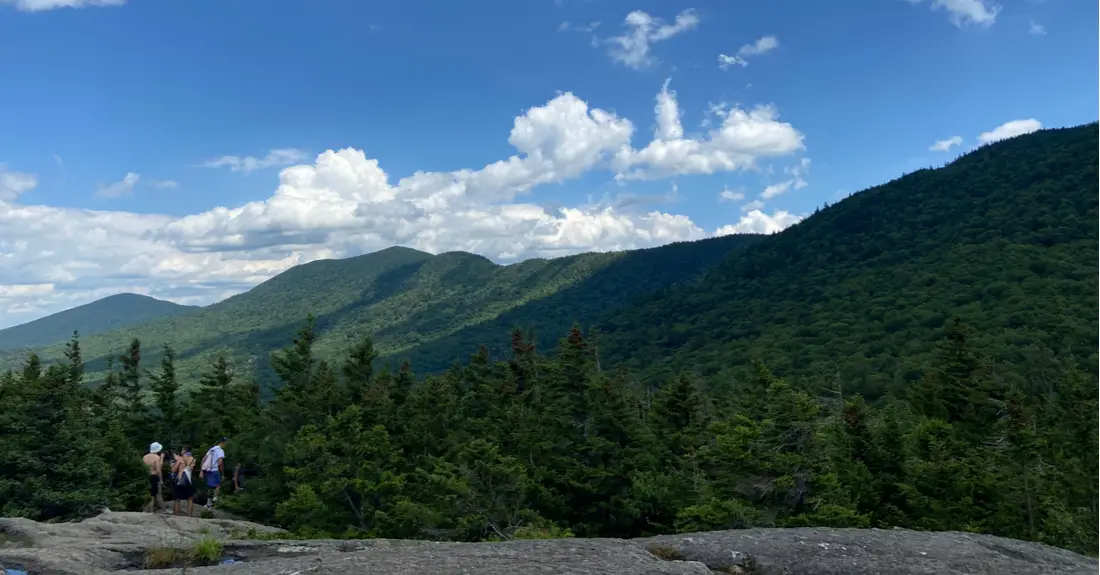 Stowe Pinnacle Trail
Stowe Pinnacle Trail starts off flat, but don't be fooled: this moderate hike packs plenty of vertical climbs. Halfway up this 3.5-mile trek, an overlook boasts picture-perfect vistas of Mount Mansfield, home to some of Stowe Mountain Resort 's most popular ski runs. After climbing the steep rock staircase to the summit for an awe-inspiring view, you'll head back down the mountain on the same route.
Sterling Pond Trail
The sparkling waters of Stirling Pond are the highlight of this 2.3-mile round-trip expedition up Mount Mansfield. Pack the fishing pole and bait as the pond is well stocked with trout. Hike and fish amidst the beauty of the Green Mountains before heading back down the same trail.
Mount Mansfield Loop Trail
With a smooth-surfaced rock wall and a six-foot chasm to leap, Mount Mansfield Loop Trail is best suited for thrill-seeking hikers. Resembling the shape of an elongated face, Mount Mansfield boasts the highest peak in Vermont. Underhill State Park is where the adventure begins on this demanding 7.3-mile loop.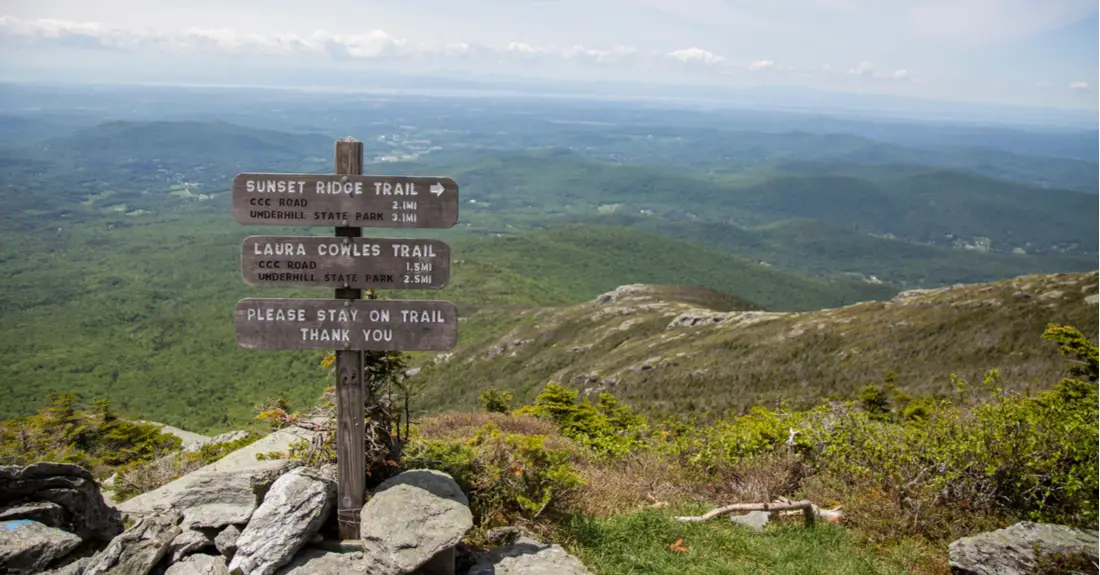 Sunset Ridge and Long Trail Loop
If the Mount Mansfield Loop proves too challenging, experience the state's highest peak via Sunset Ridge and Long Trail Loop. Although it's rated difficult, this hike features a more gradual climb and less challenging terrain than Mount Mansfield Loop Trail. Much of this 5.5-mile trail is above the tree line, delivering impressive imagery of Champlain Valley and Adirondacks. Sunset Ridge intersects Long Trail Loop near its summit. Long Trail Loop takes you on a five-mile journey around the ridge before making your decent back down Sunset Ridge.
Lye Brook Falls Trail
Built on a former logging railroad, Lye Brook Falls Trail, near Manchester Center, takes hikers on a 4.7-mile round-trip trek to one of Vermont's highest waterfalls. Views of the water cascading down a series of rocky steps are your reward for tackling this hike. Snow melt raises the area's water levels for a more powerful current. For that reason, spring is the best season to hike this family-friendly, moderately challenging trail.
Bucklin Trail
This 7.2-mile hike takes you up the west face of Killington Mountain. Although it starts off easy, Bucklin Trail is rated difficult and is best suited for experienced hikers. Presenting sharp turns and steep inclines, the last half mile of the trail is challenging. You'll encounter a steep rock staircase that can difficult to navigate, especially in inclement weather.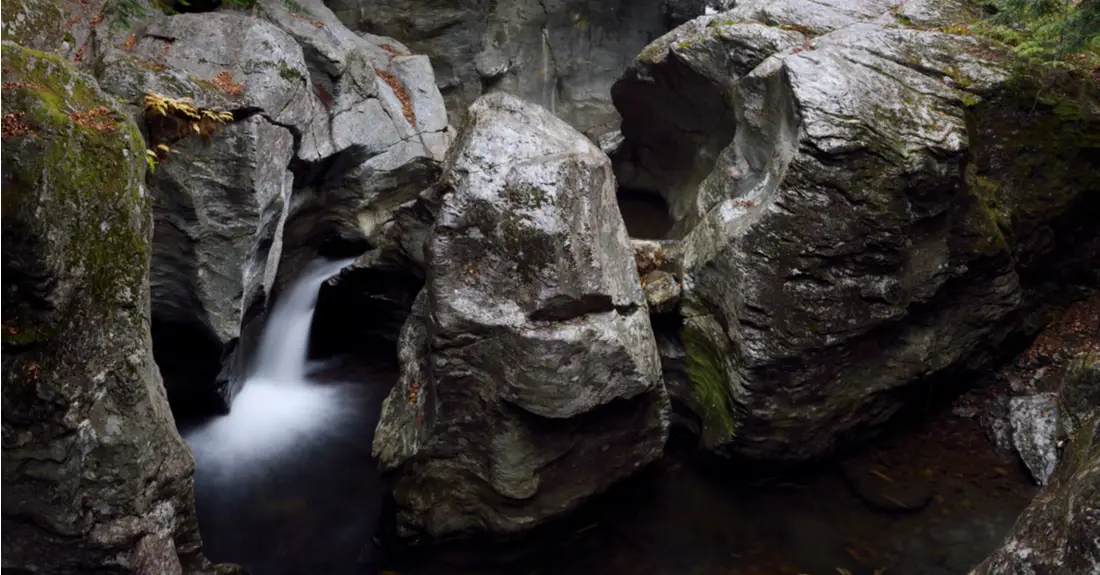 Bingham Falls Trail
Your young ones will develop a love for the outdoors on this half-mile hike that quickly delivers you to Bingham Falls. With mostly flat terrain, the trail is ideal for all skill levels and small children. Located within Smugglers' Notch State Park, and near Smugglers' Notch Resort, the trail traverses small bridges, leading to a refreshing swimming hole.
Robert Frost Interpretive Trail
The town of Ripton, Vermont, was the inspiration for New England's most iconic poet. From 1939 to 1963, Robert Frost spent summers at his Green Mountain cottage. Here, he roamed the paths that now make up the Robert Frost Interpretive Trail. Take a walk in the poet's footsteps on this one-mile journey through the woods. As you travel this boardwalk and gravel path, you'll find inspiration by Frost's poetry inscribed on plaques.