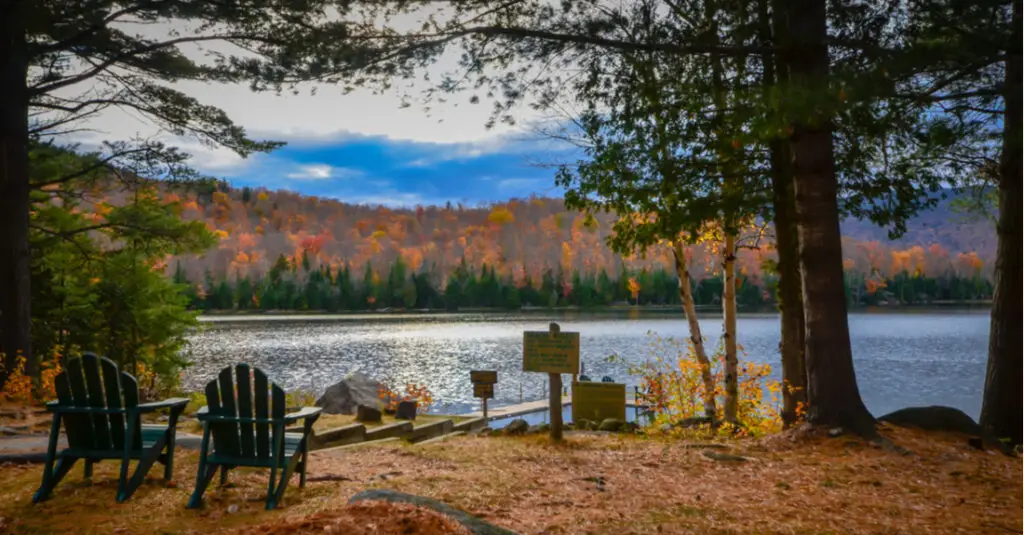 (Credit: Sandra Foyt/Shutterstock)
Many out-of-state visitors think New York begins and ends with New York City, but they couldn't be more wrong. Upstate New York, which refers to parts of the state north of New York City, contains vast stretches of wilderness ideal for all types of recreational activities. Encompassing more than 50,000 square miles from the Great Lakes to the Atlantic Ocean, New York boasts a thriving state park system that features towering waterfalls, dramatic gorges and some of the oldest rocks on the planet. To help you plan your next outdoor adventure in the Empire State, we've identified the best state parks in Upstate New York.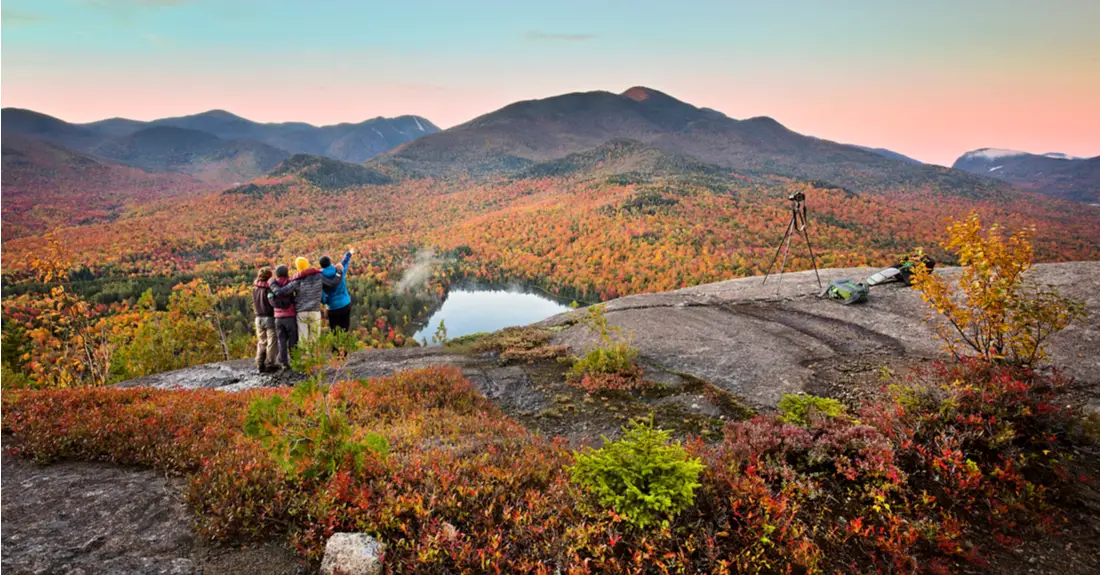 Adirondack Park
The Adirondack Mountains do not form a range like the Rocky Mountains, but rather a dome comprising roughly 100 peaks spread across a 160-mile radius. This region contains rocks that were deposited here more than 1 billion years ago. A continental collision shaped the rocks into a high plateau, which was then carved gradually by glacial movement. Today, Adirondack Park draws outdoor enthusiasts looking to swim or fish in its many pristine lakes, paddle along the Northern Forest Canoe Trail, or ski at Whiteface and Gore Mountain.
Niagara Falls State Park
This Upstate New York state park's main attraction needs no introduction. More than 3,100 tons of water plummet from the summit of these iconic falls every second, making for an incredible spectacle. You can experience Niagara Falls in all its glory from a Maid of the Mist boat tour, or enjoy a behind-the-scenes view from the Cave of the Winds. But the waterfalls aren't the only reason to visit Niagara Falls State Park. See what else this 400-acre natural space has to offer with a hike to the Niagara Gorge, or learn about America's oldest state park's electric history with a visit to the ruins of the old Schoellkopf Power Plant.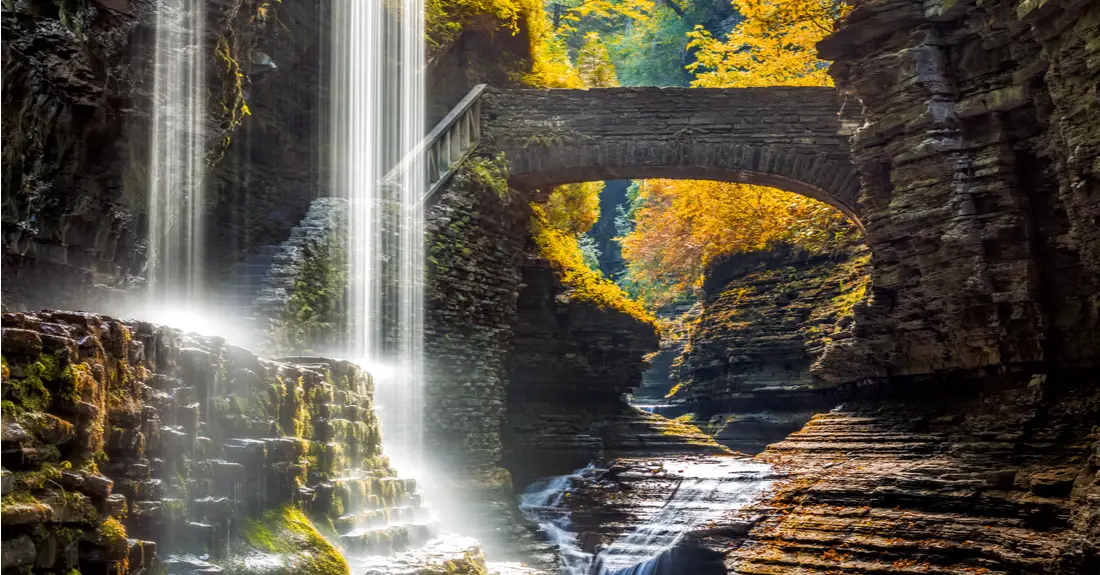 Watkins Glen State Park
The charming village of Watkins Glen in New York's Finger Lakes Region is known for two things: NASCAR racing and dramatic gorges. Although small in size, Watkins Glen State Park wows hikers with views from its two-mile-long Gorge Trail. The trail, carved into the 200-foot cliffs, follows the glen's stream as it cascades over 19 waterfalls, dropping a total of 400 feet. The park also has an Olympic-size swimming pool, and in the wintertime, its dramatic landscape lends itself to snowshoeing and cross-country skiing.
Taughannock Falls State Park
Located just north of Ithaca, in the Finger Lakes Region, Taughannock Falls State Park houses one of the most stunning natural attractions in the Northeast. The towering Taughannock Falls stand three stories taller than Niagara Falls, with water carving a 400-foot-deep gorge before cascading over a 215-foot-high ledge. To view the falls from the base, follow the short, easy Gorge Trail. If you prefer the view from above, the North and South Rim trails, both of which measure just over a mile, offer a more challenging trek. The park also provides direct access to Cayuga Lake for swimming, boating and fishing.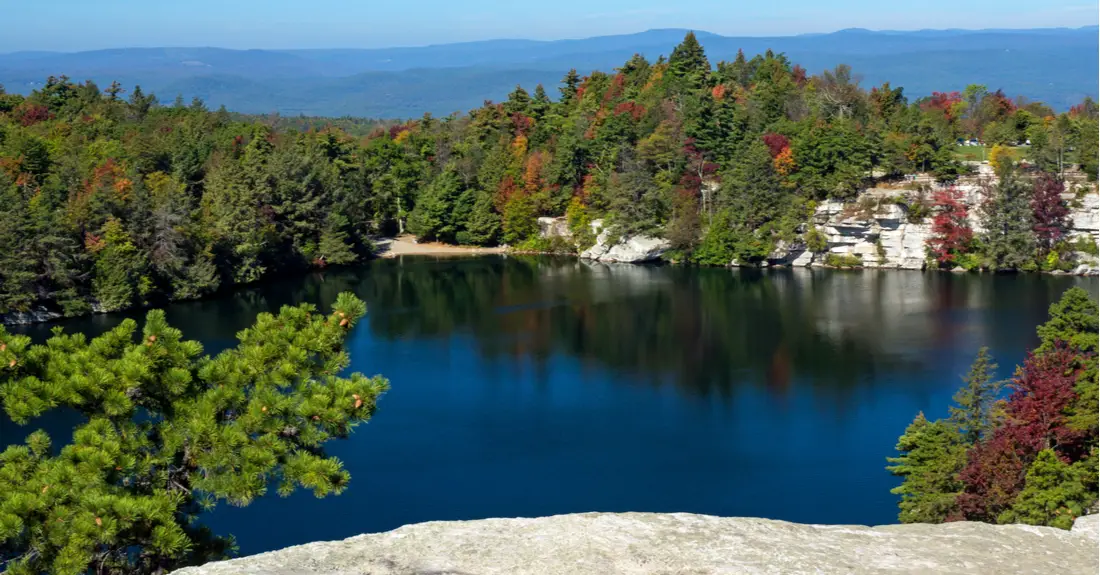 Catskill Park
Sprawling across more than 700,000 acres, Catskill Park was established in 1885 to preserve the beauty of Upstate New York's Catskill Region. Since then, this beautiful part of the state has beckoned to New York City residents looking for a summer getaway. In addition to luxurious hotels and fine dining, the Catskills also boast epic mountain hiking trails. You'll also find thrilling ski and snowboard runs at Hunter Mountain, in the northern section of the mountains. If you prefer a more relaxing day outdoors, the Catskill Region is widely considered to be the birthplace of fly fishing, so don your waders and cast a line.
Minnewaska State Park Preserve
Just west of Poughkeepsie, Minnewaska State Park Preserve offers miles of hiking, cross-country skiing and biking paths that lead intrepid visitors to awe-worthy natural attractions. This 23,000-acre state park houses numerous waterfalls and several crystal-clear sky lakes ideal for swimming and boating. There are also thick hardwood forests to explore, and dramatic cliff sides boasting beautiful views of the Shawangunk Mountain ridge. For spectacular views, make the trek to Sam's Point at the southern end of the park. Here, you'll find trails leading to the stunning, 187-foot Verkeerder Kill Falls, as well as the beautiful Lake Maratanza.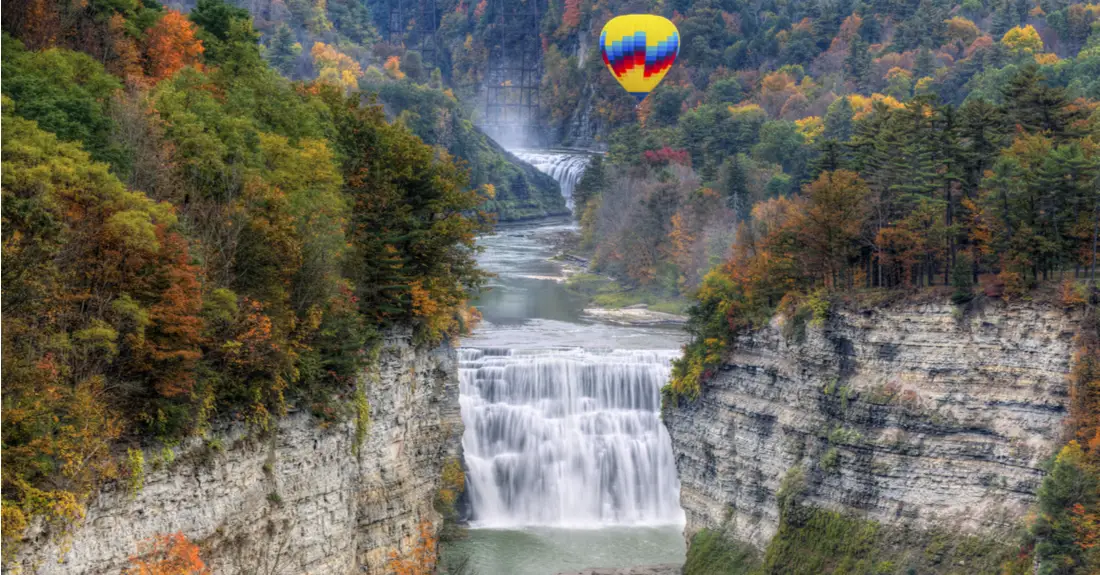 Letchworth State Park
Home to the "Grand Canyon of the East", Letchworth State Park flanks the Genesee River for about 17 miles. In this part of the state, just south of Rochester, the river has carved a deep gorge, with cliff walls reaching 600 feet in some places. Hikers, bikers and horseback riders can follow the river as it tumbles over three beautiful waterfalls. Those who prefer to be on the water can enjoy an adrenaline rush while whitewater rafting, or a more peaceful paddling experience from a kayak. Letchworth State Park also houses the Humphrey Nature Center, where you can learn more about the park's environment.
Saratoga Spa State Park
Not every park needs to cater to a wilderness adventure. If you're looking for a more relaxing way to experience the Empire State's natural beauty, plan a trip to Saratoga Spa State Park. Located in Saratoga Springs, a town famous for horse racing, this Upstate New York state park features natural mineral hot springs ideal for soaking your stress away. The park also contains several cultural attractions, including the renowned Saratoga Performing Arts Center and the Saratoga Automobile Museum. If you do feel the need to be more active, you can practice your swing on the golf course, or stretch your legs along one of several hiking trails.
Other great state parks in Upstate New York to explore: