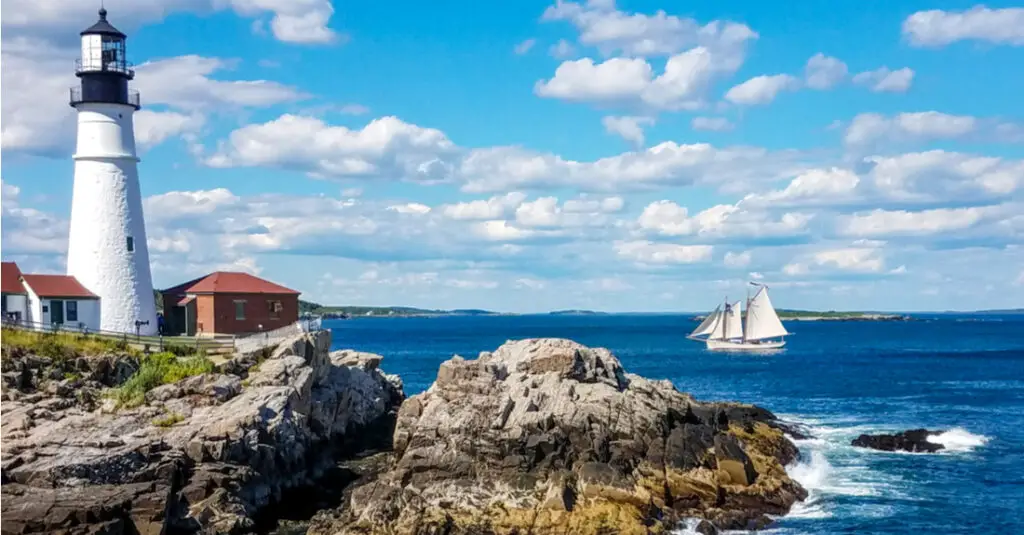 10 Best Day Trips in Maine (Credit: Arlene Waller/Shutterstock)
Nicknamed "Vacationland," Maine offers a wealth of day trip options. From the rocky coastline of Acadia National Park to quaint fishing villages and tranquil beaches, there's plenty to see and do. Check out our list of the best day trips in Maine and be sure to hit the lobster shacks along the way.
Stroll Coastal Maine Botanical Gardens
Flowering tulips and colorful hydrangea make Coastal Maine Botanical Gardens, New England's largest botanical garden, a popular day trip destination. Witness the caterpillar transformation within the Butterfly House or admire the seaside views on the garden's tidal shoreline.
Hit the Beach in Kennebunkport
Kennebunkport boasts some of Maine's most sought-after beaches. Parson's, Colony and Mother's Beach are among the most popular in this picturesque beach town. Miles of shoreline and rivers also make Kennebunkport ideal for water activities like kayaking and stand-up-paddle-boarding. Enjoy time on the sea with a whale watching or deep-sea fishing excursion.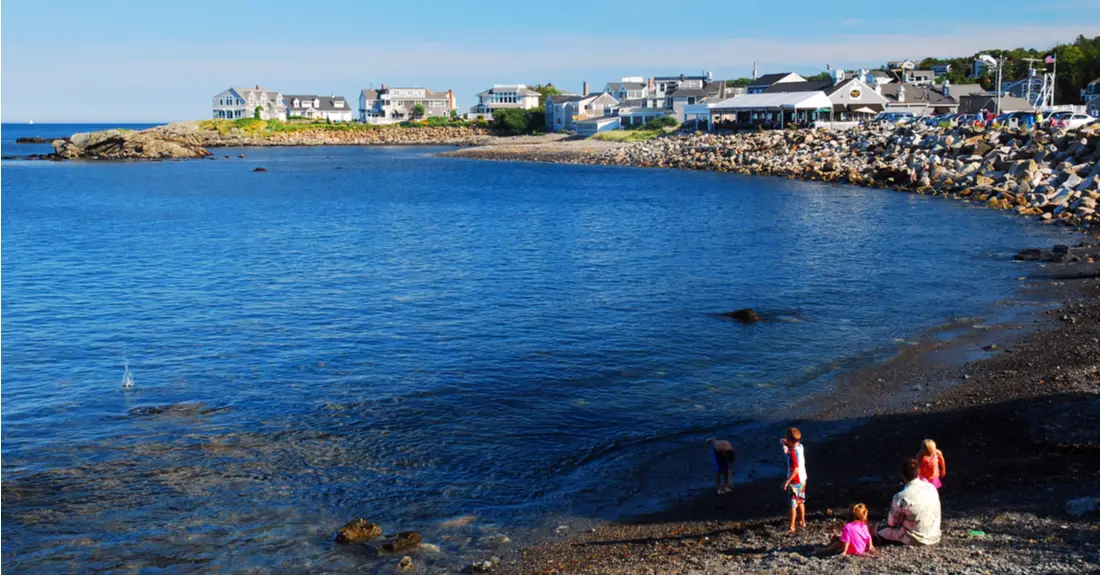 Walk Marginal Way in Ogunquit
Spend the day in the resort town of Ogunquit and walk Marginal Way, a paved path along Maine's rocky coastline. The promenade begins on Shore Road and ends at the charming fishing hamlet of Perkins Cove. After walking the 1.25-mile route, relish in New England's charm by visiting Ogunquit's boutiques, restaurants, art galleries, or the summertime playhouse.
Be a Foodie in Portland
Portland's food scene goes far beyond chowder and lobster rolls. The city is fast emerging as one of the country's top culinary destinations. This historic seaside town boasts a mix of trendy eateries. Dine at Fore Street Restaurant for an eclectic mix of wood-oven roasting entrees or the Honey Paw where communal tables come piled with Asian-inspired dishes. Chef Paolo Laboa serves the best in Northern Italian dishes at Solo Italiano.
Shop in Freeport
Along with its charming downtown and calming views of Casco Bay, Freeport has become well known for its shopping. The town's biggest draw is the L.L. Bean Flagship Store. It's easy to locate by the giant boot out front, and there's even an aquarium inside. Freeport offers a variety of designer-name outlets, boutique shops, and eateries.
Cruise Sebago Lake
Referred to locally as simply "The Lake," Sebago Lake is the deepest in New England. The best way to appreciate this pristine lake is from the water. Take a cruise on the Songo River Queen II, modeled after the Mississippi River Paddle Wheelers. Add some adventure to the day by renting jet skis or wave-runners.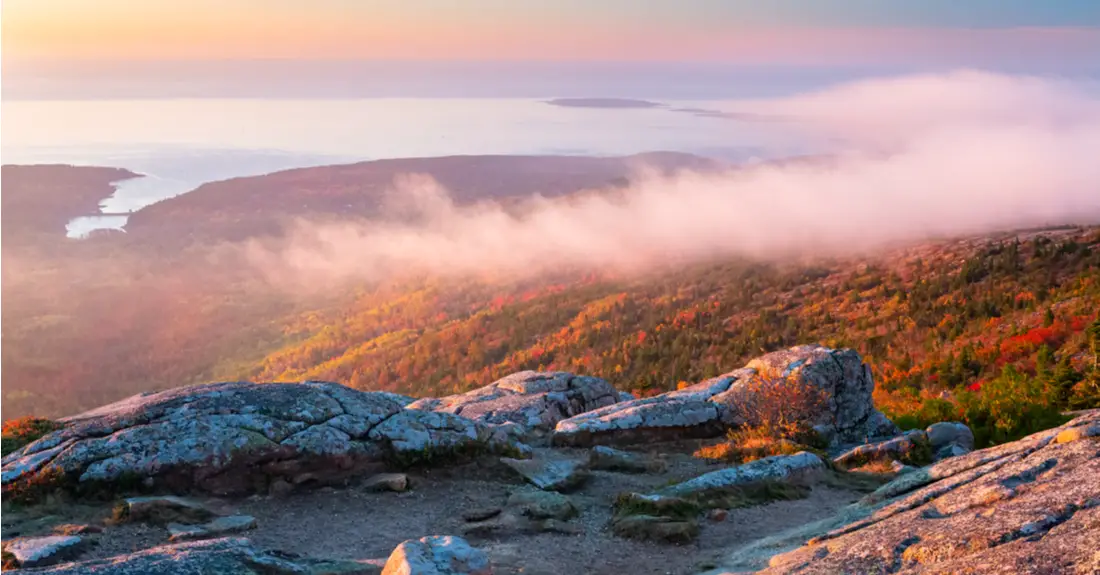 Rise with the Sun in Acadia National Park
Get an early start to your day-tripping by witnessing the first sunrise in the country atop Cadillac Mountain within Acadia National Park. It's an easy pilgrimage to the viewing area from the parking lot on Cadillac Summit Road. Sunrise varies from day to day, so check the time before planning your trip so you don't miss this epic event. Spend the rest of the day exploring the park on Drive Park Loop Road. This scenic route provides a good overview of the area. There's a medley of quaint towns to explore, including Bar Harbor. End the day with a breathtaking sunset from the rocky cliffs of Bass Harbor Head Lighthouse.
Bike Past Lighthouses on Casco Bay
Maine is known for its iconic lighthouses, and the Casco Bay region is home to many of the state's most popular beacons. Spend the day on a biking tour to some of the most postcard-worthy landmarks. Spring Point Ledge Lighthouse and Portland Breakwater Lighthouse, better known as Bug Light, both provide fantastic photo ops. Perched on a rocky foundation is Ram Island Ledge, built in 1905. Portland Head is one of the most photographed lighthouses in the state, and Two Lights Lighthouse shines the brightest beam in Maine.
Experience Moxie Falls
Moxie Falls' remote location doesn't deter visitors. Located in Somerset County, Moxie Falls has a vertical drop of over 90 feet, making it New England's highest waterfall. The falls are easily accessible with a relatively easy 1.7-mile hike from Moxie Falls Trailhead. The area also offers exhilarating white-water rafting, not to mention some of the best autumn leaf-peeping around.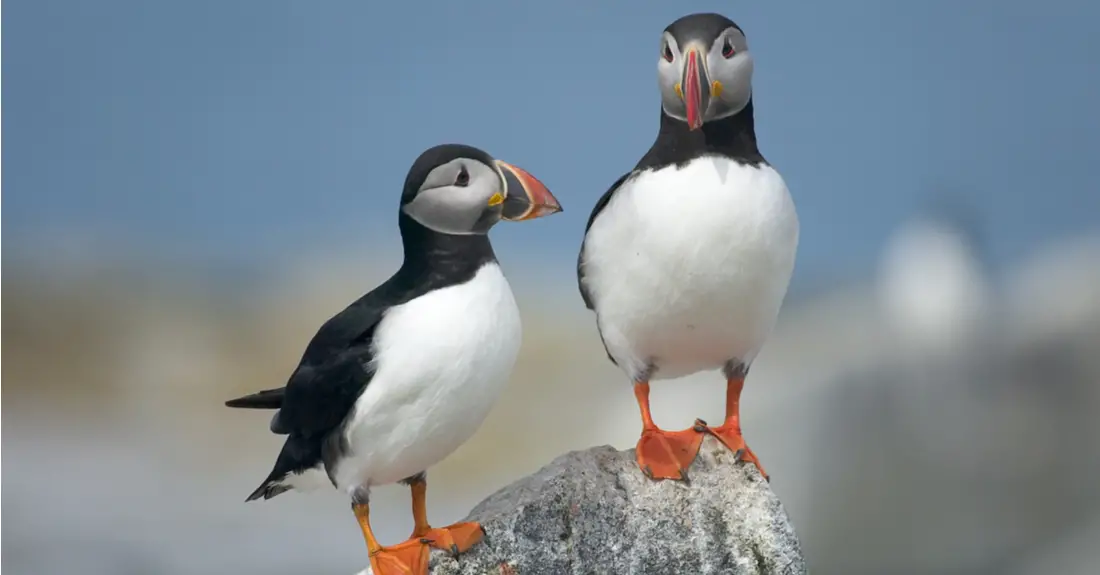 Go Puffin-Watching
Why travel to Iceland to see Puffin when they're right here in Maine. The islands off Maine's coast are the only spot in the U.S. where these adorable sea creatures reside. The best chance to spot these penguin-like birds is on Easter Egg Rock Island during the breeding season, April through August. You can learn more about these charismatic birds aboard a puffin boat tour.