Transporting skis, poles and boots is a breeze when you can throw them in the back of a vehicle and hit the road. But when travel plans require airline tickets, things get a bit more complicated. Check out our list of tips for making airline travel with ski gear a stress-free experience.
Invest in the right ski luggage
Be sure to purchase a wheeled ski bag. Not only will you travel through an airport with ease, but wheeled ski bags are typically roomier than those without wheels.
"Having a well-insulated bag is best to protect the edges and tips from getting dented or harmed," Renee Runyon, ski sales lead at Denver's REI store advised. "Our most popular ski roller bag is our DAKINE Fall Line Ski Roller with its 360-degree padding and enough space to carry two pairs of skis."
Along with choosing a sturdy boot bag with adequate room, skiers concerned about the safety of their helmet should invest in a carry-on backpack with a helmet carrying system to help you avoid damaging your helmet in your checked luggage.
Check the airline policy
Not all airline ski bag policies are created equal, so you should do some research into the specific rules of the airline you plan to book. Most airlines will consider a ski bag and a boot bag as one piece of luggage as long as packed items are limited to skis, poles and boots.
Frequent-flying powder hounds will often sneak in socks, neck warmers and other light items without fear of being detected. If packed correctly, putting in a few extra cushy items will not only save room on packing but will create additional padding within the bag, minimizing the risk of damage to your gear. But avoid packing too many extra items. If the bags exceed the weight restrictions and additional packed items are discovered, the airline is likely to count the bags as two separate pieces of luggage.
While most travelers prefer a soft-sided ski bag, check with your airline to ensure it isn't one of the few airlines – like Air Canada – that require ski gear be packed in a hard-shell case.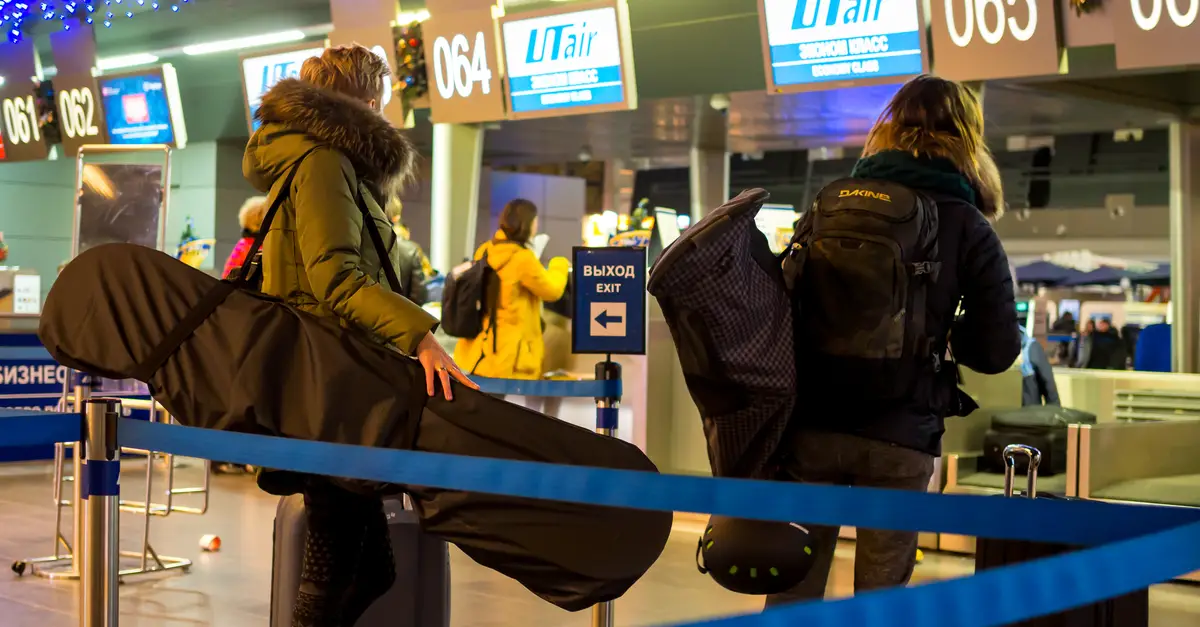 Bring boots as a carry-on
Though it's convenient to check both your ski and boot bags – especially when they count as one item – it's a good idea to bring the boot bag as a carry-on. Nothing will ruin a ski trip faster than having your perfectly worn-in ski boots go missing at the baggage carousel. In the event of lost luggage, skis can easily be rented, but it's best to keep boots close at hand.
Place luggage tags outside and inside the ski bags
When traveling with expensive cargo like skis, you'll want to take every precaution to ensure they don't get lost. Outside tags are a good start, but they aren't enough. Be sure to tag the inside of the bag with your name, cell number, email and home address. In the event the outside tag gets lost in transit, there is a backup method to reconnect you with your lost ski gear.
Use a ski shipping company
Make your travel as hassle-free as possible and take the worry out of lost luggage by having your skis shipped directly to the resort or lodge. Companies like Skip Skis , the world's premier ski and luggage shipping provider, will ship your gear – and even your luggage – from your home to your destination. Your gear will be waiting for you upon your arrival.
Nick Coleman, CEO of Ship Skis, and his team know first hand the hassle of traveling with ski gear. "As avid skiers ourselves, we understand the challenge that comes with lugging your winter gear to and from the slopes. The amount of bags add up quickly, especially when you're in a group," he said.
Pack a screwdriver to tighten bindings
Rattling around in the cargo bin of an airplane is likely to loosen up the bindings of your skis. Don't miss out on precious time on the trails by hunting down a screwdriver to tighten those bindings. Toss the tool in your checked bag, and you'll be careening down the mountain in no time.