(Credit: Scott Heaney/Shutterstock)
New York City is an arts and entertainment mecca with more Michelin-starred restaurants than any city in the United States. But when the summer months roll around, even the most die-hard New Yorkers daydream of tranquil retreats and seaside escapes. With that in mind, we've compiled a list of five summer getaways near New York City that will have you immersed in nature and soaking up the sunshine in no time.
Fire Island, New York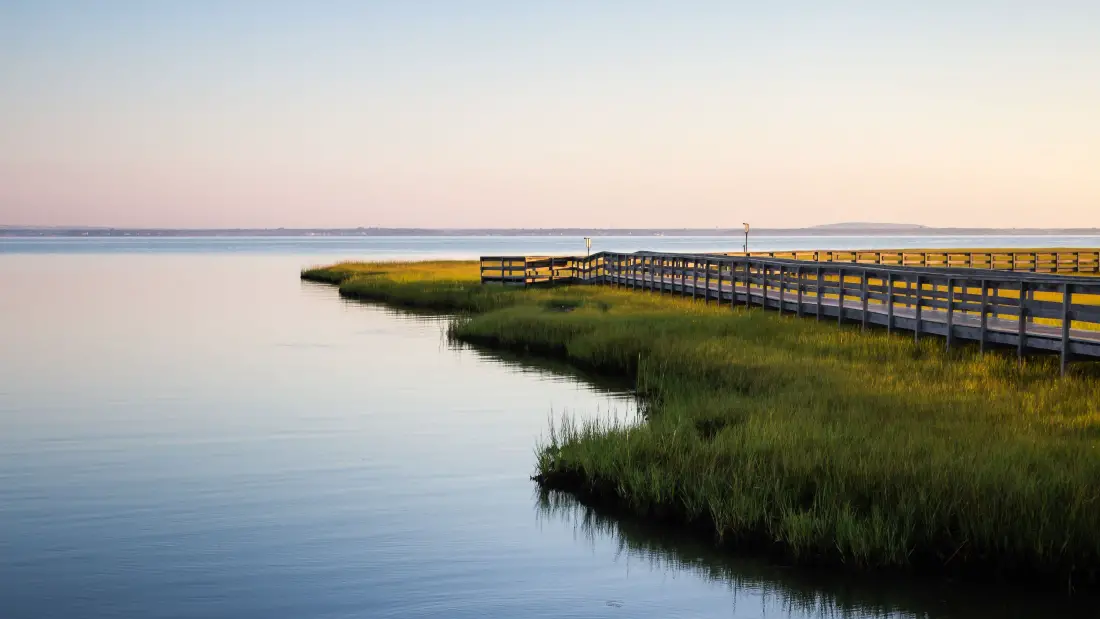 Driving distance from NYC: 1 hr 40 mins
In under two hours, city dwellers can leave the urban bustle behind for the beach oasis of Fire Island. Nestled between the Great South Bay and the Atlantic Ocean, this peaceful barrier island offers pristine beaches, outdoor activities and plenty of water sports. Cars are not allowed on the majority of the island, allowing visitors to fully experience the peaceful surroundings. In between biking, hiking, swimming and sunbathing, make time to visit the 40-acre Sunken Forest. This rare forest, named for the appearance of being below sea level, is one of the few remaining maritime forests on the East Coast. Also, many of the trees found in the forest are believed to be more than 200 years old.
Meanwhile, bird enthusiasts know Fire Island as a popular rest stop for feathery friends during migration. More than 300 bird species have been recorded on the island at various times of year – that's nearly one-third of all bird varieties found within North America.
The Hamptons, New York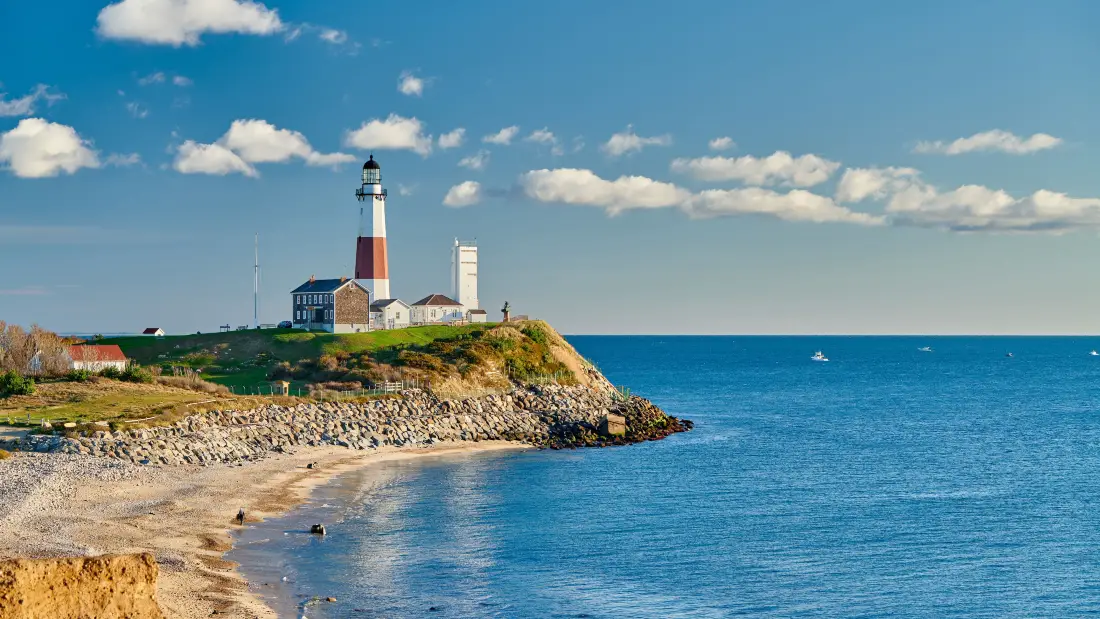 Driving d istance from NYC: 1 hr 45 mins
A popular New York City weekend retreat, The Hamptons, located on the eastern tip of Long Island's South Fork, is known for its opulent homes, miles of beaches, delectable seafood, and celebrity sightings. This region includes a number of towns and hamlets, with Montauk being the most well known. Located at the easternmost point of Long Island, home to the iconic Montauk Lighthouse, the town has become known affectionately as "The End of the World".
An art-lovers delight, The Hamptons is home to some of the best contemporary art museums around. The Parrish Art Museum houses more than 3,000 sculptures and paintings for visitors to experience. Providing an interesting outdoor art display, Longhouse Reserve sits on a 16-acre reserve showcasing intriguing sculptures throughout its gardens.
Cape May, New Jersey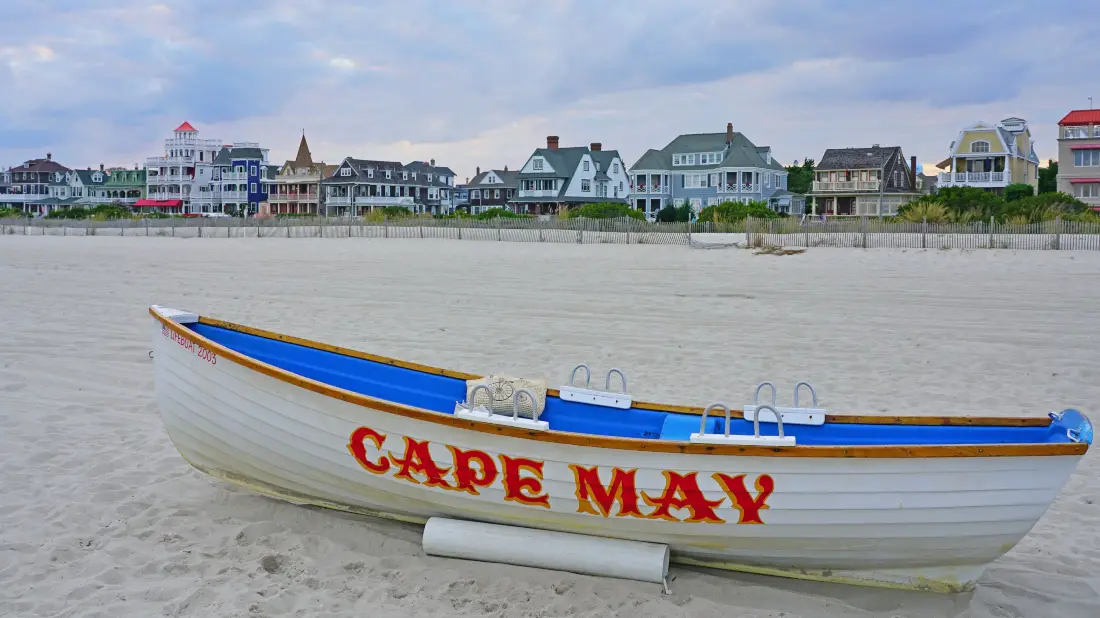 Driving distance from NYC: 2 hrs 40 mins
Located at the southernmost part of the Jersey Shore, Cape May is best known for its charming Victorian architecture. The Historic District, encompassing 600 buildings, provides one of the largest displays of free-standing 19th-century structures in the country. This charming seaside destination, once a vibrant fishing and whaling port, offers beachgoers 2.5 miles of sandy beachfront running parallel along Beach Avenue.
Visitors planning a trip to Cape May will find plenty of accommodations within a short walk to the beach. After working up an appetite with a busy day of kayaking, surfing, biking and fishing, travelers can satisfy their hunger with an array of options ranging from casual beachfront eateries to world-class gourmet dining. Washington Street Mall, a spacious outdoor walkable mall spanning three blocks, is the perfect spot to hunt down a few souvenirs before heading back to the city.
Newport, Rhode Island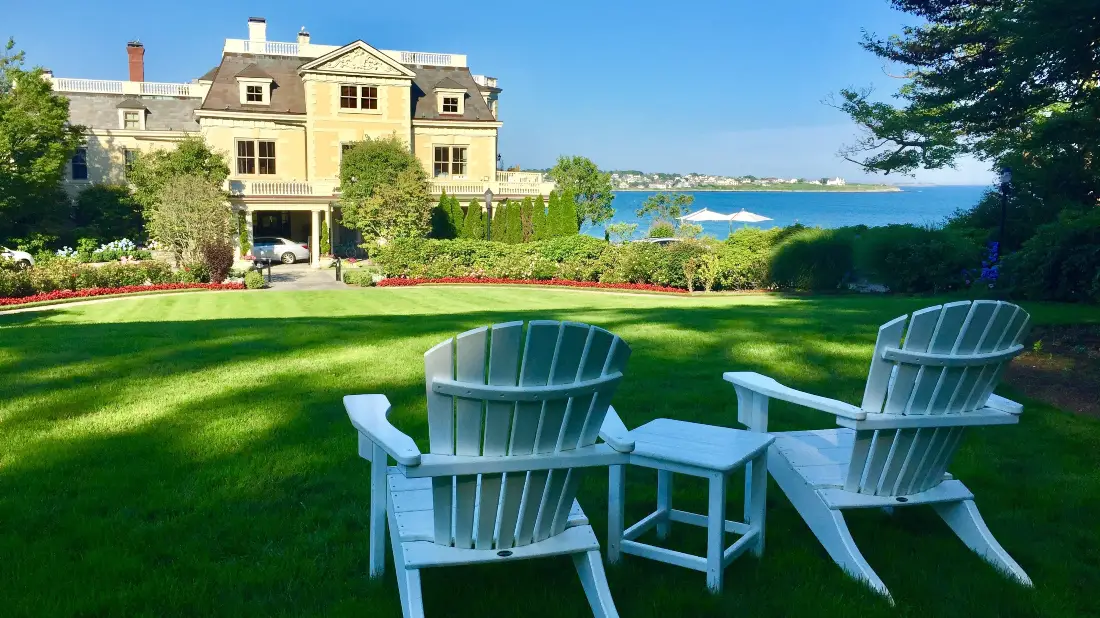 Driving distance from NYC: 3 hrs 10 mins
Known for Gilded-Age mansions and epic seaside vistas, Newport has historically been home to some of the country's most elite families. A stroll down Bellevue Avenue provides visitors with a glimpse of these opulent estates. Book a tour to take a closer look at some of Newport's most famous stately homes, including The Breakers, built for the Cornelius Vanderbilt family in 1895.
No visit is complete without taking in the panoramic seaside views along Cliff Walk, a 3.5-mile oceanfront path providing stunning panoramic seascapes of the Atlantic. Quaint cobblestone streets guide visitors to the town's center featuring upscale boutiques, decadent eateries, and charming pubs.
Finger Lakes Region, New York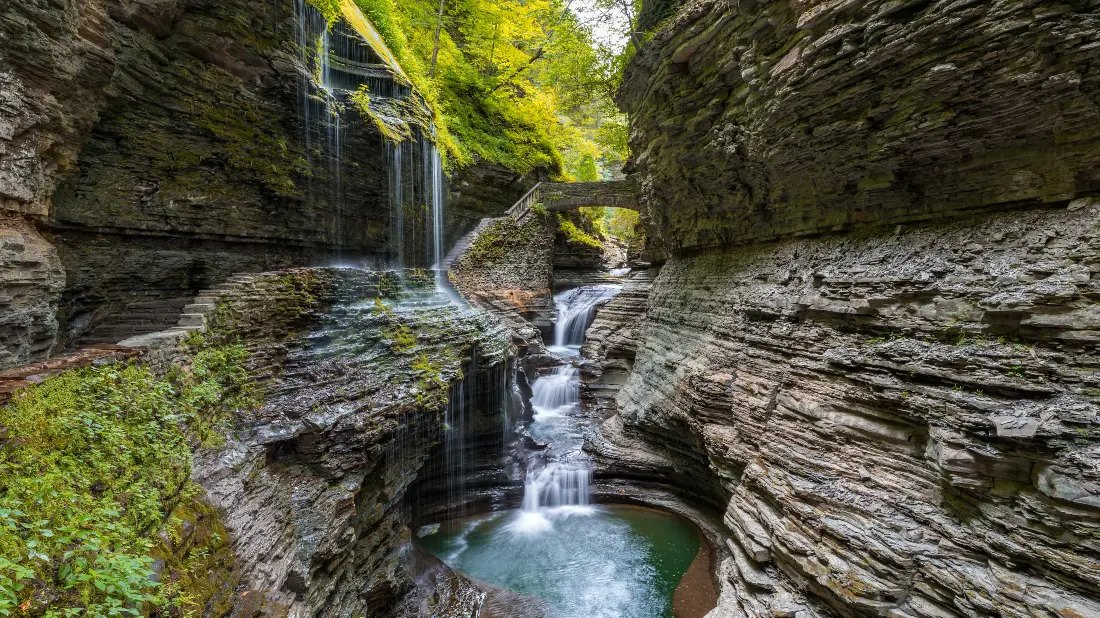 Driving distance from NYC: 4 hrs 30 mins
A grouping of eleven long, narrow glacial lakes located in central New York State makes up a region known as the Finger Lakes. This popular New York City summer retreat provides city dwellers with the ideal setting to unplug and reconnect with nature. Along with acres of forests, farms, and state parks, the region is best known for its vineyards. Hit wine trails like Canandaigua Wine Trail, the Seneca Lake Wine Trail, and Cayuga Lake Wine Trail while stopping at the wineries dotted along the way.
In addition to summer activities like boating, kayaking, and stand-up paddle boarding, the Finger Lakes region offers some extremely scenic hiking trails. Head to Watkins Glen State Park to explore dramatic gorges and cascading waterfalls. Meanwhile, Taughannock Falls State Park in the town of Ulysses boasts the highest waterfall east of the Rocky Mountains at a towering 215 feet.