Editor's Note: We recommend products based on an objective ranking methodology that takes into account factors that matter most to consumers, such as durability, price and customer review rating. That said, MTNScoop.com may collect a percentage of sales from the links on this page. Please note that prices were accurate at the time of publication.
What is a Rooftop Tent
Rooftop tents are tents that can be installed on your car roof, or in the bed of your truck. These tents make a great option for people who want the camping experience without the discomfort of having to sleep on the ground.
Rooftop tents come in two different styles: hard-shell and soft-shell. Hard-shell rooftop tents have a sturdier roof, while soft-shell rooftop tents are more akin to standard tents. Both styles require a rack system designed to handle and distribute the tent weight appropriately.
Deciding which rooftop tent is best for you can feel daunting. You want to make sure you pick the right one based on what type of camping you plan to do, how many people you're camping with, and how much gear you need to accommodate, among other factors. The recommendations in this rooftop tent guide are based on extensive research: we've analyzed user reviews, tent specifications, and price to help you find the best rooftop tent for you.
Types of Rooftop Tents
There are two types of rooftop tents to choose from: hard-shell and soft-shell. Which one to choose depends on a number of factors.
Hard-shell Rooftop Tents
A hard-shell rooftop tent has a solid case that becomes the part or all of the roof when the tent is set up in camping mode. Although they tend to have less interior space than soft-shell rooftop tents, hard-shell rooftop tents can better handle harsher weather conditions. Hard-shell rooftop tents are also fairly easy to set up because they are equipped with a hinge system that assists in opening the tent, and packing it away.
Pros
More aerodynamic than soft-shell rooftop tents
Better protection against unfavorable weather conditions
Durable
Easy to set up and break down
Better insulated than soft-shell rooftop
Cons
More expensive than soft-shell rooftop tents
Heavy; requires a larger, sturdier vehicle
Less spacious than a soft-shell rooftop tent
Soft-shell Rooftop Tents
A soft-shell rooftop tent is more akin to a standard tent in that its roof is made of tent fabric material. Because it doesn't have a solid shell, when the tent is stowed, it is typically covered with a heavy duty PVC cover. Soft-shell rooftop tents tend to have a larger interior footprint than hard-shell rooftop tents, and they're also lighter and more affordable. However, they often take longer to set up and break down, and they're not as resistant to harsh weather conditions.
Pros
Cost less compared to hard-shell rooftop tents
Provide more interior space; and can also accommodate an annex add-on
Lighter than hard-shell rooftop tents
Cons
Less durable than hard-shell rooftop tents
Not as aerodynamic as a hard-shell rooftop tent when packed, causing drag
Requires more time than a hard-shell rooftop tent to set up and take down
Benefits of Rooftop Tents
There are a number of benefits to opting for a rooftop tent over a standard tent:
Easy setup and take down once installed on the roof of the car, which makes relocating a camp site that much easier
Built in sleeping surface, with no need to waste time clearing sticks, rocks or other debris
Padded foam mattress is often included
Elevated design protects against rain seepage and critter invasions
Frees up trunk space for other gear
Limitations of Rooftop Tents
There are a lot of positive aspects of rooftop tents. However, there are also some things to keep in mind before deciding to invest:
Rooftop tents cost more compared to ground tents. See more details in our pricing section below.
Special car roof racks are required, and are not included with the purchase of the tent.
Rooftop tents are big and bulky. You will need more space to store it, and more than one person to install it.
Traveling with a car tent can noticeably impact your car's gas mileage.
Rooftop tents take up most, if not all, your roof space. If traveling with other large gear, you will need additional towing or storage.
Getting in and out of a rooftop tent requires the use of ladders.
In order to travel anywhere by car, you need to pack down the tent.
Best Rooftop Tent Rankings
We at MtnScoop reviewed 30 rooftop tents, comparing the ease of use, durability, value, customer satisfaction, and industry recognition to objectively identify the best hard-shell, soft-shell, and budget-friendly rooftop tents.
Best Hard-shell Rooftop Tents
Best – iKamper Skycamp Mini 3.0
(Credit:REI.com)
MSRP

$3,699.00

Sleeping Capacity

2

Weight

125lbs
iKamper began in 2017 as a Kickstarter project. Since then, the company has produced  a variety of tents, with its rooftop models consistently receiving acclaim from experts and customers.
The Skycamp Mini 3.0 is no exception. The fold-out design grants you the benefits of a hard-shell rooftop tent – durable and aerodynamic – as well as the roomier floorplan of a soft-shell rooftop tent. This compact hard-shell rooftop tent comfortably sleeps two, and it can also accommodate the attachment of an awning. Additionally you get the benefit of a fast setup and breakdown, as there is no need to unzip and remove a pvc cover.
iKamper's Skycamp Mini 3.0 is also the lightest hard-shell tent we evaluated at 125 pounds. The average weight of hard-shell tents is 150 pounds. However, the Skycamp Mini comes with a high price tag. It is one of the most expensive rooftop tents on the market, costing slightly more than the average price of a hard-shell rooftop tent.
Features
Two interior pockets
Telescoping ladder supporting max 330 lb
2.25" polyfoam mattress
Skyview window
300gsm poly-cotton canvas tent fabric and 75 D ripstop polyester rainfly
Quilted insulated lining
Notable user comments
Some users found the mattress to be too thin.
Several customers pointed out that shoe bags must be purchased separately.
The ease of setup and take down is a selling point.
Customers praise the quality of the materials and construction.
Runner Up – Roofnest Falcon 2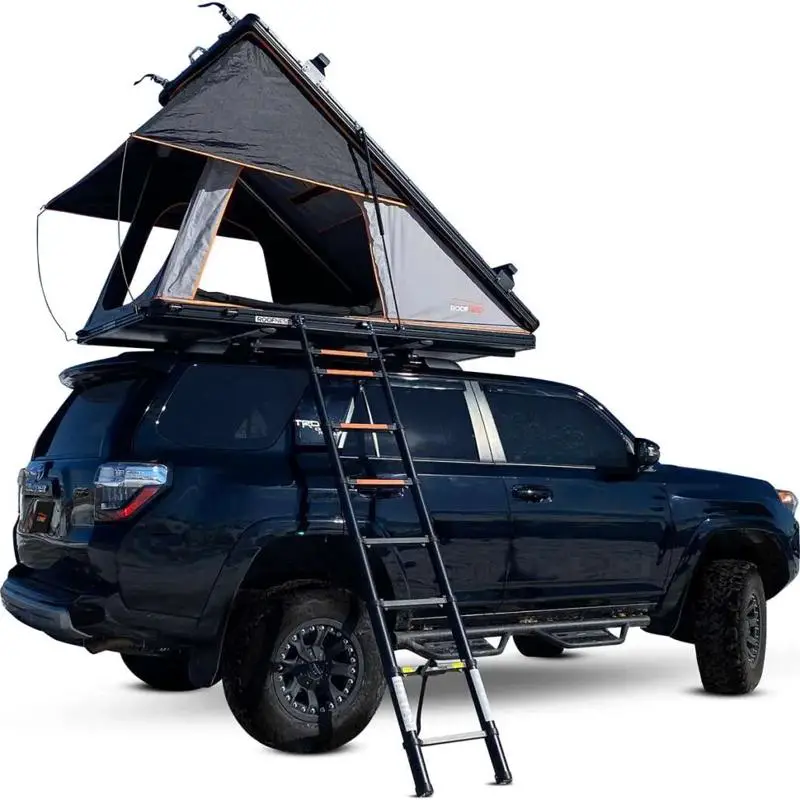 (Credit:Roofnest)
MSRP

$3,595.00

Sleeping Capacity

2

Weight

160bs
After Roofnest was founded in 2016, the company quickly became recognized as a top rooftop tent brand.
The Roofnest Falcon 2 lives up to the reputation. The distinct clamshell design makes the tent extremely slim when closed, reducing drag and improving fuel economy. However, in order to limit the tent to just 6.5 inches when closed, it cannot store bedding or the ladder when in transport mode.
The Roofnest Falcon 2 can comfortably accommodate two people. What's more, it has an accessory channel system that facilitates the installation of up to 75 pounds of additional add-on features on it's shell.
Features
Two accessory channels that can support 75 pounds extra gear
LED Lights
Privacy Tent
Dual-Detachable Pockets
Gear Grid
8.5′ Telescoping ladder
2 inch Memory Foam Mattress with anti-Condensation Mat
Notable user comments
Users like the very easy setup and takedown.
But many customers bemoan the fact that it can't store bedding, which requires extra packing compared to other rooftop tents.
The slim profile is a plus.
Best Soft-shell Rooftop Tents
Best – Smittybilt Gen2 Overlander XL
Smittybilt was founded in 1956 by outdoor enthusiast Basil "Smitty" Smith, and its products cater to those who share his passion for spending time in nature.
The Smittybilt Overlander rooftop tent model is one of the most popular soft-shell rooftop tents in the market, earning praise for the level of durability and amount of space it provides for the price. The Smittybilt Gen2 Overlander XL has one of the largest interior footprints of any soft-shell rooftop tent, comfortably sleeping three.
Given its size the Smittybilt Overlander is on the heavier side at 170lbs, whereas the average soft-shell rooftop tent weighs 130 pounds. This rooftop tent also features one of the largest static max weights, 770 pounds, and is built with quality materials.
Features
Max load rating 770 pounds
Lightweight, waterproof 420d oxford rainfly
King sized bed: 92.5 inches x 74.8 inches
Telescoping ladder
LED Strip
Notable user comments
Many users like the spaciousness of the tent.
Runner Up – ARB Simpson 3 Series
ARB is an Australian company specializing in manufacturing 4×4 accessories, including several rooftop tent models.
The key thing that sets the ARB Simpson 3 Series apart from other soft-shell rooftop tents is that it comes with an Annex, providing additional space and more flexibility without the need to make an additional purchase. However, some customers note that while the ARB Simpson 3 Series claims to sleep three people, it does feel quite tight.
Lastly, a lot of users commented on the great quality and durability of the tent.
Features
Two elected shoe pockets included
Comes with annex
All weather vents for reduced condensation
Taped sealed seams for double protection
2.5-inch high-density bonded chip foam mattress with removable cover
Notable user comments
Users felt the tent was spacious, but not enough so to comfortably sleep three adults.
Customers noted that this tent can withstand rainy conditions.
Best Budget Rooftop Tent
Best – Thule Tepui Explorer Ayer 2 Rooftop Tent
Originally a producer of roof racks, Thule expanded into rooftop tents in 2018 by acquiring Tepui and hoping to benefit from the natural synergy of the two car camping accessories.
The Thule Tepui Explorer Ayer 2 is a compact two-person soft-shell rooftop tent that earns praise for its lightweight design and low price point. Weighing just 105 pounds, this rooftop tent is one of the lightest on the market. Customers like the ease of setup and take down.
The tent also earns praise for its multiple windows, which allow for excellent airflow. Many also commented on how dark the tent stays inside when zippered up, creating an excellent sleeping environment. However, some users – particularly side-sleepers – say that the mattress included with the tent is not comfortable. But given that this is one of the most affordable tents on the market, customers agree that the Thule Tepui Explorer Ayer 2 is a great rooftop tent for the money.
Features
2.5-inch memory foam mattress with cover
Four internal pockets for storing gear
Notable user comments
Some customers recommend purchasing a padded mattress cover for more comfort.
The tent is able to weather rainy conditions well.
Users say this tent has excellent ventilation.
How to Pick the Right Rooftop Tent
Finding the best rooftop tent for you is no easy feat. You will need to consider a number of factors when comparing options, including the type of car you have, the kind of conditions you expect to camp in, and even how many locations you intend to visit per trip. All of these considerations will impact the style of rooftop tent you should choose. To help you better understand the full suite of considerations, we've broken down the five top things to keep in mind before purchasing a rooftop tent.
Size and Capacity
Rooftop tents typically are limited in how much space they can provide. Most provide sleeping capacity between two and four people. However, most rooftop tents can only really sleep two adults – and perhaps one or two children – comfortably.
Rooftop tents also don't usually have space to store gear, though some do come with interior pockets and hanging shoe bags. But it should come as no surprise that there isn't much space for storage, as rooftop tents also have limits on how much weight they can hold. Usually, rooftop tents have a weight limit of around 600 pounds, and you must account for the roof rack.
If space is a deciding factor, you should opt for a soft-shell rooftop tent over a hard-shell rooftop tent. Soft-shell rooftop tents tend to have more flexibility with size because they fold into their stowage container, and some models also come with detachable awnings to provide more space.
Weight
A rooftop tent can weigh anywhere from 90 to nearly 200 pounds, depending on the style, size, and materials from which it's made. Of course, the heavier the tent, the more challenging it will be to install or remove.
What's more, all vehicles have a limit in terms of how much weight they can support. Two values you'll need to understand before purchasing a rooftop tent are the static weight and the dynamic weight limitations of your car and roof rack. The static weight is the weight your vehicle can handle when not in motion. This not only includes the rooftop tent, but also any luggage and passengers your car will be transporting. The dynamic weight is the weight your vehicle is designed to handle when being driven. The dynamic weight will always be lower than the static weight.
Lastly, you want to ensure that your car will not be too top heavy when transporting your tent, as that increases the risk that your car will flip in an accident.
Material and Durability
Rooftop tent manufacturers tend to use more durable, heavier materials than standard tent manufacturers. The most common material used for rooftop tents is a poly-cotton blend. It provides the benefits of both polyester and cotton, such as breathability and quick dry time. Canvas provides better insulation, but it tends to be heavier and require regular treatment to prevent mold and mildew. You'll want to consider the types of conditions you'll likely encounter before selecting a preferred material.
In addition to the general tent material, you'll want to factor in the durability of the rest of the tent's construction, including zippers, rainfly fabric, and pole material. And, of course, you'll have to decide between a hard-shell or a soft-shell design. Hard-shell rooftop tents tend to be more durable due to their plastic or fiberglass shell, but soft-shell tents provide more space.
Lastly, it is always a good idea to check the manufacturer's warranty, and research how easy it is to get replacement parts.
Ease of Setup and Take Down
How easy it is to set up and break down your tent should be a significant deciding factor in your search. The last thing you want to do is spend large portions of your trip struggling with your tent, especially if you plan to camp at more than one location per trip.
Hard-shell rooftop tents tend to be slightly easier to work with, especially the clam-shell or pop-up models. These tents usually require you to unlock a few latches, and the built-in gas struts will lift the shell. Aside from installing the ladder, opening up the doors and windows, and securing the shell in place, the rest of the set-up is automatic. What's more, hard-shell tents often have enough room to stow sleeping items, further saving you time.
Soft-shell tents take longer to set up, as they often involve stowing the cover and manually constructing more elements, such as the windows and rainfly, of the tent.
Price
Rooftop tents are significantly more expensive than standard ground tents. In our research, we found that rooftop tent prices range anywhere from $995 to $4199. Soft-shell rooftop tents tend to be more affordable, but hard-shell rooftop tents are often more durable. While budget is certainly an important consideration, it's worth keeping in mind the other factors on this list in order to find the best rooftop tent for you.
Additional Rooftop Tent Features to Consider
Weather Resistance and Ventilation
Rooftop tents are generally built with heavier, more durable materials than standard tents, which means they are more resilient in harsh weather. That said, it is still worth thinking about the climates you expect to encounter before purchasing a rooftop tent, as some materials will be better suited to those conditions. For example, a canvas tent may provide too much insulation for a hot climate.
That said, rooftop tents tend to retain more heat than standard tents because they are elevated and made from thicker fabrics. If you are camping in warmer weather, look for a tent with large doors, multiple windows and even sky windows with mesh screens, as these will increase ventilation.
Integrated Mattress and Bedding
Most rooftop tents come with an included mattress, and some also feature a moisture-wicking cover to limit condensation buildup. Additionally, some – but not all – rooftop tent mattresses feature a removable, washable cover. We would recommend picking a tent that comes with a mattress cover, as you will be guaranteed the best fit.
Rooftop tent mattresses range from 1.5 to 3 inches thick, and the average mattress thickness being 2.5 inches. However, customers note that comfort can vary widely. To ensure a better night's sleep, look for a tent with a dual density mattress, or invest in additional padding.
Add-ons and Extra Features
Rooftop tents do not have the same flexibility as ground tents when it comes to space. Because it sits on the roof of the car, there's only so much space available for an interior footprint, and the elevated setup limits the amount of headroom available. This can prove challenging when it comes to camping with larger groups or stowing gear, especially during bad weather.
Some rooftop tents come with built-in awnings or annexes, or can accommodate ones purchased separately.  This is a great way to increase your tent footprint and provide additional space for storage, changing or even sleeping. Some tents without awnings or annexes come with included pop up tents where you can stand and change clothes, or stow gear.
FAQs about Rooftop Tents
Rooftop tents cater to a specific type of camping, and given their high price tags, you want to make sure that this is the right investment for you. Below are answers to frequently asked questions about rooftop tents.
Are rooftop tents safe?
Rooftop tent safety is a broad subject. We reviewed three safety aspects for rooftop tents: safety for people, safety for the gear, and safety from the elements.
The key safety concern in regards to rooftop tents is falling, either people falling out of the tent, or the tent falling off the roof. The key here is to ensure all the doors and screen meshes are closed completely before going to sleep. It's also important that anyone sleeping in the tent – particularly children – knows how to properly enter and exit the tent, and when to ask for help. Before settling in for the night, make sure that the rooftop tent is installed and secured correctly, using the right rail system and ensuring that weight is also supported by the vehicle. And finally, make sure that you follow the tent's occupancy guidelines.
Another concern some customers have is their tent being stolen. You can purchase locking bolts to deter potential thieves, and double check that your car is properly locked and any big-ticket items inside the car are stowed out of sight.
Rooftop tents are typically rated for four seasons given the durability of their materials and construction. However, the tents' elevated setup on cars can make them more susceptible to wind. Most rooftop tents can withstand gusts up to 38 miles per hour, but it's always best to check your tent's limit, and the weather forecast, before heading out.
Are rooftop tents good for cold weather?
Rooftop tents make an excellent choice for cold-weather and winter camping. They are constructed with thicker material that provides better insulation, and their rooftop setup reduces the amount of heat that usually escapes from the tent's floor. Many rooftop tents can also be fitted out with internal quilted insulation. However, you should still ensure that you pack for the forecasted weather – come prepared with additional blankets and layers of clothing if needed.
How can I level a rooftop tent?
Your rooftop tent can only be as level as your vehicle. If you can't find even ground on which to park your car, you can use leveling blocks or bricks.
Conclusion
Rooftop tents provide incredible freedom to explore and enjoy the outdoors. They provide increased mobility and security, allowing you to worry less about what to do with your stuff when you leave the campsite, or about unwanted critters in the middle of the night.
Choosing a tent will require identifying which features you need for your camping trip. Whether you are looking to fit a larger group, need the ability to pack up quickly, or want more tent space, our rooftop tent buying guide will help you find the best rooftop tent for you.