Editor's Note: We recommend products based on an objective ranking methodology that takes into account factors that matter most to consumers, such as durability, price and customer review rating. That said, MTNScoop.com may collect a percentage of sales from the links on this page. Please note that prices were accurate at the time of publication.
Tents are one of the most crucial pieces of equipment for camping or other overnight outdoor activities. A poorly-constructed tent (or one that does not accommodate your group and weather conditions) can ruin an otherwise fun time. Meanwhile, many people find the process of setting up a tent to be both time-consuming and frustrating. If you're looking to avoid such hassle, you should consider investing in an inflatable tent.
Initially, inflatable tents were not considered as serious tents and many thought that they were just a fad. However, air tent technology keeps advancing and their popularity keeps increasing. Today, inflatable tents can make setting up and breaking down your campsite less stressful while still offering the protection and comfort of traditional tents.  They are very popular in northern Europe due to their ability to withstand harsh weather conditions. Air beams can be patched/repaired, whereas a pole that snaps in high wind is of no further use. This also makes an inflatable tent a smart choice for longer camping trips, or in situations when replacement parts aren't readily available.
The first benefit is obvious: they save campers a lot of time. Inflatable tents provide a relatively easy and fast setup, and there's no guessing of which pole goes with which sleeve. This means that they are also fairly easy to break down at the end of the trip.
However, there are some drawbacks. Most inflatable tents are not good for hot summers if they lack a mesh ceiling or don't have proper ventilation. While inflatable tents are easier to pack than standard tents, they are also usually heavier and more expensive. You will also need to carry a pump as well, as inflatable tents use air beams instead of classic poles. They are typically designed to accommodate a larger sleeping capacity which makes them more appealing for family tents than traditional tents.  Because of this, inflatable tents tend to be better suited for car camping.
While inflatable tents may offer many benefits superior to traditional tents, there are still many factors to take into consideration when deciding if an inflatable tent is right for you and if so, which one is the best fit. To identify the best inflatable tents, we researched more than 50 inflatable tent brands, comparing their quality and features. We also considered customer reviews in order to finalize our recommended list of best inflatable tents.
Crua Outdoors Core 6 Person Air Tent
This six-person dome tent was designed with durability in mind. The attached porch is a great place to store gear or to serve as a dining or relaxation area, which many customers say creates a glamping vibe. Reviewers also say this tent stays warm in cold weather conditions, making it a popular choice for hunters and winter campers. However, in addition to its high price point, other criticisms of this inflatable tent include its difficulty to pack back into its travel case.
Features
Pump included
E-port
3 Mesh screens
1 Mesh door
Porch area with no groundsheet
Water resistant
Specs
Sleeping capacity: 6
Weight: 33 pounds
Dimensions: 11.3 feet (length) x 11.3 feet (width) x 7.5 feet (height)
Notable user comments
Quick to setup
Very Large
Pump sometimes disconnect during inflation process and can be frustrating
Good quality
Coleman Tent Meadowood Air 4
This four-person tunnel tent's large dimensions provide a spacious vestibule that can accommodate even the tallest of adults, not to mention camping chairs and tables. According to reviews, the tent is easy to set up and is dark as promised. However, some users reported feeling stuffy, while others said there were openings that could allow water and/or wildlife to enter the tent. A pump is also not included with this tent.
Features
Water Resistance Technology: 4,000mm
3 season tent
Pump included
E-port
Storage pockets
Specs
Sleeping capacity: 4
Weight: 43 pounds
Dimensions: 15.4 feet (length) x 9.8 feet (width) x 6.5 feet (height)
Notable user comments
Tent comes in two version, conventional poles and air beams
Easy setup
Darkened rooms are a nice feature
Fits only one queen sized air mattress
Heimplanet Cave 2-3 Person Dome Inflatable Tent
This futuristic-looking, dome-shaped inflatable tent looks like it could be the first tent on Mars while also shielding campers from some of Earth's harshest elements, reportedly withstanding winds of up to 110mph. Despite these features, this tent is not ideal for winter conditions. That said, it is fairly lightweight to carry, and many of the tent's components are made from recycled materials. Some users did say that the setup was not as easy as the tent manufacturer claimed due to confusing instructions.
Features
Water resistant
Gear loft
1 door
Note: Pump is NOT INCLUDED
Specs
Sleeping capacity: 3
Weight: 10.6 pounds
Dimensions: 8.1 feet (length) x 8.1 feet (width) x 4.2 feet (height)
Notable user comments
Does well in wind
Very small vestibule space
Could use more ventilation when in hotter places with fly on
Initial setup takes time to connect inner tent and fly to frame
Zempire EVO TL V2 Air-system Tent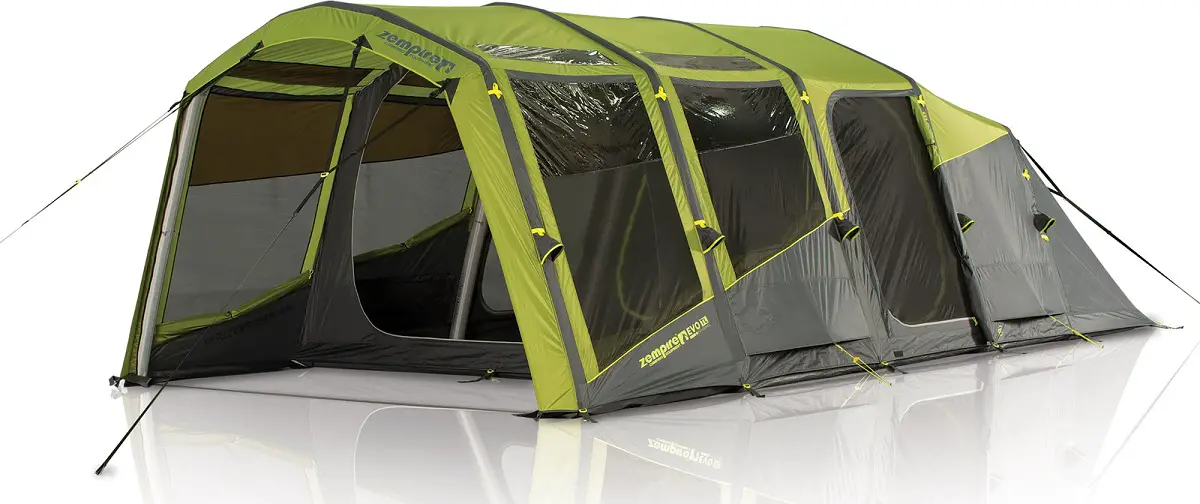 (Credit:REI.com)
MSRP

$1,999.00

Sleeping Capacity

5

Weight

63lbs
This five-person freestanding tent is camping luxury redefined. The mesh and zip-up windows also do a great job of keeping out critters and sunlight. Reviewers give this tent glowing reviews about its ventilation, sturdiness, and keeping light and water out. The tent also has ceiling hooks for lanterns that customers find convenient. However, due to its large size, this tent isn't compatible with every campsite, so reviewers recommend reading the campground's regulations in advance.
Features
Tinted skylights
Water resistant
Integrated groundsheet
3 doors
Pump included
Light hooks
Large porch area
Specs
Sleeping capacity: 5
Weight: 63 pounds
Dimensions: 21.5 feet (length) x 11.6 feet (width) x 7.2 feet (height)
Notable user comments
Good for extended stays
Easy setup
Moose Outdoors T-2041 4 Person Inflatable Air Tent
This simple, no-frills inflatable tent is great for a short summer camping trip or even backyard camping. Reviewers give positive reviews for this tent's easy and quick setup, and claim that it is a good value for families on short camping trips. However, many reviewers note that the included pump is not that great and also wish that the tent had more windows or a skylight.
Features
Includes pump, stakes, carrying bag, and extra patches
Water Resistant
Packs bulky
Easy setup
Specs
Sleep capacity: 4
Setup dimensions:4.2ft (H) x 8.8ft (W) x 10.5ft (L)
Weight: 15lbs
Notable user comments
Tough fit for 4 more realistically 3
Good rain and wind resistance
Packs bulky
Fast and easy setup
Might be too hot for summer use due to lack of full mesh ceiling
Simple tent and good for the price
Zempire Pronto 5 V2 Air-system Tent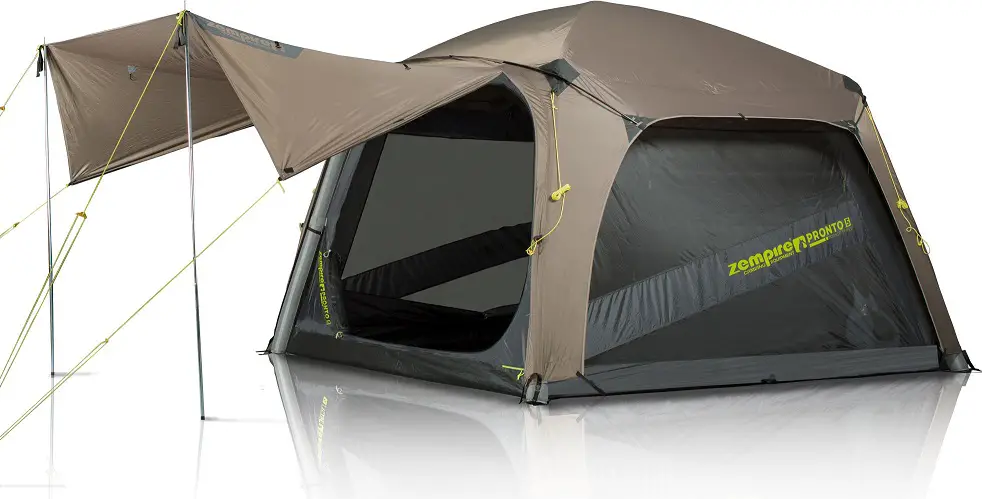 (Credit:REI.com)
MSRP

$899.00

Sleeping Capacity

5

Weight

33lbs
This mid-priced, dome-shaped inflatable tent is great for small-group, three-season camping. While other inflatable tents can be difficult to break down, multiple deflation points on this model allow for faster deflation, speeding up teardown. The tent has a mix of poles and air tubes. Customers also note that the deflation points prevent air from getting trapped in any one leg, making rolling up the tent fairly hassle-free. The tent gets great reviews for its ease of set up and tear down as well as its ability to repel water.
Features
Pump included
Brow poles to increase headroom and reduce tent twisting
Multiple deflation points
Gull wing awning for shade
Large mesh windows and doors
Specs
Weight 33lbs
Dimensions: 6.2ft (H) x 9ft (W) x 9ft (L)
Sleeping capacity: 5
Notable user comments
Easy setup
Front awning a bit low and can sag under rain
Good waterproofness in rain
Good ventilation