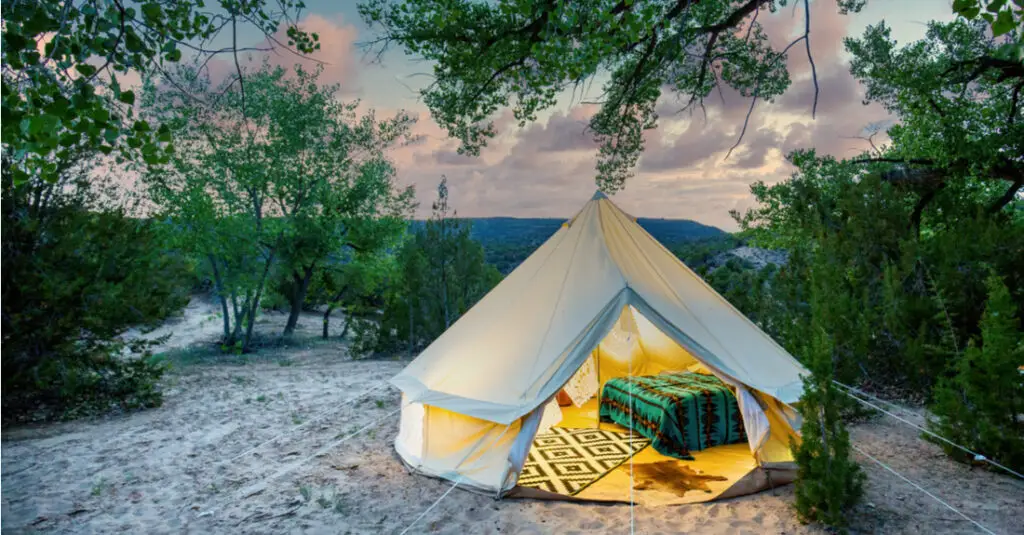 (Credit: PTZ Pictures/Shutterstock)
Editor's Note: We recommend products based on an objective ranking methodology that takes into account factors that matter most to consumers, such as durability, price and customer review rating. That said, MTNScoop.com may collect a percentage of sales from the links on this page. Please note that prices were accurate at the time of publication.
For those who love the great outdoors, "glamping" – or glamorous camping – has become a must-do. It usually involves a scenic location, exciting activities and high-end amenities. But glamping can also come with a hefty price tag, with rates sometimes surpassing $1,000 per night, depending on the destination. Why spend a fortune on a single trip when you can invest in the tools to make every night under the stars a luxurious one? Below is a list of the things you need to make every camping trip a glamping experience.
A spacious (and stylish) tent
The foundation of any camping trip is the tent, but when it comes to glamping, not just any tent will do. You need something spacious enough to move around in, even when it's filled with a variety of creature comforts. Danchel Outdoors' four-season canvas yurt tent is both durable and fashionable. Able to protect against rain, wind and snow, this tent comes in a variety of sizes, the largest of which can fit up to eight people. It also features a stove jack, meaning you can prepare gourmet meals without having to cook outside. Additionally, its heavy-duty canvas walls can be rolled up and its floor removed to transform it into a bell tent for daytime occasions like picnics or family events.
A comfortable bed, with cozy bedding
Campers sleep on the ground, but glampers should enjoy the comfort of a well-dressed bed. While hauling a frame and mattress out into the wilderness isn't feasible, there are a number of comfortable, easily transported beds to choose from. Take Coleman's inflatable camping bed, for example. A big name in outdoor gear, Coleman sells a collapsible camping bed with an inflatable air mattress, complete with fold-out side tables.
To make your glamping trip extra comfortable, be sure to stock up on comfortable bedding that is not only light and condensible, but can also withstand the elements. KawaGebo Kamp's Sherpa fleece-lined camping blanket offers luxurious warmth that can fold up tightly. (And the designs are inspired by the great outdoors.) Meanwhile, a packable pillow like Wise Owl Outfitters' compressible travel pillow allows you to take the comfort of memory foam on the road.
A state-of-the-art fire pit
Love sitting around a fire, but hate smelling like smoke? Take your campfire experience up a notch with a portable smokeless fire pit like this one by INNO STAGE. Made from stainless steel and easily transportable, this fire pit has bottom air vent holes to generate a warm, crackling fire while reducing the amount of smoke and spark output. The fire is fueled by wood pellets, so you won't have to spend the first hour of your trip collecting firewood. Plus, with only two parts, it's easy to assemble and clean.
Picturesque lighting (with a useful twist)
If you've ever seen pictures of glampsites, you've probably noticed a tent adorned with romantic twinkle lights. While you can achieve this luxurious ambiance with a basic set of string lights, TIKI developed the BiteFighter Outdoor String Light that not only ups your glamping game, but also keeps the bugs at bay. Thirty-six feet of shatterproof lights will provide plenty of illumination, as well as 330 square feet of odorless mosquito repellency. The integrated bug repellent pods last for 200 hours, providing plenty of insect-free outdoor luxury.
A portable power source
Whether you're planning to use your TIKI twinkle lights, or to simply charge your phone, you're going to need a source of power. While you could technically hook up to your car, that's a huge waste of energy. Instead, invest in a portable power source like the Jackery Portable Power Station. This mighty little generator can provide hours of electricity, so you don't have to sacrifice modern-era comforts while "roughing it". You can charge it by outlet or car jack. Or, if you're interested in more sustainable energy, you can hook it up to solar panels. Jackery has multiple wattage options, so you can find the portable generator that best meets your needs.
A camping chair everyone will want to sit in
Glamping surely does not involve sitting on the ground or on a log. You're going to need a throne from which you can enjoy your sweet set-up. If you're looking to invest in the best camping chair on the market, the Coleman Oversized Quad Chair. This chair comes complete with a cup holder and a built-in cooler, so you'll never be without refreshments. Meanwhile, extra cushioning in the seat and back, as well as a roomy design, guarantee comfort.
Check out MtnScoop's ranking of the Best Camping Chairs
Enviable entertainment
Just because you're bunking down in the great outdoors doesn't mean you have to sacrifice quality entertainment. Instead of ending the evening once the campfire dies out, enjoy an outdoor movie with a portable projector and screen. The Emotn Mini Projector can provide up to four hours of play time. It connects to your phone via Bluetooth, so you can screen movies and TV shows from any of your streaming services, or from YouTube. Meanwhile, PropVue's collapsible projector screen provides a smooth surface, so you can expect a wrinkle-free viewing experience.
Looking for something more interactive? Check out MtnScoop's list of fun camping games .
Gourmet cookware
Forget tinfoil dinners and paper plates. Your glamping experience should include delicious meals, and those are best achieved with the right tools. Odoland's multi-piece camping cook set comes with pots, pans, a collapsible stove and table settings for two – perfect for date night in the great outdoors. Meanwhile, CONJGI's 19-piece packable utensil set includes knives, a cutting board, barbecue skewers, serving ware and a bottle opener, so you'll have everything you need to prepare the perfect meal.