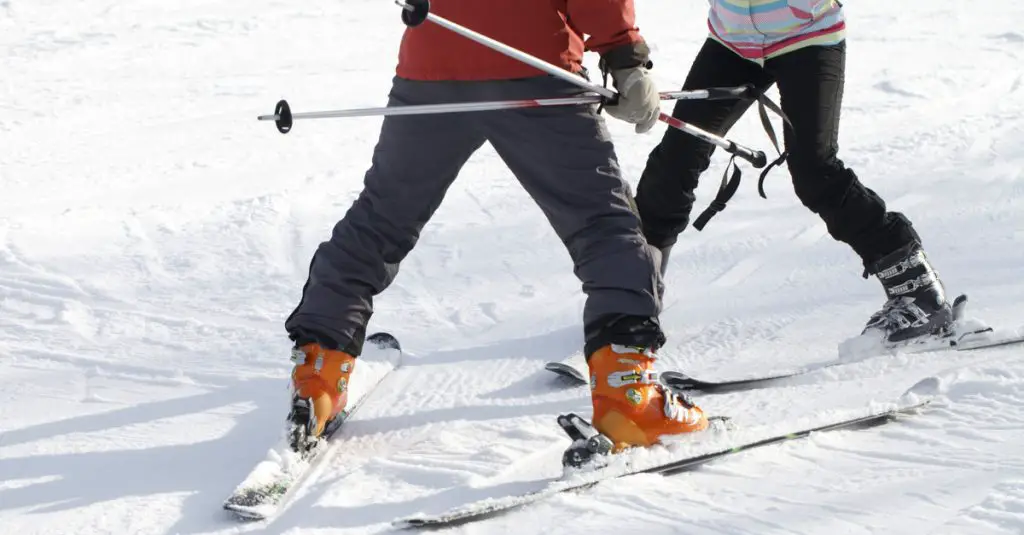 (Credit: HOMONSTOCK/Shutterstock)
January is the National Snowsports Industry Association's "Learn to Ski and Snowboard Month," so it's an ideal time to find great deals on beginner ski and snowboard lessons. It's considered the best time of year to plan a ski trip , especially if you have beginner skiers or riders coming along. Most mountains are fully open, and powder days are common, especially at resorts in the western U.S.
However, January can be a hard time to travel; it might be a busy time at work, and the holidays may have depleted your paid vacation time (and bank account). So if you can't make it to the slopes in January, never fear: we've put together this list of the best beginner ski and snowboard deals across the country offered all season long. These great deals rival any of the savings you'll find during January, but can be booked for any time before the lifts stop spinning.
From steals on lift tickets to (literally!) free lessons, here's our quick list of the best beginner ski and snowboard deals in the U.S.
Sunday River
Maine
Beginners in New England are in luck when they head to Sunday River Resort in Newry, Maine. The resort offers a mid-week learn to ski or ride package for adults that includes a two-hour lesson, full equipment rental and a lift ticket valid at the resort's beginner lifts for $69. And if you enjoy the experience, you can add on a second day of lessons, rentals and the same lift ticket for just $50 more. Sunday River's started pricing is $50-$60 per day for rentals, $40 per day for a beginner ticket and $40 or more for a lesson, so it's a huge savings over buying everything separately.
Schweitzer Mountain
Idaho
For kids or adults, northern Idaho's Schweitzer Mountain offers a deal for multi-day skiers that's hard to beat. $165 buys any new skier or rider three days of lessons, equipment rentals and lift tickets. It's an excellent buy for anyone on a multi-day ski trip, or for families with kids ready to pick up the sport. As a bonus, each participant will get a pass valid for an additional day of skiing or riding in the spring upon completion of the package. Schweitzer also has great deals on kids camps for families taking ski trips with little ones not quite ready to take to the slopes.
Sierra-at-Tahoe
California
The mountains around Lake Tahoe may not be known for their affordability, but fortunately, Sierra-at-Tahoe offers a beginner deal that's less than half the price of a lift ticket at nearby resorts. If you book in advance online, Sierra's all-day learn to ski or ride package is as low as $69. It includes rentals, a beginner lift ticket, and a 2.5-hour ski or ride lesson. Sierra-at-Tahoe is about 90 minutes from Sacramento, so it's day trip-able if you're in northern California any time this winter.
Mt. Baker
Washington
Washington state's Mt. Baker offers possibly the best deal on the west coast: a full day of skiing and a 90-minute lesson for less than the cost of lunch at your average ski resort restaurant. At $33 per person (or $53 if you need rentals), this is a contender for the country's best learn-to-ski deal. With just eight lifts, Mt. Baker certainly isn't the biggest ski resort in the state, but it offers plenty of terrain to keep new skiers and riders busy. It also averages more than 600 inches of snowfall per year, so there are plenty of back- and side-country chutes to keep the advanced skiers in your group happy, too.
Powderhorn Resort
Colorado
Sure, low-priced lessons are great, but free ones are better. And that's what you'll find at Powderhorn Resort in Colorado: free lessons, complete with rentals and a beginner lift ticket. If you take a morning lesson, you can keep the gear and lift ticket for the rest of the day for just $19; if you take an afternoon lesson, you can access the slopes for free afterwards. The deal is for true beginner skiers and riders only, but you can take advantage of the deal up to three times per season. Powderhorn is equidistant between Denver and Salt Lake City , so it's a great weekend trip for athletes based in either city.