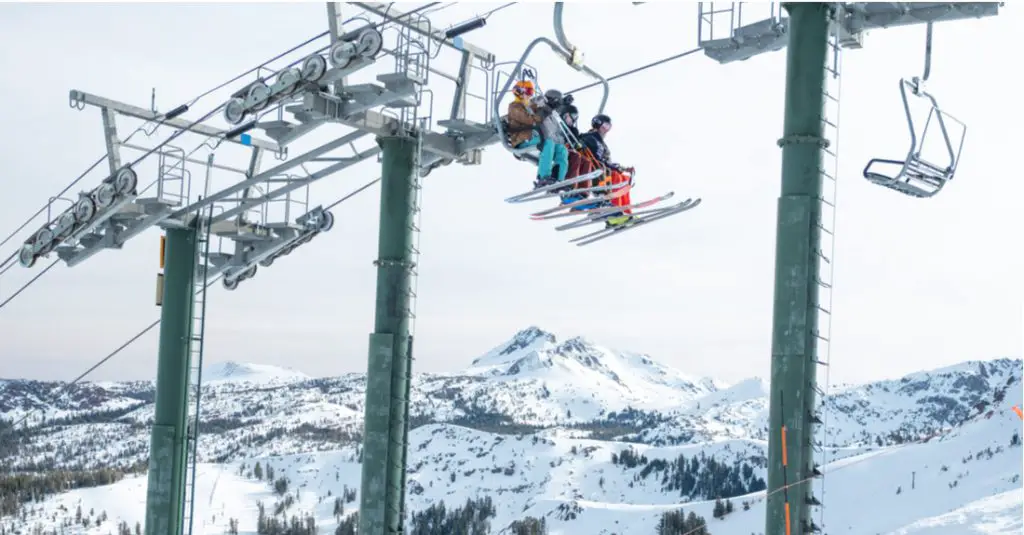 (Credit: Larry Zhou/Shutterstock)
Spring skiing in California means wearing a T-shirt on the trails and sipping beers in the sun. Equally enticing are the cheaper lift tickets and the abundance of hotel deals. Here are six resorts offering end-of-season ski deals tempting us to California's snow and sunshine.
Sugar Bowl Resort
Ninety miles east of Sacramento, Sugar Bowl is a sweet spot for freeriders. In spring, daily lift ticket prices at this historic ski resort shrink to less than $79 per adult on weekends (or around $60 mid-week). In late April, mid-week rates for three nights' accommodation in a cozy lodgette at Donner Lake Village, less than 10 minutes' drive from the ski area, plummets to less than $350.
Total price: $580 for two adults, both with two-day lift tickets, three nights' accommodation mid-week, late April. Book through Snowpak, Booking.com and the Sugar Bowl website .
Kirkwood Mountain Resort
Kirkwood Mountain Resort has a wilder feel than its Lake Tahoe resort neighbors, and there are numerous weekend deals in late March through mid-April. We found the biggest savings booking lift tickets online in advance and reserving accommodation at the no-frills Apex Inn in South Lake Tahoe for $85 a night. To avoid the 40-minute drive between South Lake Tahoe and the ski fields, on-mountain accommodation at The Meadows adds another $200 to the total price tag.
Total price: $540 for two adults, both with two-day lift tickets, two nights' accommodation at Apex Inn, late March to mid-April. Book through Hotels.com and the Kirkwood Mountain Resort website .
Big Bear Mountain Resort
Less than three hours' drive from Los Angeles or San Diego, Big Bear has dozens of hotels and cabin rentals offering lift and lodging packages. Wood-lined one-bedroom lakefront cabins (like Juniper and Sunset) cost less than $90 per night from March through mid-April. For two-night stays, a one-day lift ticket is thrown in for free; alternatively there's 20 percent off passes bought online 72 hours in advance.
Total price: $564 for two adults, both with three-day lift tickets and three nights' accommodation, mid-March to mid-April. Book through Big Bear Vacations .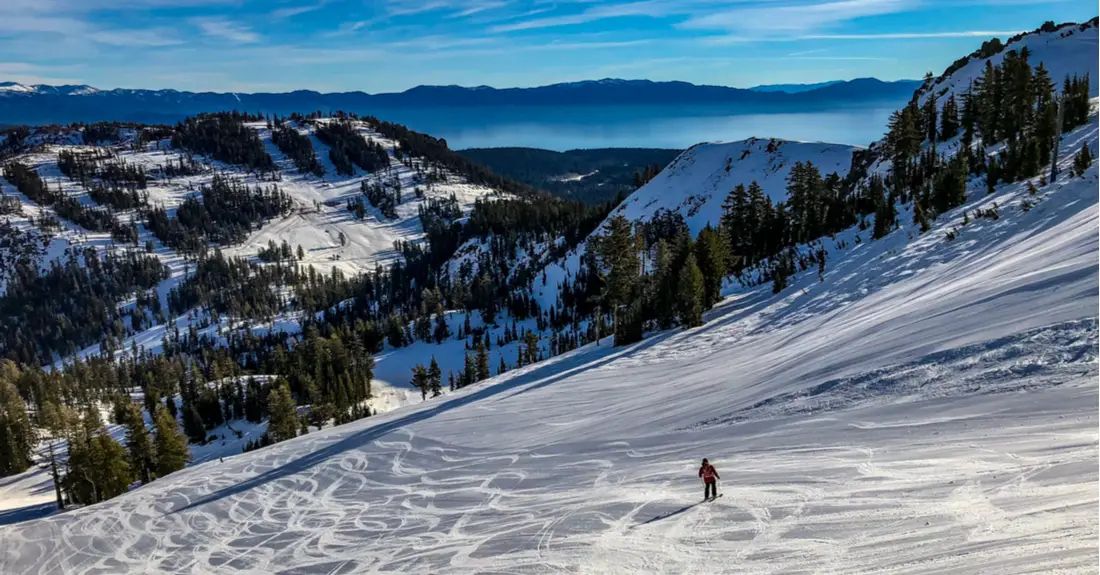 Squaw Valley/Alpine Meadows
Slope-side accommodation, epic views of Lake Tahoe and big savings… if you're able to take a mid-week break. Until late April, the Tahoe Super 4 Pack gets you four days of skiing at Squaw Valley/Alpine Meadows less than $113 per day, plus a 20 percent discount from Sunday to Thursday at The Village at Squaw Valley, on-mountain accommodation with hot tub access. Women skiers: enjoy more savings by booking the Women of Winter Clinic for $59.
Total price: $1,580 for two adults, both with four-day lift ticket and five nights' accommodation (Sunday to Thursday, mid-March to late April). Book through  the Squaw Valley/Alpine Meadows website .
Mammoth Mountain
At Mammoth Mountain , the season is long and the mountains are high (with a 3,100-foot vertical drop). You won't get a ski weekend here for a rock-bottom price, but lift ticket rates slide from late February (buy online seven days ahead) and accommodation prices drop in late April through May. We found three-night weekend stays in April at the charming, superbly located Alpenhof Lodge for $467, taking the sting out of the $240 per person two-day lift tickets.
Total price: $949 for two adults, both with two-day lift tickets and three nights' accommodation, late April to late May. Book separately through the Mammoth Mountain website and Booking.com.
Mount Shasta
It isn't a big resort and it isn't snow-sure late in the season, but we still have a soft spot for Mount Shasta 's great-value lift tickets and picturesque night skiing. Two people skiing Saturday through Monday pay a total of $366 in lift tickets. Twenty minutes' drive downhill is the Mount Shasta Resort, which has slashed accommodation prices by 50 percent: less than $65 per night for a room, or $95 for a chalet complete with a fireplace, a kitchen and a private deck.
Total price: $560 for two adults, both with three-day lift tickets and three nights' accommodation, late February to mid-March. Book separately through the Mount Shasta Resort and Mount Shasta Ski Park websites.
Pro tip:
Packages on resort websites don't always have the deepest discounts – always compare them against the cost of purchasing accommodation and lift tickets separately.