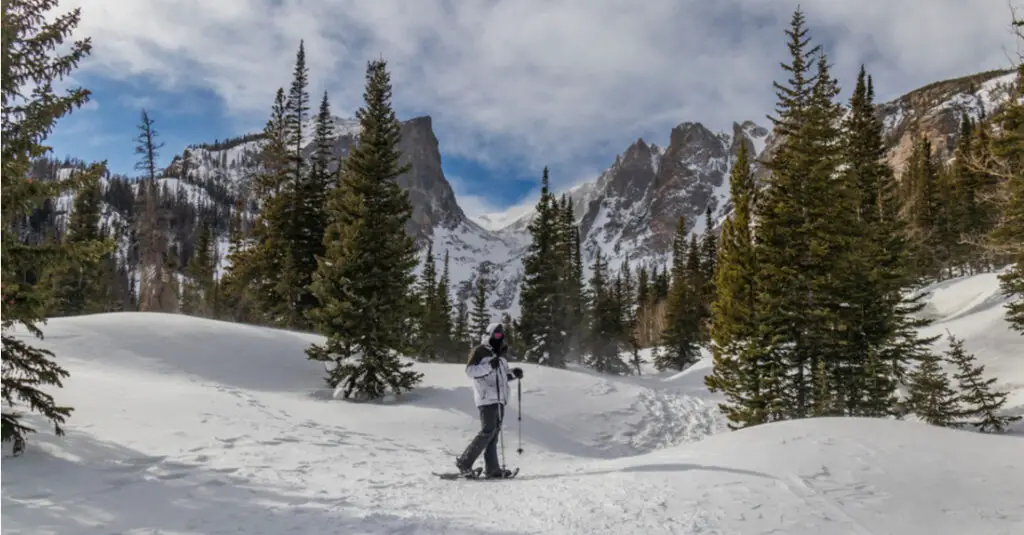 (Credit: Martina Sliger/Shutterstock)
An activity steeped in history, snowshoeing was once the way prehistoric hunters traveled on their wintertime quests for food. Today, outdoor adventurers strap on modern-day versions and hit the snow-packed trails for wintertime recreational fun. Popular snowshoeing trails abound all across the country, but the Denver area leads the pack in winter adventures. Just a short distance outside Mile High City's bustling culinary and cultural scene, you'll find an abundance of top-notch snowshoeing playgrounds to explore. Check out our list of five great snowshoeing destinations near Denver for scenes featuring alpine lakes, winter wonderlands and epic Rocky Mountain views.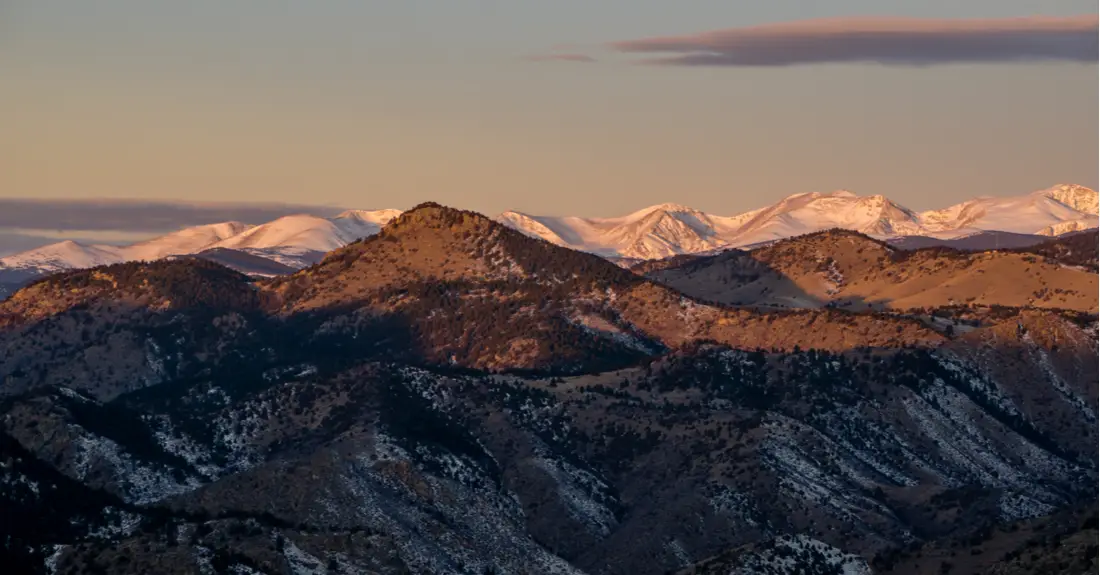 Golden Gate Canyon State Park
Golden, Colorado
Distance from Denver: 29 miles
Located 30 miles outside Denver, Golden Gate Canyon State Park offers consistently snow packed trails ideal for snowshoeing. The park features 35 miles of well-marked paths, most suitable for novice snowshoers. Snowshoe Hare Trail's three-mile loop caters to beginners with its gentle inclines. Meanwhile, those looking for a longer trek can check out Mountain Lion Trail's 6.9 mile-long loop trail. But be prepared to share the path, as this route is often heavily trafficked.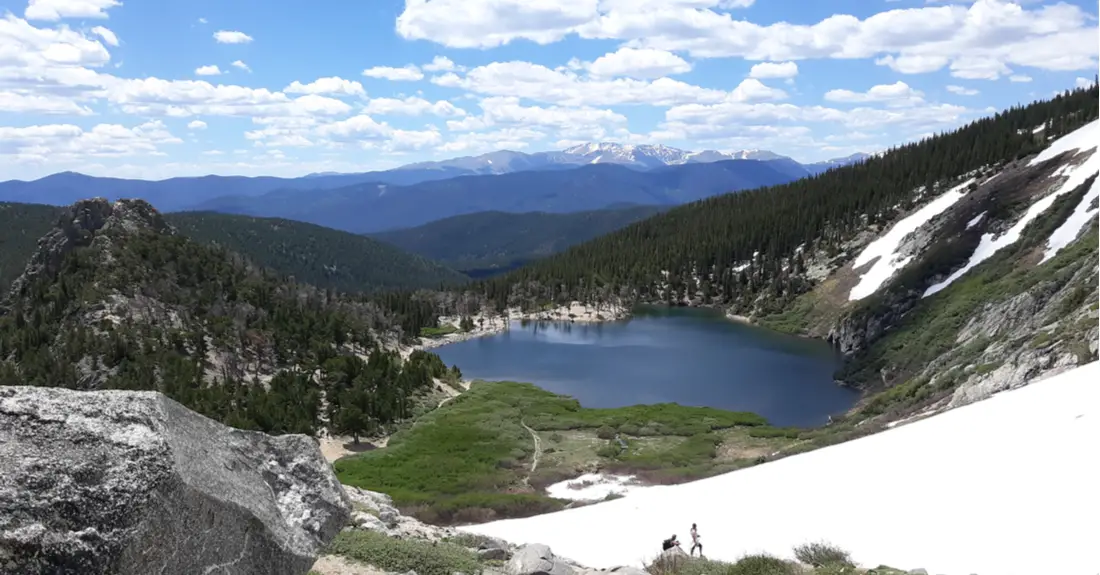 St. Mary's Glacier
Idaho Springs, Colorado
Distance from Denver: 45 miles
This former ski resort provides unique snowshoeing terrain that you can experience all year round. St. Mary's Glacier is a permanent glacier (technically known as a perennial snowfield), meaning it is covered in powder even in the middle of summer. A 2.2 mile round-trip trek will take adventurers to the glacial summit and stunning views of the Rocky Mountain and St. Mary's Lake. But don't let the short trail length fool, though. The incline is steep, and the area is known for its gusty winds and full sun exposure at the top. So make sure you dress warm, pack goggles or sunglasses, and apply sunscreen.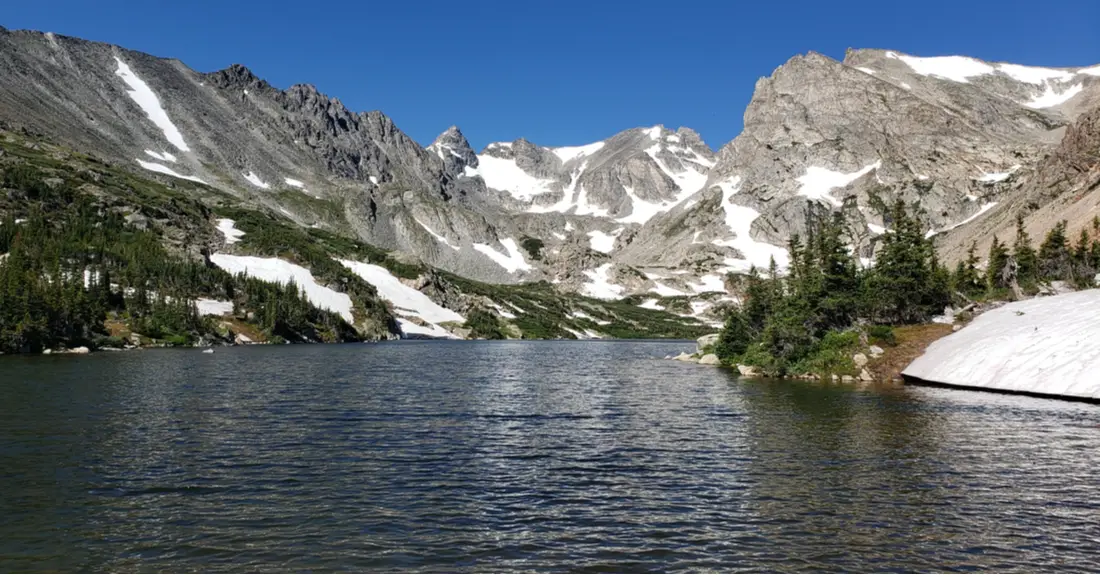 Brainard Lake Recreation Area
Ward, Colorado
Distance from Denver: 54 miles
Thousands of visitors flock to Brainard Lake each year, drawn by its spectacular scenery. Those visiting in the wintertime can expect picture-perfect, snowy views. There are 24 trails to choose from, but the best route to Brainard Lake is the North Sourdough/Waldrop Trail. The route begins by traversing a pine forest before opening up to the alpine lake. Along the way, hikers can marvel at the 13,000-foot-high Indian Peaks and panoramic views of the Continental Divide.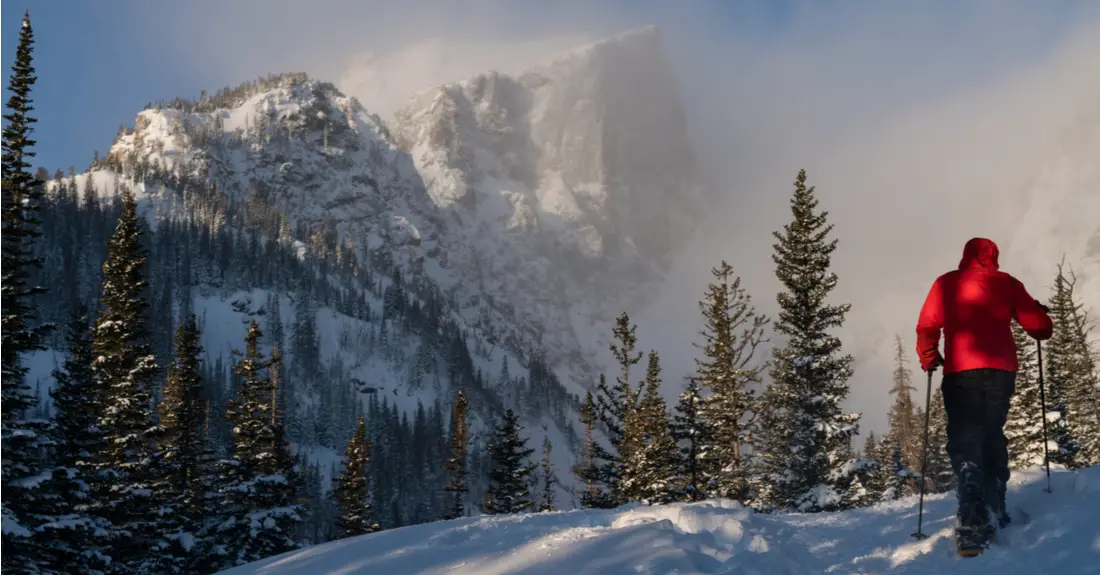 Rocky Mountain National Park
Estes Park, Colorado
Distance from Denver: 66 miles
Rocky Mountain National Park offers miles of snowshoeing trails at varying degrees of difficulty. Those new to the sport can try Bear Lake Loop, a mostly flat, one-mile-long loop trail that offers the perfect introduction to snowshoeing. Meanwhile, more experienced snowshoers will enjoy Gem Lake Trail, a moderate 3.5-mile trek reaching 1,000 feet in elevation. And advanced snowshoers can tackle the 9.6-mile Black Lake Trail, which gains 1,480 feet in elevation, but rewards with excellent views of Alberta Falls.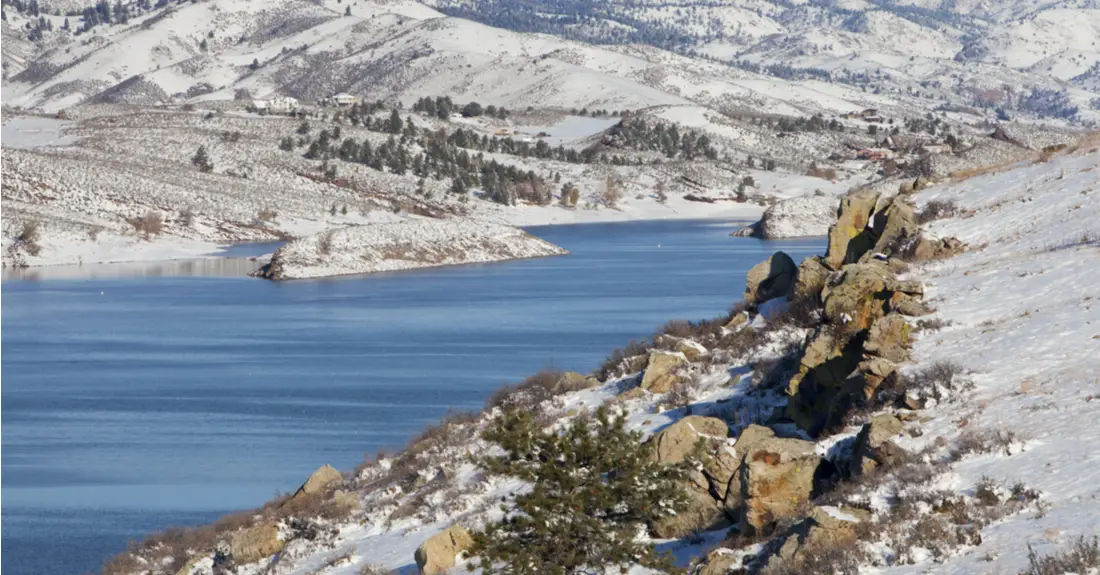 Lory State Park
Bellvue, Colorado
Distance from Denver: 75 miles
Offering various beginner- and intermediate-level trails, Lory State Park touts a prime example of Colorado's sedimentary rock and sandstone formations. It's located near Fort Collins and sits just north of Horsetooth Reservoir. Combine East Valley Trail and West Valley Trail for a 5.5-mile loop along which you can experience some of the best wintertime views the region has to offer.