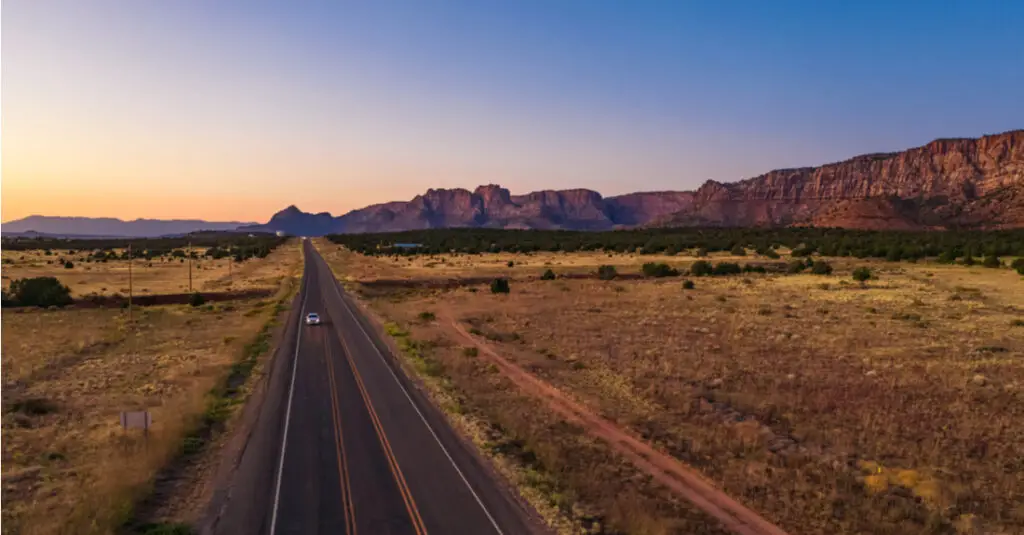 (Credit: Karina Movsesyan/Shutterstock)
With five national parks, three national monuments and 43 state parks, Utah has no shortage of spectacular natural scenery. This desert landscape looks good no matter the season. And much of it can be enjoyed from the comfort of your car. These are some of the most amazing scenic drives in Utah, with canyons, red rock formations, lookouts and wildlife just a short pull-off away.
Scenic Byway 12
Driving SR-12 for 119 miles between Panguitch and Torrey is like taking a mini tour of Utah. The stretch of pavement, also known as A Journey Through Time Scenic Byway, passes numerous national and state parks, including Bryce Canyon National Park, Dixie National Forest, Grand Staircase-Escalante National Monument and Capitol Reef National Park. While you can make the drive in four hours, you'll want to give yourself at least a full day for stops along the way.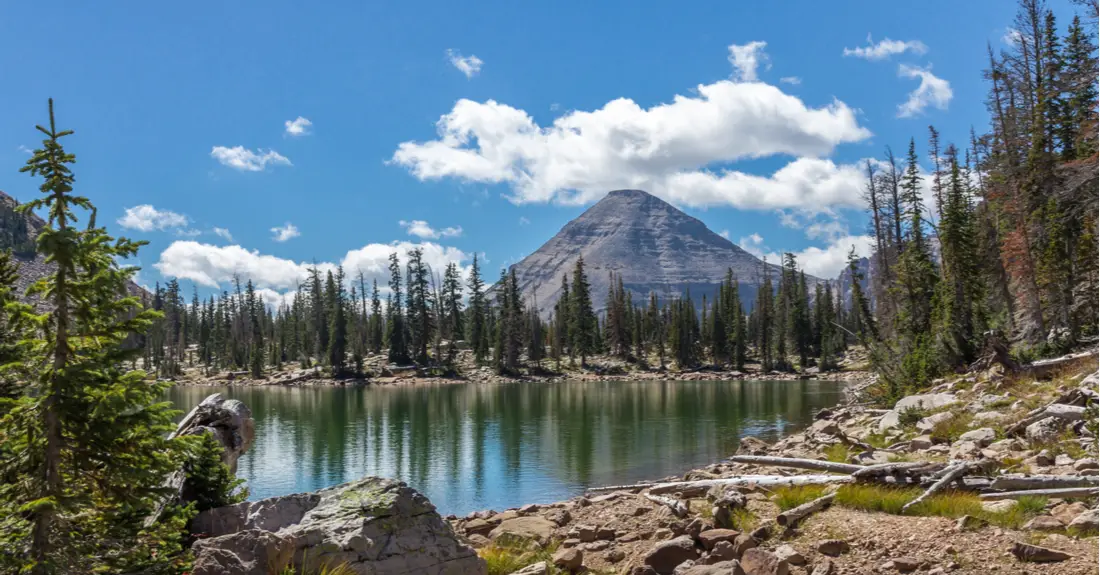 Mirror Lake Scenic Byway
This 42-mile stretch of Utah State Route 150 climbs through the Uinta Mountains near the Wyoming border. Mirror Lake Scenic Byway gets its name from the numerous mountain lakes in the region. And the region's waterfalls, alpine peaks, river canyons and thick forested areas add to the beauty. It's also within easy day-trip distance of Salt Lake City, making it a convenient mountain escape.
Potash Road
Potash Road, also known as the Lower Colorado Scenic Byway, offers a quiet route for soaking up Moab's sandstone scenery. This 17-mile stretch of Utah State Route 279 passes through a narrow gorge of the Colorado River. Sandstone cliffs tower to one side while the river flows along the other. Marked pullouts offer easy access to petroglyph panels, fossilized dinosaur tracks, rock climbing, hiking trails and mountain biking routes.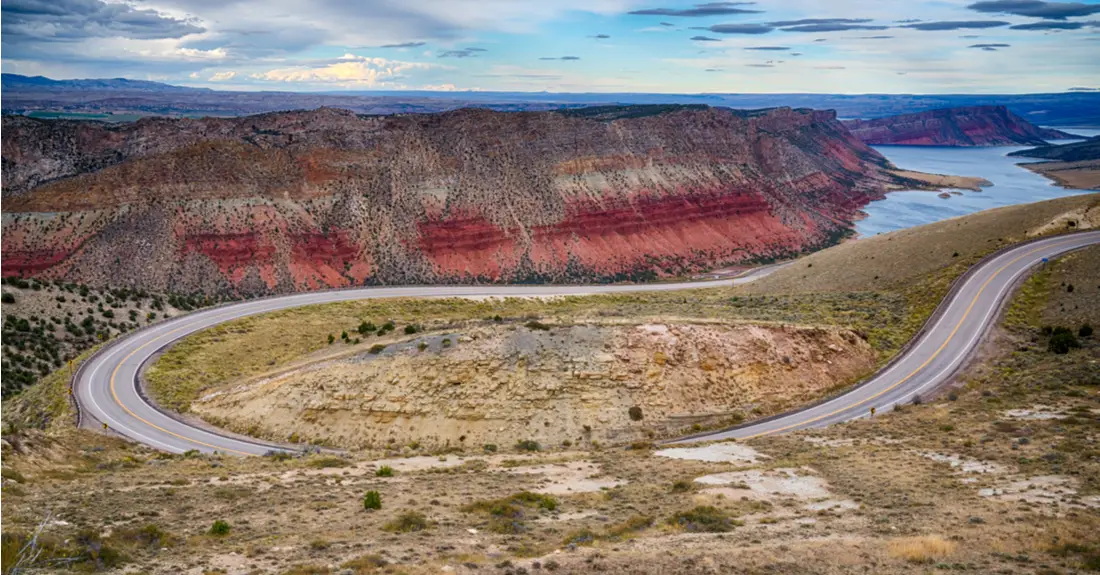 Flaming Gorge-Uintas Scenic Byway
The 80-mile Flaming Gorge-Uintas Scenic Byway runs between Vernal and Manila on U.S. Highway 191 and Utah Highway 44 near the Flaming Gorge National Recreation Area. As with any drive in Utah, you'll enjoy photo-worthy scenery (be sure to stop at the Red Canyon overlook). But the real highlight of this route is the chance to spot wildlife, including deer, moose, elk, eagles, wild turkeys and many other bird species.
Dinosaur Diamond Prehistoric Highway
Follow the fossilized footsteps of dinosaurs along the 512-mile Dinosaur Diamond Prehistoric Highway National Scenic Byway. The route creates a diamond pattern across Utah and Colorado through what was a diverse dinosaur habitat millions of years ago. The southern portion of the highway, heading west and south from Vernal on U.S. 191, offers the best scenic views. Meanwhile, other worthwhile stops include Dinosaur National Monument and the Utah State University Eastern Prehistoric Museum.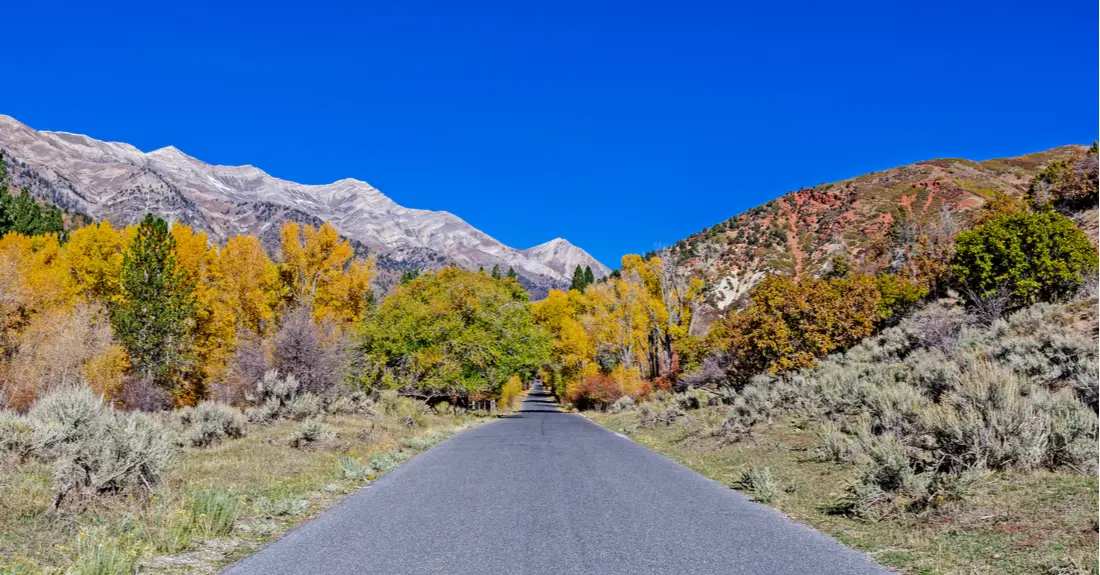 Nebo Loop National Scenic Byway
A relatively short drive along Forest Service Road 15 between Payson and Nephi, the Nebo Loop National Scenic Byway is one of your best bets for enjoying Utah's high-elevation scenery. As you drive the 38-mile road through the Wasatch Front, be sure to stop at the Utah Valley Overlook. Here you'll find the type of summit views typically only accessible by hiking.
Trail of the Ancients National Scenic Byway
The Trail of the Ancients National Scenic Byway winds for more than 300 miles through the Four Corners area of Utah, connecting Four Corners Monument, Edge of the Cedars State Park, Natural Bridges and Hovenweep National Monuments, and Monument Valley Navajo Tribal Park. Adventurous types won't want to miss a drive along the steep gravel switchbacks of Moki Dugway as they wind down toward the Valley of the Gods.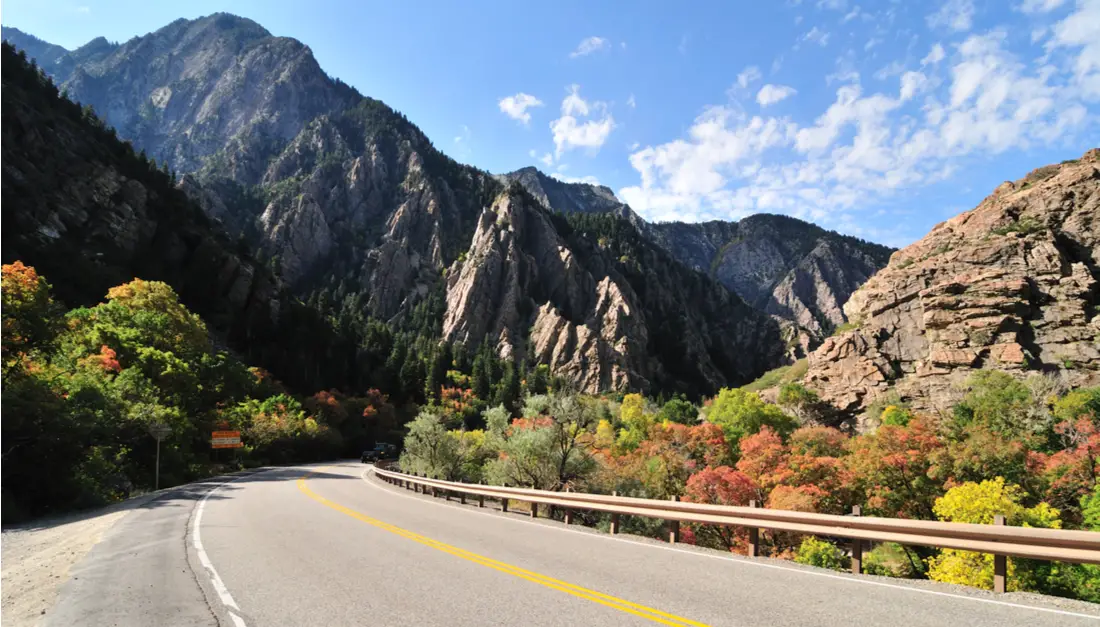 Big Cottonwood Canyon State Byway
Make the 15-mile drive through Big Cottonwood Canyon for some of the best alpine views in the Salt Lake City area. Big Cottonwood Canyon Scenic Drive follows Highway 190 up the canyon. It affords plenty of opportunities for hiking, rock climbing, camping or fishing along the way. The route also passes Solitude and Brighton ski areas, as well as popular Silver Lake.
Kolob Canyons Road
Get a taste of Zion National Park's majestic desert scenery by taking the 5-mile Kolob Canyons Road just off Interstate 15. Soak up the deep box canyon scenery, or hop out of the car to stretch your legs on one of several short hikes. Try the half-mile trail to the Timber Creek Overlook for its views over the Kolob Canyons and Pine Valley Mountains. On a clear day, you can see all the way to the North Rim of the Grand Canyon.