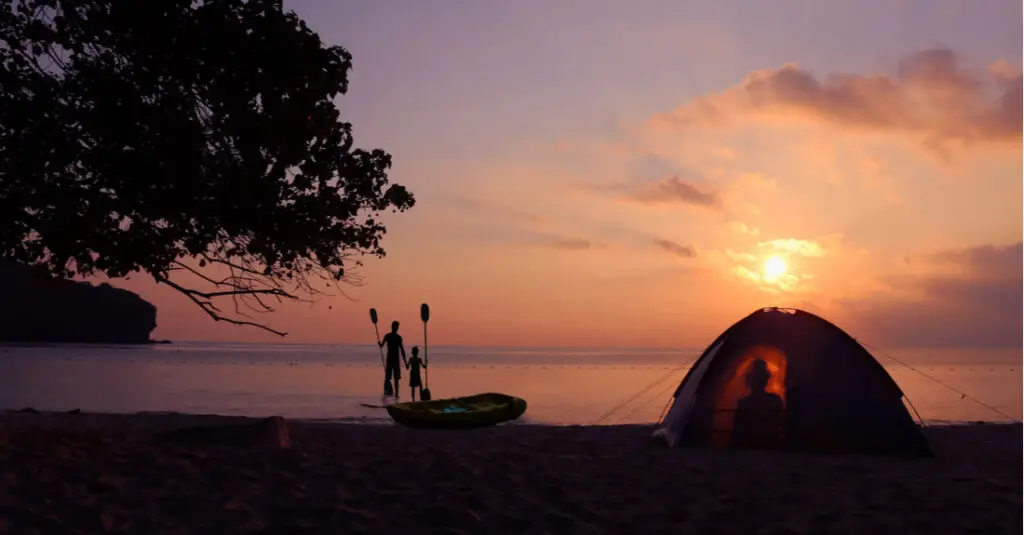 (Credit: NeagoneFo/Shutterstock)
When most people think about camping, they often conjure up images of heavily wooded forests. However, beach camping is one of the most highly underrated experiences, and one that every outdoor enthusiast should try at least once. Start planning your next getaway with our list of 12 great beach camping locations on the East Coast. From Florida to Nova Scotia, these destinations offer ample opportunities to swim, boat, fish and, of course, sleep under the stars.
In addition to spectacular views and relatively affordable prices, East Coast beaches often have calmer waters than the West Coast beaches, making them a great spot for amateur surfers to practice their skills due to the relatively tame waves as well as a fun vacation for almost any skill level or interest.
Bar Harbor, Maine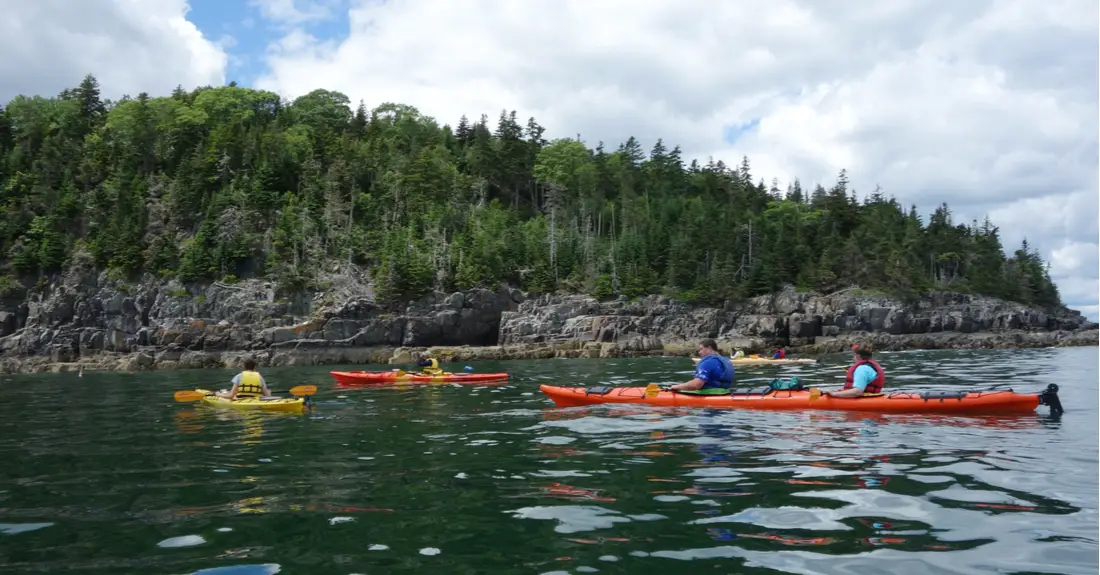 Maine beaches are unlike any in the world, and Acadia National Park – with its sweeping views of the ocean and miles of jaw-dropping forests – is a must-visit national park. While you can't camp directly in the park itself, you can camp relatively close by at any number of campsites around Bar Harbor. Enjoy Maine's rocky beaches, an ocean kayak excursion, and some of the best fresh lobster in the world.  Bar Harbor's relative isolation means you won't have to worry too much about crowds disrupting the peaceful shoreline.
Moosehead Lake, Maine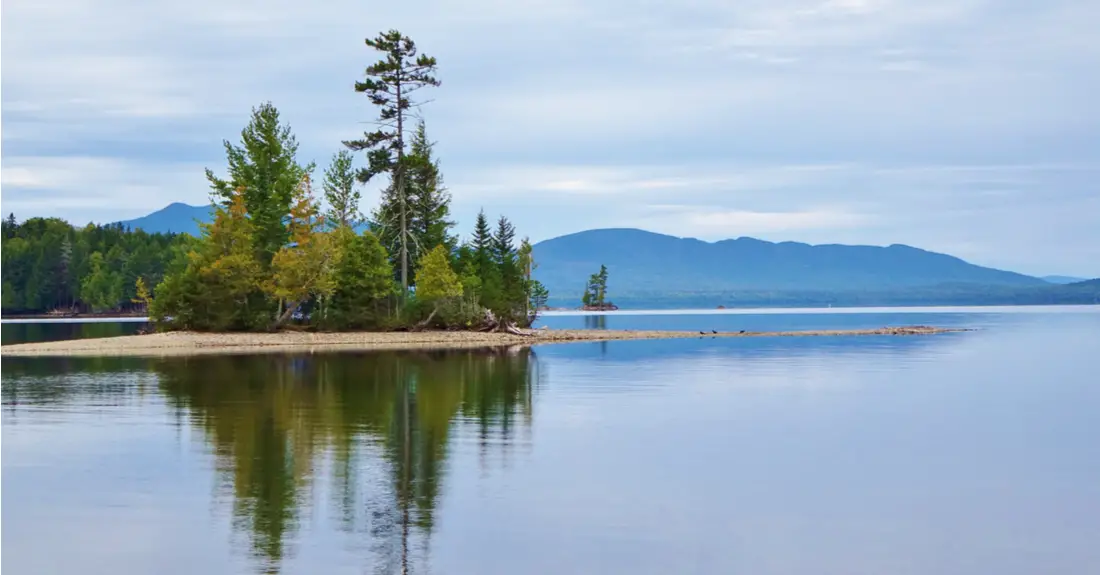 Maine has plenty of freshwater beaches, as well. Moosehead Lake, the state's largest lake, offers a myriad of camping options and year-round activities. Set up camp and take a kayak or canoe to one of Moosehead Lake's 80-plus islands, or hike up Mount Kineo for breathtaking views of the area. Odds are that you'll probably see a moose or two while camping. After all, the lake not only resembles a moose's antlers, but moose reportedly outnumber people three to one.
Cottage Camping at Indian River Marina, Delaware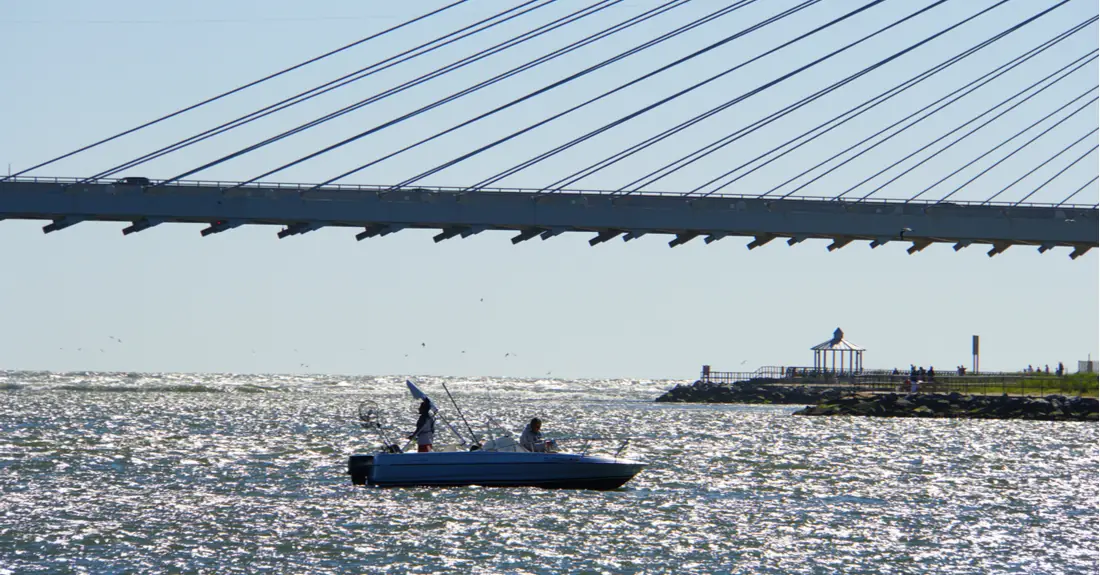 If rustic camping isn't your cup of tea, the rustic cottages at Indian River Marina offer great cabin camping. You'll still need to bring your own sleeping bag, and you can most likely build a campfire, but there's no need to pitch a tent. The secluded marina is located in Delaware Seashore State Park. Experience the ocean by kayak or paddle board, or just hang out on the beach. Make sure to grab your camping chair and settle in to watch the iconic sunrise and sunset views that the area has to offer.
Gillette Castle State Park, Connecticut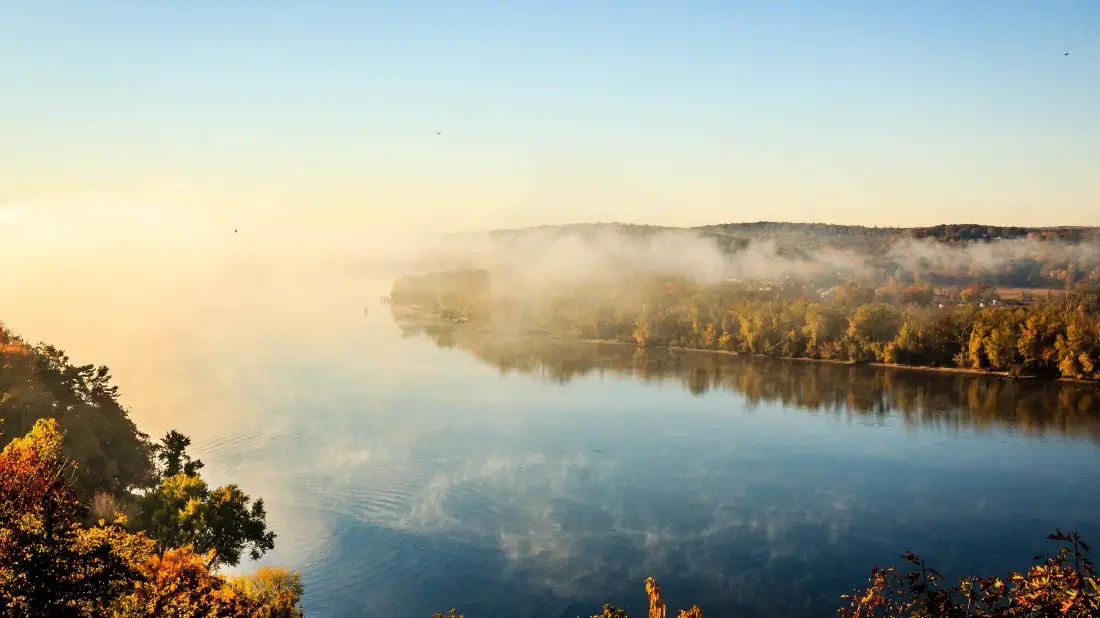 Another non-ocean beach camping option can be found in Connecticut's Gillette Castle State Park on the Connecticut River. The boat-in campsites offer solitude and scenery along with great fishing and river activities, but they are primitive. There is no running water or bathroom facilities (pit toilets are available), and you must carry out your trash. Designated fire pits are available. You can also hike the trails along a three-mile narrow gauge railroad line, or take a tour of the 184-acre, 24-room estate of actor, director and playwright William Hooker Gillette.
Massey's Landing in Long Neck, Delaware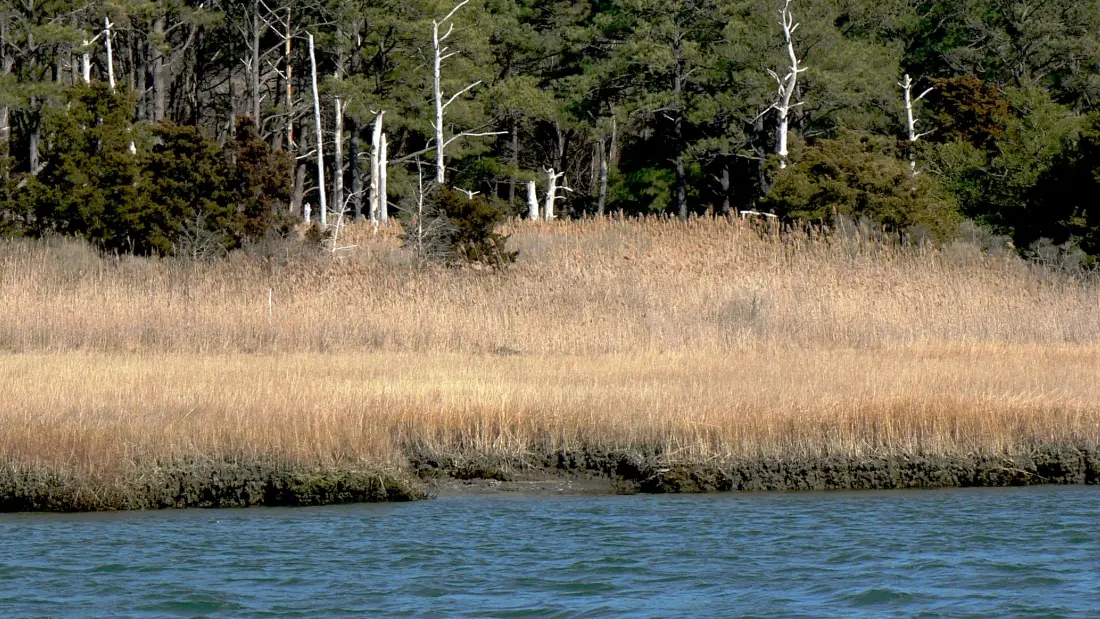 Somewhere between camping and cabin residing lies "glamping". Delaware's Massey's Landing, located on Rehoboth Bay, offers several glamping setups. Each site comes complete with the best parts of camping (fire pits, breathtaking nature views) and modern conveniences (running water, WiFi). Best of all, the campsites are completely pet-friendly. While here, you can bring (or rent) a kayak or SUP to enjoy the calm waters of Rehoboth Bay.
Hither Hills State Park, New York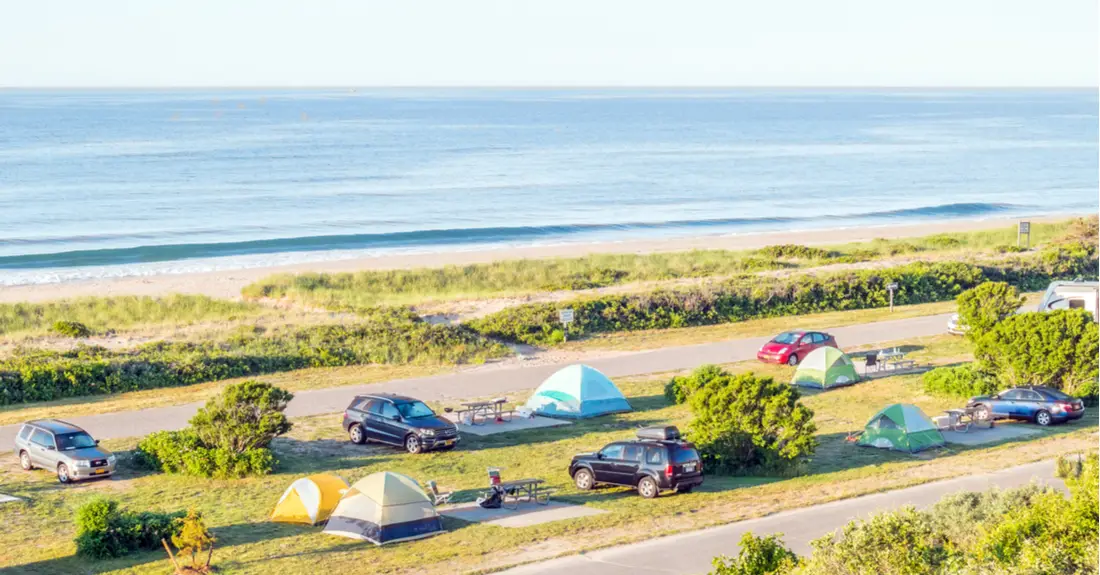 Just a few hours east of New York City in Montauk lies Hither Hills State Park, which offers not just oceanfront camping, but also two miles of secluded beach camping along the shoreline of Fresh Pond. Hike through the park's diverse woodlands or along their massive sand dunes, or just take a swim in the ocean. The best part about this park is that it is an easy weekend trip from the city.
Assateague State Park, Maryland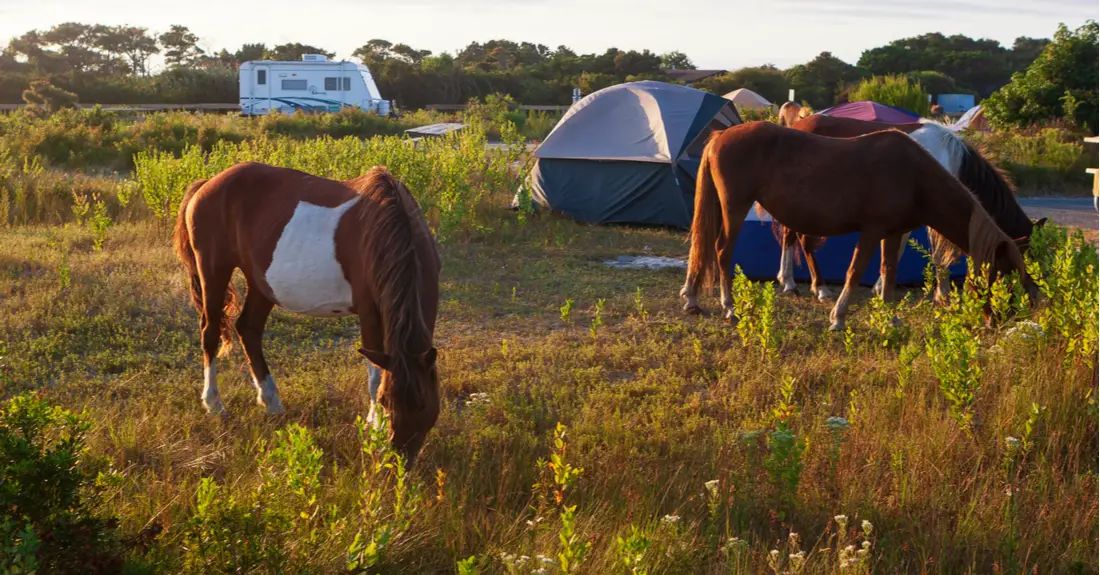 Wild horses might be needed to pull you away from Maryland's coastal gem. Assateague State Park, located on a barrier island bordered by the Atlantic Ocean on the east and the Sinepuxent Bay on the west, offers not just jaw-dropping views of the ocean, but also a peaceful habitat for herds of wild horses. In addition to watching the horses graze, frolic and even swim, you can kayak on the ocean or through the calmer marsh waters on the bay side.
Huntington Beach State Park, South Carolina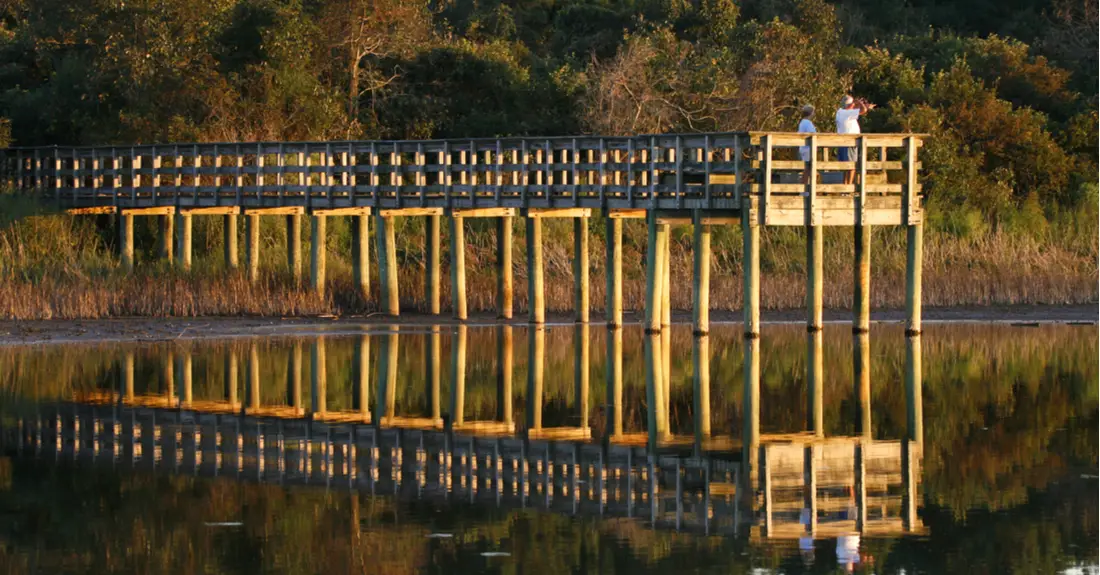 The Carolinas are known for their beaches and highly populated tourist destinations (we're looking at you, Myrtle Beach). However, Huntington Beach State Park offers the same great beaches and waterfront activities (and fishing) as Myrtle, but without the crowds. And while you can't camp in a castle, you can visit one here! Located within park boundaries, Atalaya Castle wasn't an actual castle, but rather the winter home of industrialist and philanthropist Archer M. Huntington and his wife, the sculptor Anna Hyatt Huntington. The building showcases the fusion of Spanish and southern architecture and is a must-see attraction.
Hammocks Beach State Park, North Carolina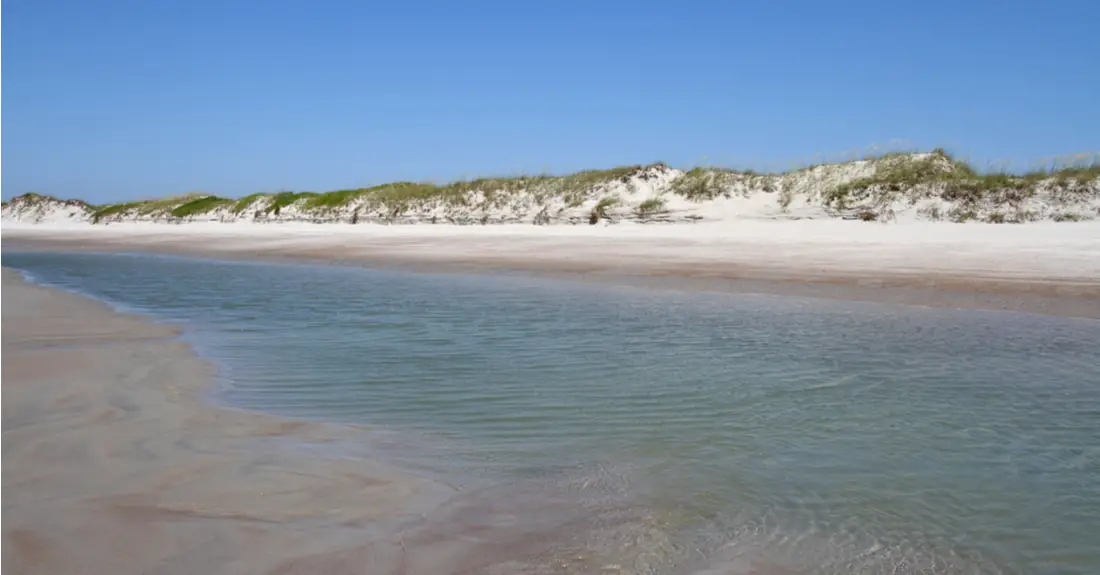 North Carolina's Hammocks Beach State Park is one of the least accessible beaches on the East Coast. This makes it perfect for those looking for a truly primitive camping experience. No cars are allowed on the island, which is accessible only by ferry. You can rent kayaks, paddle boards, and canoes on the mainland and bring them over. Large dunes surround each campsite, making them incredibly secluded. There are only 14 campsites available, so be sure to book well in advance!
Cumberland Island National Seashore, Georgia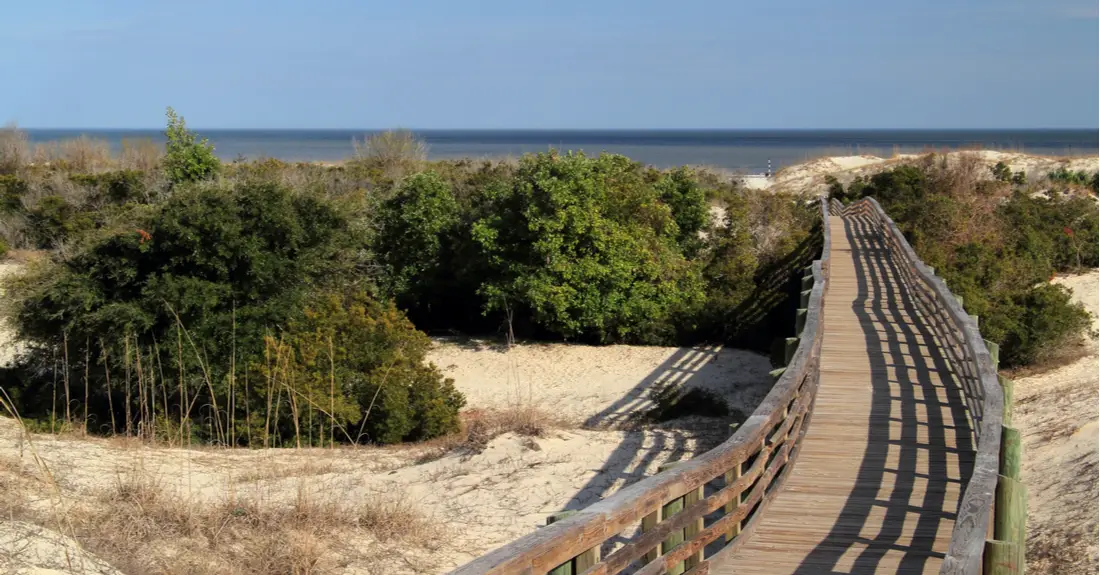 Also accessible only by ferry, the camping options on Georgia's Cumberland Island National Seashore are rustic and isolated, surrounded by Spanish moss-draped trees and tidal pools. This Lowcountry paradise offers about five different campsite options depending on what you're looking for: The heavily wooded, inner-island Yankee Paradise and Hickory Hill campgrounds; the beachfront sites on Stafford Beach and Sea Camp; or the isolated beach cove campsites at Brickhill Bluff. From all sites, you can enjoy swimming and beach walks, or rent a bike and ride around the island. Be sure to check out the remnants of the Dungeness Ruins, the remains of a mansion built by Thomas Carnegie, brother and partner of steel tycoon Andrew Carnegie.
Anastasia State Park, Florida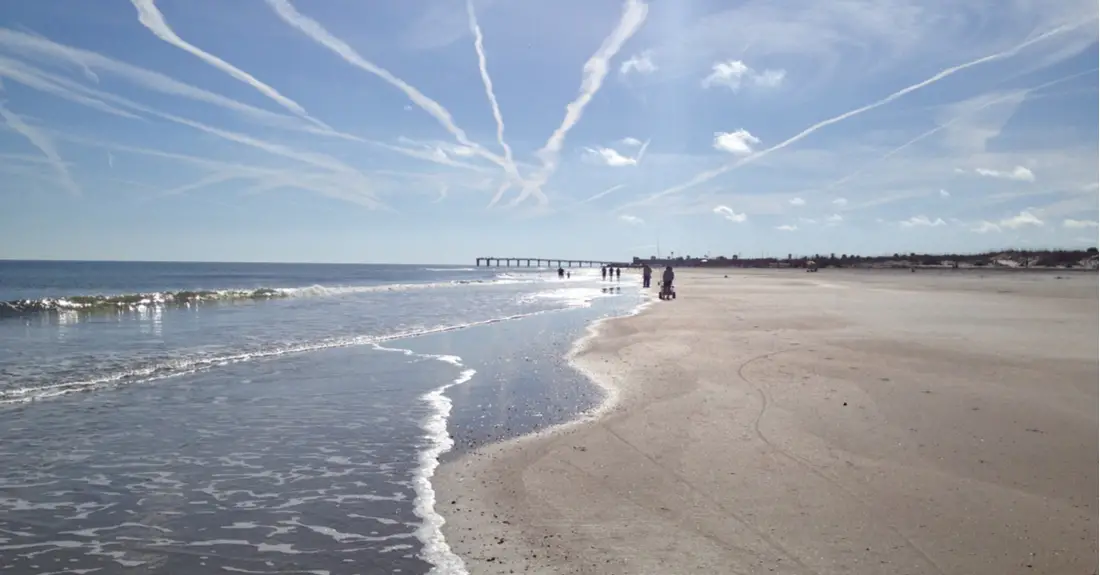 Florida has quite literally no shortage of beaches to choose from. While spring breakers might flock to Miami or Daytona Beach, those looking for a more serene spot can check out Anastasia State Park. Camp among the white-sand dunes at night and hike along the four miles of shoreline trails during the day. If that's not enough, you can easily try your hand at kayaking, canoeing, paddle boarding and even sailing. Equipment for all these activities can be rented locally.
Cape Breton Highlands National Park, Nova Scotia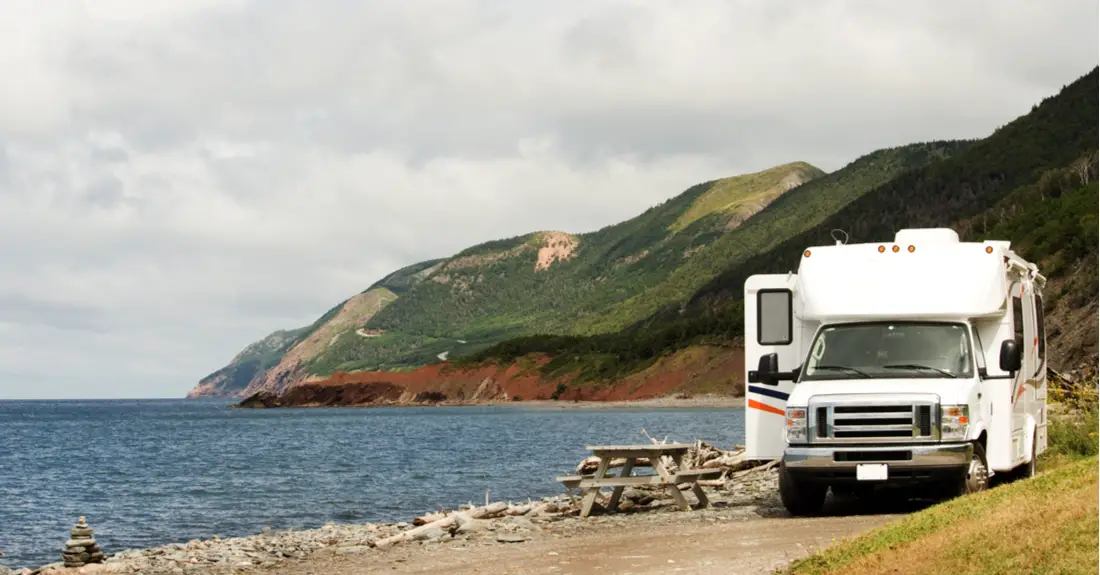 Some of the best beach camping on the East Coast can be found north of the border in Canada. Cape Breton Highlands National Park in Nova Scotia boasts five saltwater ocean beaches, two freshwater lakes, and 26 major hiking trails. There is also a beautiful backcountry campground nestled in an ocean cove at the base of MacKenzie Mountain. A word of caution: it is a very primitive campground with limited resources or services, which means you'll need to come completely prepared for the elements.