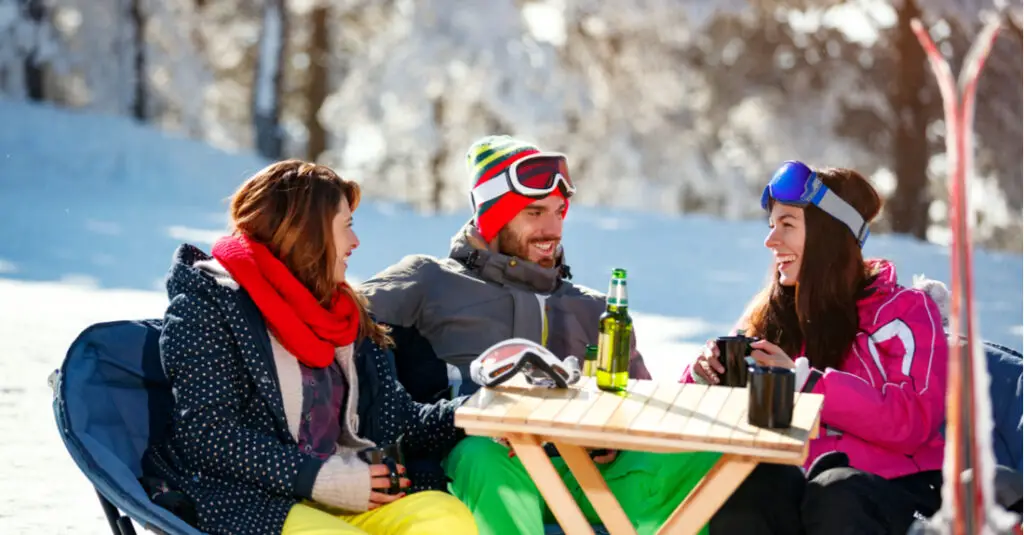 (Credit:: Lucky Business/Shutterstock)
Lake Tahoe is the ultimate ski destination in California with 15 different ski resorts and more than 27,000 acres of terrain. And each resort offers an après-ski destination or two that are worth checking out. After all, a good après-ski activity is always called for to end a day on the slopes, no matter who you are heading to the mountains with. The après-ski tradition is just as important to a ski trip as the snow. Whether it's about cold beer and pizza with friends, or a family-friendly hangout complete with s'mores and snow tubing, there is something for everyone. We have rounded up the five best après-ski spots around Lake Tahoe, from north to south.
Overlook at Northstar
Truckee, CA
12pm-5pm Friday-Monday; closed Tuesday-Thursday
Since Northstar is known to be a family-friendly ski resort, it naturally offers a family-friendly après-ski option as well. The Overlook has all the Irish coffee, hot toddies and mulled wine that you need to warm up for an après-ski, but it is also a great location for a family hangout as it offers many activities to keep the small ones busy. In addition to a hot chocolate bar and build-your-own cupcake station, Overlook's playground boasts snow tubing and snow play zone with a view of the ice skating rink at Northstar Village. On select Saturdays, The Overlook kitchen team will also set up S'moresapalooza with twists on the classic s'mores.

Le Chamois
Olympic Valley, CA
11am-7pm daily (closed in the summer)
Affectionately known as "The Chammy", Le Chamois is the most popular après-ski hangout in Squaw Valley, with crowds spilling over to the outdoor fire pit. Vintage skis and memorabilia from the 1960 Winter Olympic Games (hosted at Olympic Valley) adorn the no-frills bar, which draws a mass of skiers daily with their affordable prices. The menu is approachable and most come for the pizza. Groups are guaranteed a good time with pitchers of cold beer and extra-large pizzas, though be warned The Chammy gets packed after 3pm, especially on Saturdays. There is also live music in the outdoor area on the weekends. Pro-tip: if you're a regular at Squaw Valley and traveling with a big group, purchase a punch card to save money on 20 pints or 10 pitchers of beers.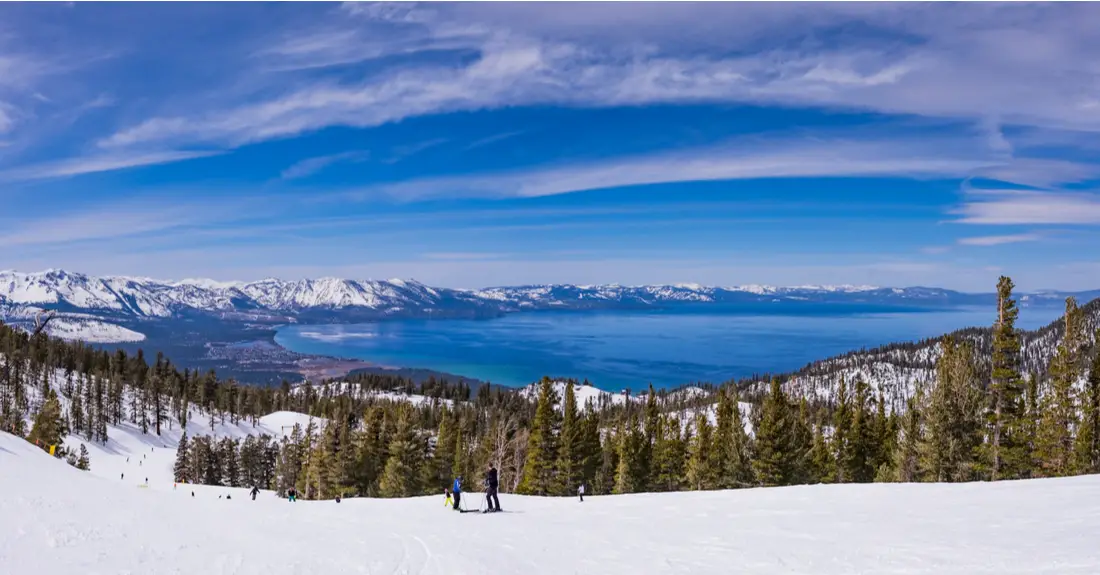 Tamarack Lodge
South Lake Tahoe, CA
9am-5:30pm daily
After finishing up those ski runs at Heavenly, don't head down the mountain just yet but start those après-ski drinks at the top of the gondola at Tamarack Lodge. While Tamarack Lodge no longer offers the famous Unbuckle parties (club-style raves once known to rival Las Vegas' party scene), it's worth stopping by for low-priced drinks at high altitude (their Bar 9150' is named such because it sits at 9,150 feet above sea level). Don't miss half-price drinks and food specials offered during après hours from 3-5pm daily. There is also live music every Friday and Saturday. What better way to unwind while waiting for the gondola lines to die down? Season regulars should consider joining the Mug Club, where guests can purchase a reusable mug for $68 and receive 50 percent off beers all season long.
Himmel Haus
South Lake Tahoe, CA
Open Monday-Sunday; hours vary
Close to the Heavenly aerial tramway, this Bavarian restaurant and bierhaus in South Lake Tahoe has become the go-to après-ski spot for locals and seasonal skiers. Himmel Haus offers a German and Belgian-heavy beer menu including six beers on tap and a selection of more than 30 bottled beers. Grab a pretzel and a beer in a boot or stay for dinner for hearty German fare like currywurst and spatzle that hit the spot after a long day on the slopes. For those skiing in the middle of the week, join in on the trivia fun on Wednesday nights.
Kirkwood Inn & Saloon
Kirkwood, CA
3pm-9pm Wednesday-Sunday
There isn't too many dining choices and watering holes at Kirkwood, a ski resort known among powder hounds for having one of the highest annual snowfalls in the world. The best option is the historic Kirkwood Inn & Saloon that offers a blast from the past with their log cabin built in 1864. As a nod to its past – pioneer Zachary Kirkwood raised cattle on the property – the saloon's menu focuses on meat, though there are vegetarian options on the menu now including the plant-based Impossible Burger. There are rotating craft beers on tap and simple cocktails to quench skiers' thirst. Stay for dinner and order from their menu of burgers and slow-smoked barbecue.