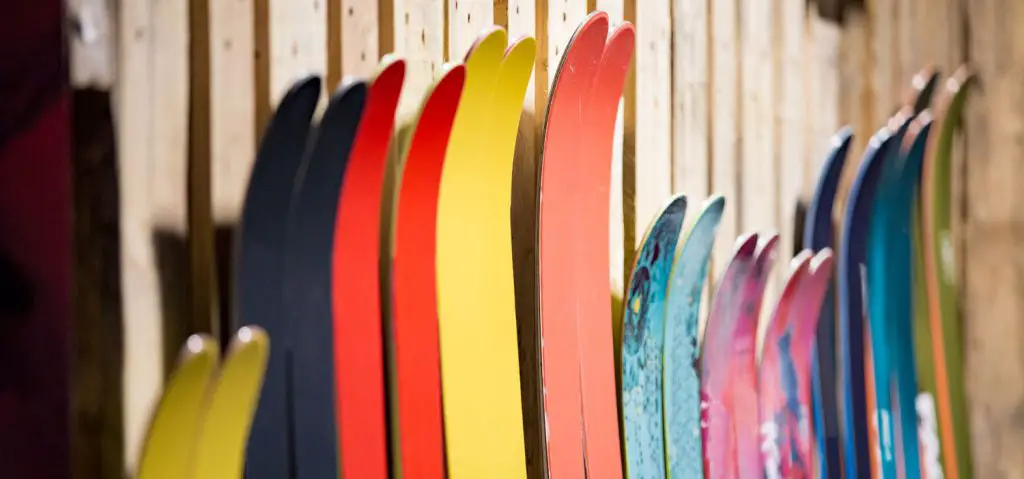 (Credit: Aleksandra Suzi/Shutterstock)
Are you thinking of buying your own ski gear? Congrats! Buying a pair of skis is an exciting endeavor. Don't believe us? Just ask any serious skier, and he or she will talk your head off about the latest technology and options.
But it can be hard to know how to buy your first pair of skis: what matters, what doesn't, and what you need to take into consideration before handing over your credit card. Here are the things you need to think about:
How often you ski?
This consideration is intrinsically tied to price. If you plan to ski frequently (at least once a week), you can justify spending a bit more when you buy your first pair of skis. Generally, more expensive skis will have more solid core components and require less maintenance, which means you'll get more use out of them before they need to be tuned or start to show wear.
A common mistake is paying too much money for a specific ski color or design, neither of which matter at all when covered in snow. According to Mark Wallace, co-founder of New England-based Parlor Skis , "Buy the best quality ski you can afford, and if that means getting last year's graphic, do it."
If you're skiing less frequently or still figuring out if you enjoy it, you may want to consider starting off purchasing a lightly used pair. While some stores sell used gear, you can also visit ski swaps ; to find one, just do an online search for the name of your town and "ski swap".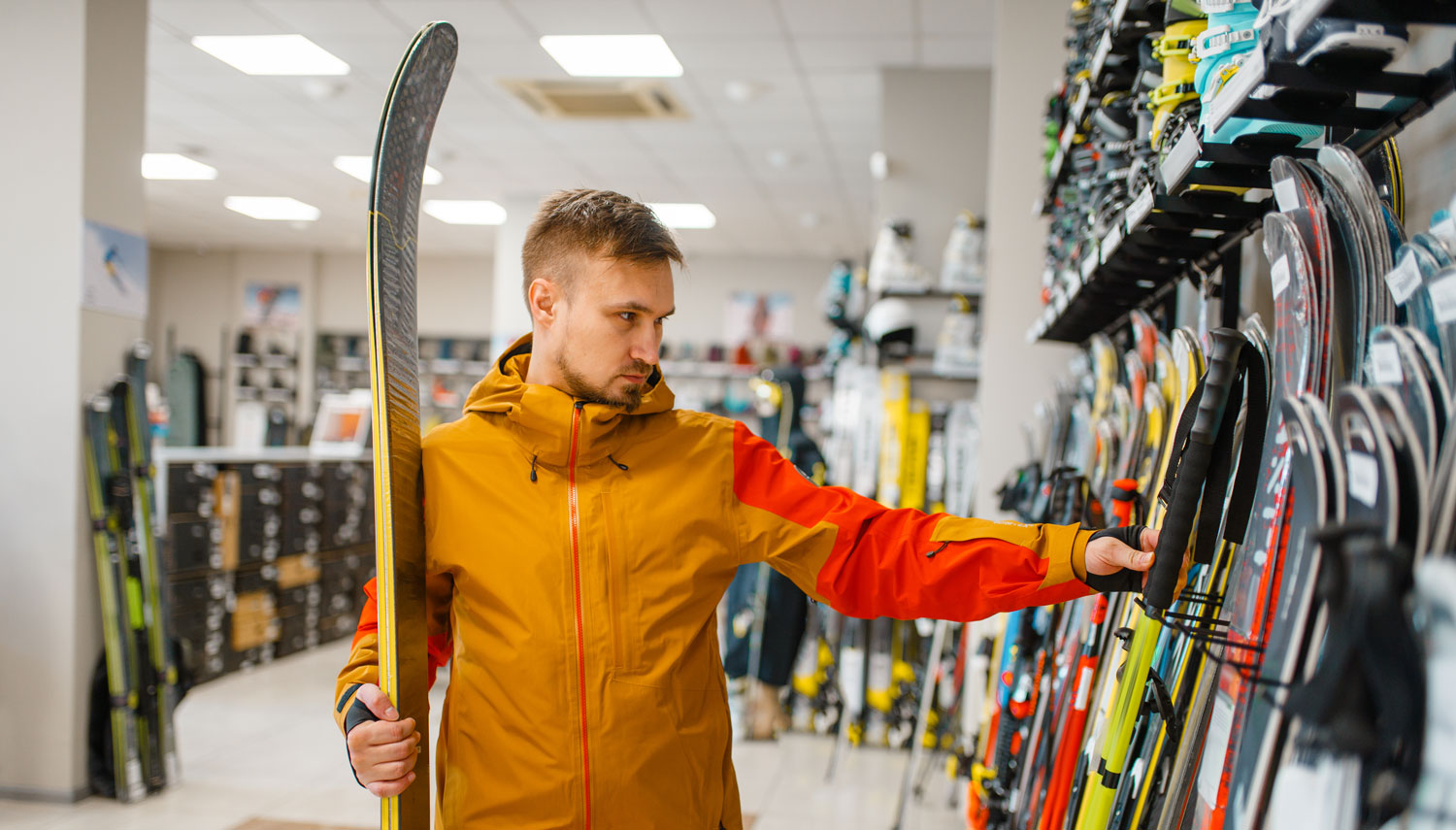 What kind of terrain you ski in?
To buy skis that will be the most useful to you, you'll need to consider where you ski most often and what kind of terrain you like (like park skiing vs. freeskiing). Most snow conditions call for different types of skis; you'll want very wide "fat" skis for Colorado 's powdery conditions to help you stay on top of the snow. Conversely, you'll want thinner skis with more edge control if you mostly ski in the Northeast. While conditions vary based on snowfall, of course, you should buy a pair of skis that suited to the most common type of snow for where you ski.
You should also consider the type of skiing you do. If you plan to race, you'll want shorter and stiffer skis for making stable, quick turns. If you spend most of your time hitting rails in the terrain park, you'll also want a slightly shorter ski, but you'll need it to be on the flexible side so it's easier to jump on and off features. And if you plan on saving all your energy for powder days when you're choosing your own line down the mountain, you'll want a pretty long, and most likely rockered pair, with the front and back tips pointed up to help you stay on top of the snow. The other option is a cambered ski, which gives you more edge control but doesn't float as easily on powder.
However, most people's first pair of skis will be an all-mountain ski, which falls somewhere in the middle in terms of length, flexibility, width and shape. While an all-mountain ski won't be as good as a ski suited for the particular type of terrain you're in, they're the best bet if you need one pair of skis that you can take into nearly any conditions. Keep in mind that there's a lot of variety in what kinds of skis brands call "all-mountain;" one brand's all-mountain ski will not feel the same as another's. Consider the individual specifications of the ski like flexibility, length, turn radius, width and more. Do your research on each ski you like rather than assuming anything that says "all mountain" will be the ideal first pair.
What do your friends like?
No, I'm not saying you should necessarily buy what your friends have. But if you have a crew you usually ski with, it's a good idea to ask their opinions, especially if they ski more often than you. They'll have personal experiences they can share about the process of buying their first pair of skis, what stores they recommend, and what gear has performed well for them. They might even let you borrow their setup before you buy to see if you like it.
But remember that the "best" gear differs for each person. "Buy something you are going to have fun on," advised Colorado-based RMU Skis founder Mike Waesche, "not exactly what all the best skiers you know are skiing."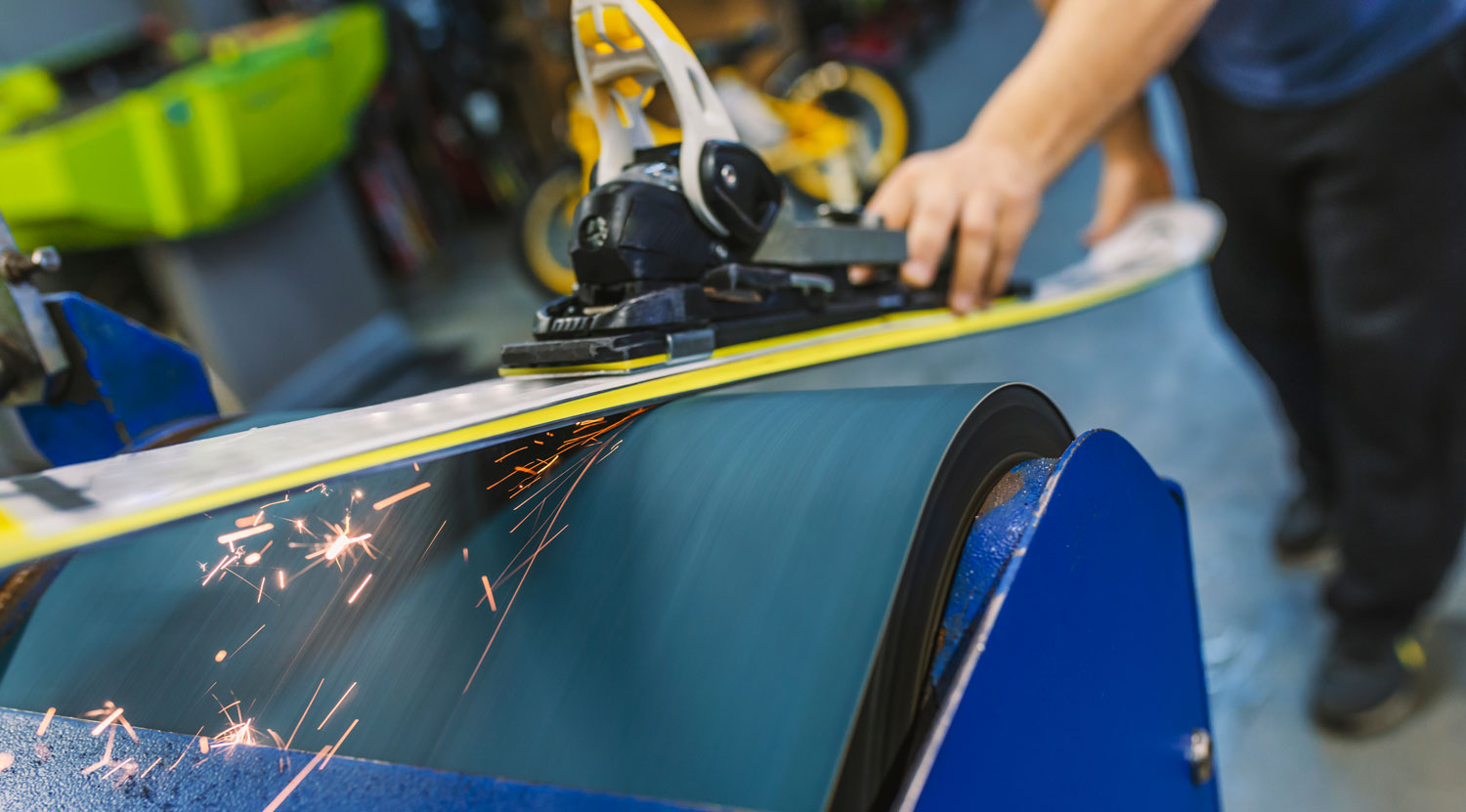 Do some research
Do some research online, but also be sure to stop by your local ski store to talk to an expert. Store associates know that buying skis is a big purchase and completely understand when you come in to ask questions and learn more; they usually aren't going to expect you to make a purchase on the spot.
Equally important is the fact that most people who work in ski shops love skiing and will be happy to share their recommendations and opinions on different features and styles. This is also your time to look at skis with an expert who can help you determine proper length ski to buy (usually about as tall as your chin, for a beginner) and show you examples of what it means to have a stiff or flexible ski. Do not just buy a pair of skis online – you need to feel and see them in person with an expert who can assist you.