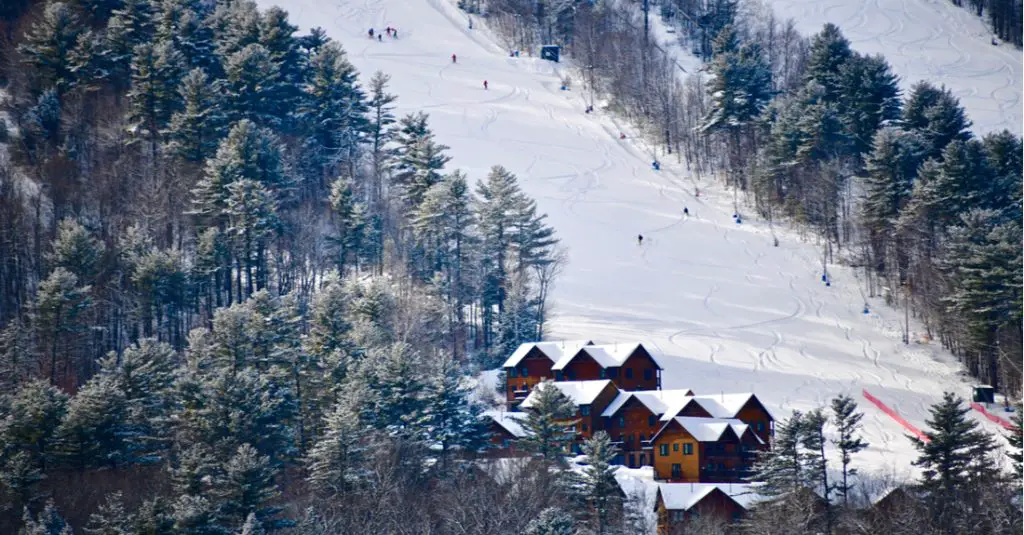 (Credit: Thomas J. McLaughlin/Shutterstock)
Surfing the snow is a great way to brave the New England winter and get some fresh air and exercise. Skiers will tell you that there's no better feeling than gliding down a slope where the only sound is the crunch of snow under your gear.
If you've ever wanted to learn how to stop making that wedge-shaped pizza slice with your skis and become a mountain regular, these are the best places to do it in New England.
Suicide Six
Pomfret, Vermont
This Vermont ski resort has one of the oldest continually operating ski schools in the entire country. They offer a variety of unique ski lessons and packages, including Women Only Workshops and a Teach Your Honey How To Ski Package every year for Valentine's Day. They also have a six-week Kid Ski program, as well as private and semi-private lessons.
Suicide Six is part of the historic Woodstock Inn & Resort , where guests get free shuttle rides to the mountain. Don't skip out on the Inn's cheese fondue after a long day on the slopes.
Jiminy Peak
Hancock, Massachusetts
Located in the beautiful Berkshires, this 45-trail mountain has several options for those looking to learn the sport. There are multiple Terrain-Based Learning opportunities for all ages and skill levels .
KidsRule is a full-day of learning the ropes with an instructor (including lunch and two hot chocolate breaks). For those with disabilities, Jiminy Peak has partnered with STRIDEAdaptive Sports to create one-on-one adaptive lessons.
Shawnee Peak
Bridgton, Maine
An hour outside of Portland, Maine, Shawnee Peak has 40 trails with 25 percent of them designed for beginners.
Children ages 4 to 6 can get a two-hour lesson with a maximum of six in a group for $99. Skiers ages 7 to 12 can choose between a full-day and half-day group session with no more than eight other skiers. Those older than 13 can select a two-hour group or private lesson based on your level of ability.
Wachusett Mountain
Princeton, Massachusetts
Just over an hour west of Boston, this 26-trail mountain has a large bunny slope with a carpet lift for first-timers. There are ski schools for kids of different ages, including the Polar Kids (ages 4 to 8) and the Arctic Aces (ages 9 to 12).
For those 16 and older, Wachusett Mountain offers the region's first HEADway Teaching Program. This all-day total immersion program guarantees immediate results in one day for skiers learning at a faster pace. There is also a Ladies Day Out for sessions with women by women.
Pats Peak
Henniker, New Hampshire
One of New Hampshire's smaller mountains, this 26-trail ski area markets itself as "the premier teaching mountain in New Hampshire". There are more than 300 instructors to teach nine levels of classes using top-quality gear.
One of the best deals on the mountain is for beginners over the age of 18. Pats Peak 's Passport Program PLUS includes four Skier Starter Special Packages on four separate days. On the final day, you get a free unlimited season pass, free Elan skis with bindings and ski shop discounts. If you still need more training, you also get 50 percent off additional group lessons.