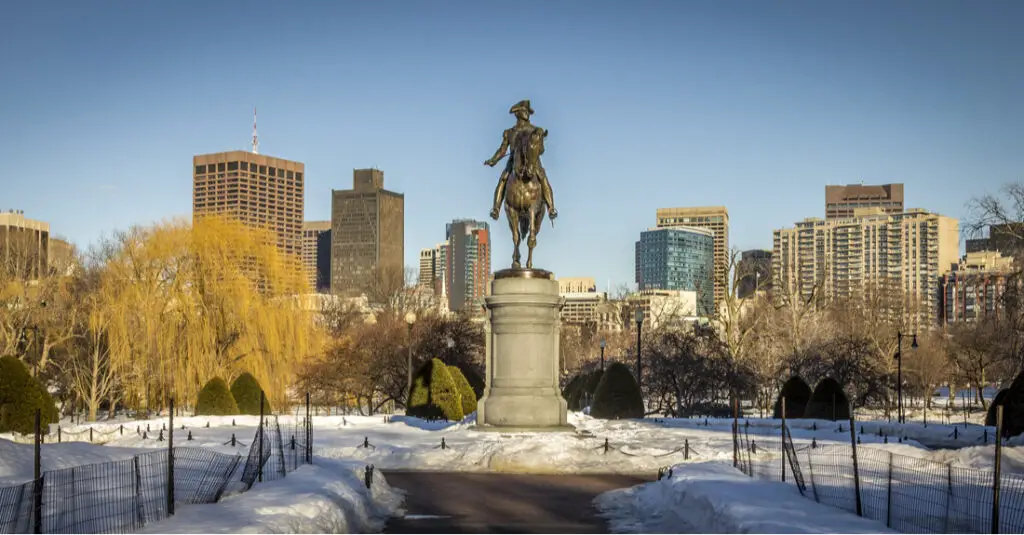 (Credit: Marcio Jose Bastos Silva/Shutterstock)
Those who only think of Boston as a coastal, seafaring city might be surprised to learn that Beantown is about as close to skiing as any major city in North America. But powder hounds will discover that skiing day trips from Boston are easy to plan. With the nearest slopes just 20 minutes away, Bostonians can easily ski in the morning and be home in time for lunch. To help you plan, we rounded up ideas for great skiing day trips from Boston.
Access is easy too, with numerous outfitters running ski buses from Boston to nearby resorts. For schedules and info, check out Boston Ski + Sports Club, BRS Transportation, Urban Sherpa Travel and the Massachusetts Bay Transportation Authority, which operates a ski train to Wachusett Mountain on weekends and Wednesday afternoons.
Blue Hills Ski Area
Just 17 miles from downtown Boston in Canton, Massachusetts, Blue Hills is where countless Bostonians have learned to ski since the first slopes were cut in 1935. This laid-back, family-friendly resort features 16 trails, 60 skiable acres, four lifts, a terrain park and a 309-foot vertical drop. A number of trails are lit up for night skiing, and the lifts run until 9pm on weekdays and 8pm on weekends, making it easy to hit the slopes regardless of your work schedule.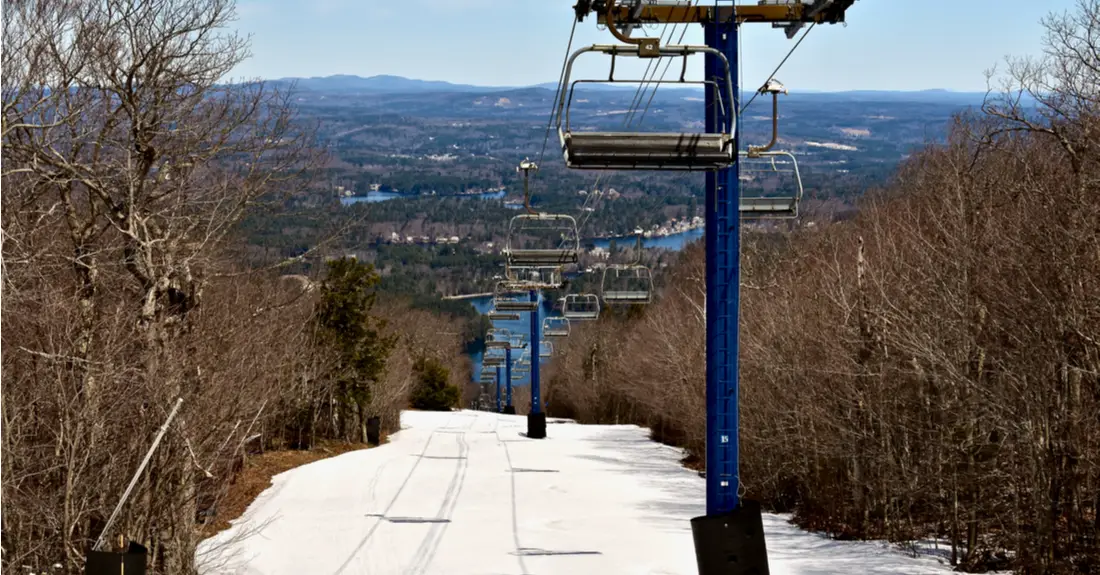 Wachusett Mountain
The tallest peak in Massachusetts east of the Connecticut River, Wachusett Mountain has the feel of a Vermont ski area. But it is just over an hour from downtown Boston in Princeton, Massachusetts. Accessible by the MBTA Ski Train, Wachusett has a 1,000-foot vertical drop, 114 skiable acres, eight lifts and 29 trails for all levels of skier. Snowmaking covers 100% of the terrain, ensuring solid coverage throughout the winter. And the fully-lit trails are open until 10pm every night but New Year's Eve, when you can ski until midnight.
Yawgoo Valley
Open Wednesday through Saturday and boasting 36 acres of mostly gentle terrain, Yawgoo Valley sits less than an hour and a half from downtown Boston in Exeter, Rhode Island. Yawgoo is open for night skiing and has 100% snowmaking coverage. But the resort's real claim to fame is being the only ski area in Rhode Island. If your goal is to ski in every state that has a ski area, Yawgoo is a must.
Crotched Mountain
Located just an hour and a half away near the town of Bennington, Crotched Mountain is the second-closest New Hampshire mountain to Boston (after Manchester's tiny McIntyre Ski Area). The resort has 100 acres of skiable terrain, but it feels much bigger, with a 1,000-foot vertical drop, 25 trails and four terrain parks. Snowmaking and lighting cover 100% of the terrain, ensuring good coverage and allowing for night skiing.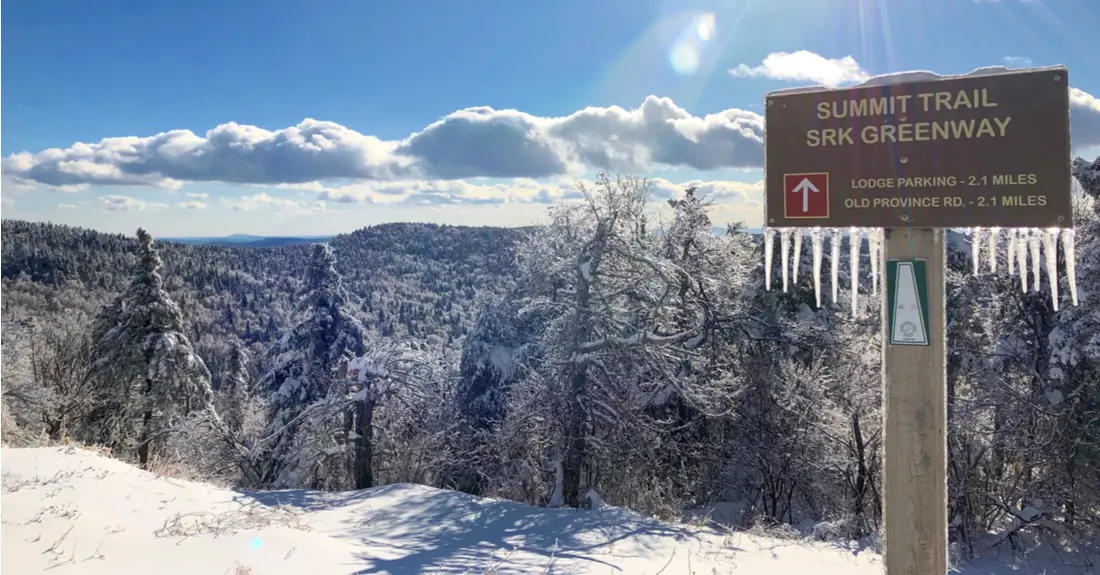 Mount Sunapee
Boasting the largest vertical drop in southern New Hampshire at 1,510 feet, Mount Sunapee, in Newbury, is the largest ski area within two hours of Boston. Owned by Vail Resorts and skiable on the Epic Pass, Sunapee has nine lifts, four terrain parks and 233 skiable acres. The resort's 67 trails are best suited for beginner and intermediate skiers. Snowmaking covers 97% of the terrain, and the mountain offers great views of nearby Lake Sunapee.
Pats Peak
An hour and a half from Boston in Henniker, New Hampshire, Pats Peak is a classic mom-and-pop operation. It has been owned by the same family since it opened in 1963. The resort's 770 vertical feet and 28 trails feature some of the longest and steepest pitches in southern New Hampshire. But there are also three separate beginner areas with their own lifts for those who are new to the sport. With 100% snowmaking coverage, Pats can virtually guarantee excellent coverage. And the area's three terrain parks cater to skiers and riders of all abilities.
Gunstock Mountain Resort
Overlooking the largest lake in New Hampshire in Gilford, Gunstock serves up big views along its slopes. Less than two hours from Boston, Gunstock features a 1,340-foot vertical drop, six lifts, 227 skiable acres and 48 trails, 21 of which are open for night skiing. The resort also has 22 acres of terrain parks, with features for all levels of skiers and riders.