Itching to get in a few more runs before you stow your gear? The Pacific Northwest receives some of the heaviest snowfall in the United States. As the Gulf of Alaska creates storms, the Jet Stream track generally favors the Pacific Northwest, so intensified storms generally run right into Oregon and Washington. This means there will be plenty of powder well into March and April. 
Conveniently located within a short drive of some of the best ski resorts, the major metropolitan areas of Seattle and Portland just happen to be in the exact right spot to consistently get nailed by those big Alaskan storms. Here skiing extends well into the spring and since the area is not particularly heavy on tourists, you will be surprised at how economical lift tickets are.
Here's our pick of the best late season skiing in the Northwest, with fun spring events, minimal to no lift lines, longer bluebird days, closer to the lifts parking and special deals on ticket prices.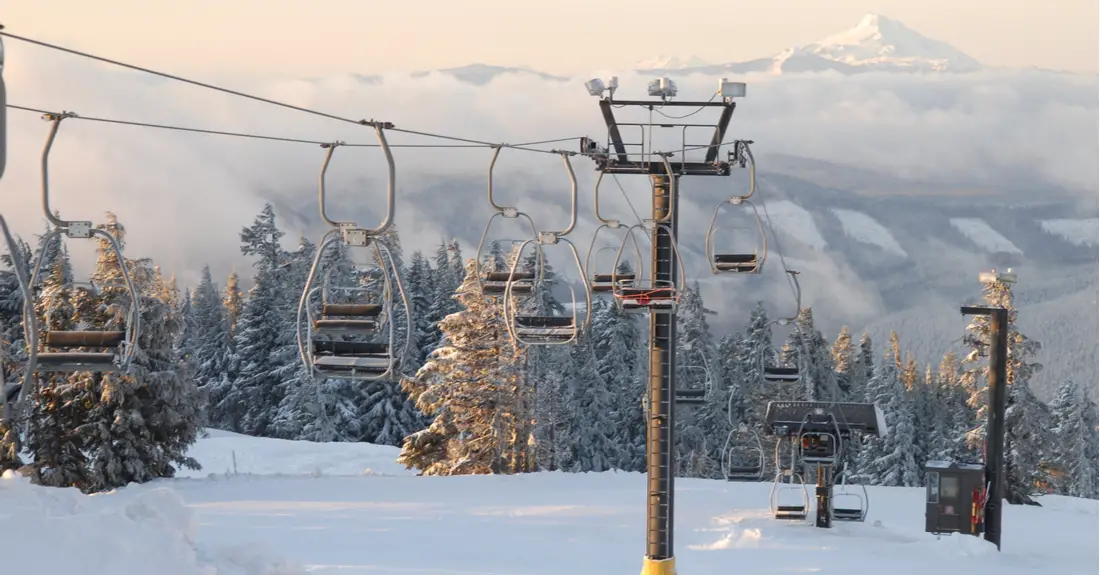 Timberline Ski Area
Government Camp, Oregon (3,690 vertical feet) 
Mt. Hood, just east of Portland, is Oregon's tallest peak, boasting a triplet of diverse resorts and the only ski area in North America open all 12 months of the year. With its lifts running all year, Timberline draws professional athletes and gear testers from around the world. Timberline's 41 runs, 1,415 acres of terrain and freestyle terrain park offer tons of vertical inspiration, its Palmer lift reaching high enough to keep shredders on snow throughout the spring.
Fans of long runs should hit the slopes from Timberline's classic 55,000-sq-ft lodge. Constructed in 1937 and designated a National Historic Landmark in 1977, Timberline Lodge is the only ski-in, ski-out resort in Oregon. 
The resort sells discounted spring passes, as well as spring lodging specials. Look out for scenic snowcat rides, moonlight snowshoe tours and concerts.
Mt. Hood Meadows
Parkdale, Oregon (2,777 vertical feet) 
Near Timberline, Mt. Hood Meadows features 2,150 acres of terrain and 85 runs with a lift-served elevation of 7,300 feet on the wind-protected south-east side of the mountain. With an average of 430 inches of fresh powder per year, you can shred an array of steeps, chutes, winding groomers and a three-mile-long run, served by six high-speed quads.
 Gated access allows anyone with backcountry savvy a shot at the pulse-pounding cliffs, gullies and glades in Mt. Hood's Heather Canyon, Clark Canyon and Private Reserve areas. 
A packed spring events calendar invites guests to hit the swimsuit clad Suits & Boots Party (April 18), Mazot Fest slalom course (April 4) and sample craft beers at the Spring Brew Fest (March 21).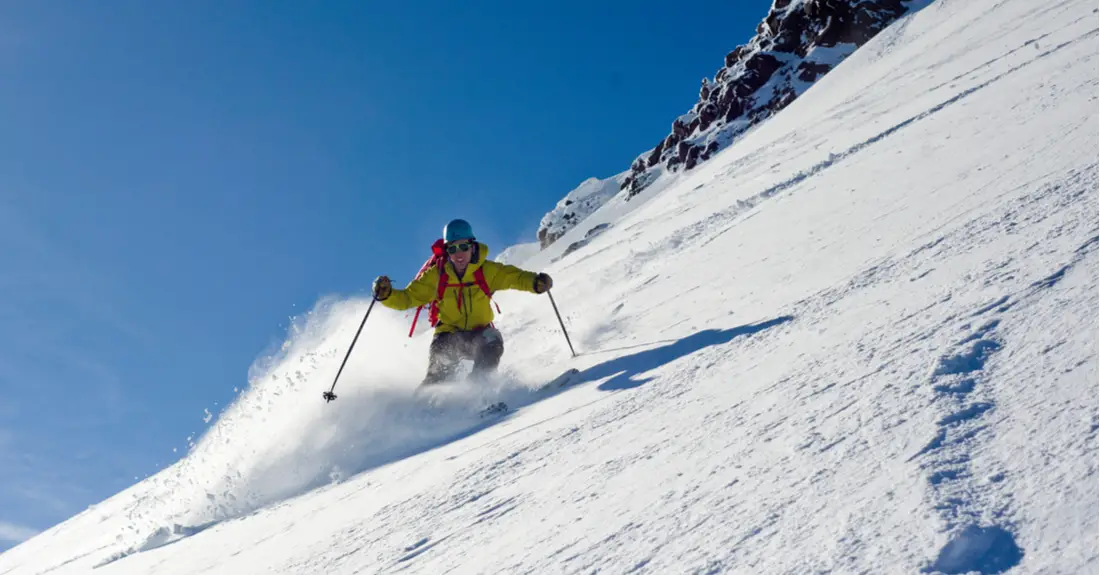 Mount Hood Skibowl
Government Camp, Oregon (1,500 vertical feet) 
The third of Mt Hood's resorts, Skibowl's outstanding mid-sized, 60-run ski area caters to a diverse crowd with the state's most abundant collection of black diamond runs, home to the nation's largest night skiing operation and the Northwest's hardcore tubing hotbed. After a few hours on the slopes, drop in to the Warming Hut for a mid-mountain snack. Built on a shelf between the upper and lower bowls, the wood glow of this historic stop-off point is a major draw. 
Spring events include LED-lit Cosmic night tubing, a Wy'Easter Ski Mountaineering Race (March 8) and an annual Snow Beach Festival (March 21) with live DJ, legendary pond skimming, hot dog and pie eating contests, plus a taste of the Pacific Northwest's finest brews at the Suds on the Slopes beer garden. 
An Unlimited Spring Pass allows you to ski or ride any time the lifts are running, day or night, until the end of the ski season. 
Mount Bachelor
Bend, Oregon (3,365 vertical feet) 
Because the Nordic ski trails here sit at about 6,000 feet above sea level, Mount Bachelor enjoys the longest groomed Nordic season in North America. Surrounded by the soaring hemlocks and pines of the Deschutes National Forest, Bachelor's 4,323 skiable acres has 101 runs and eleven lifts, including seven high-speed quads, opening up 35 miles of trails. Take the high-speed Summit Express chairlift, enjoy full circle views and scope your line from the pristine summit down the front of the mountain to the lodges via wide bowls and tree-lined swaths, or around the back through powder snowfields. 
Starting Saturday, March 28 the Sunchaser Spring Pass offers up to 58 days of skiing or snowboarding, paying for itself after just three visits. Sunchaser Spring Single day lift tickets are offered at a reduced rate starting April 27. A robust lineup of springtime events include the Hella Big Air Competition (March 28), Winterfest (April 3), annual Gerry Lopez Big Wave Challenge (May 8), snowmobile drag racing, dog sledding, skijoring, pond skimming, a beer fest and plenty of live music.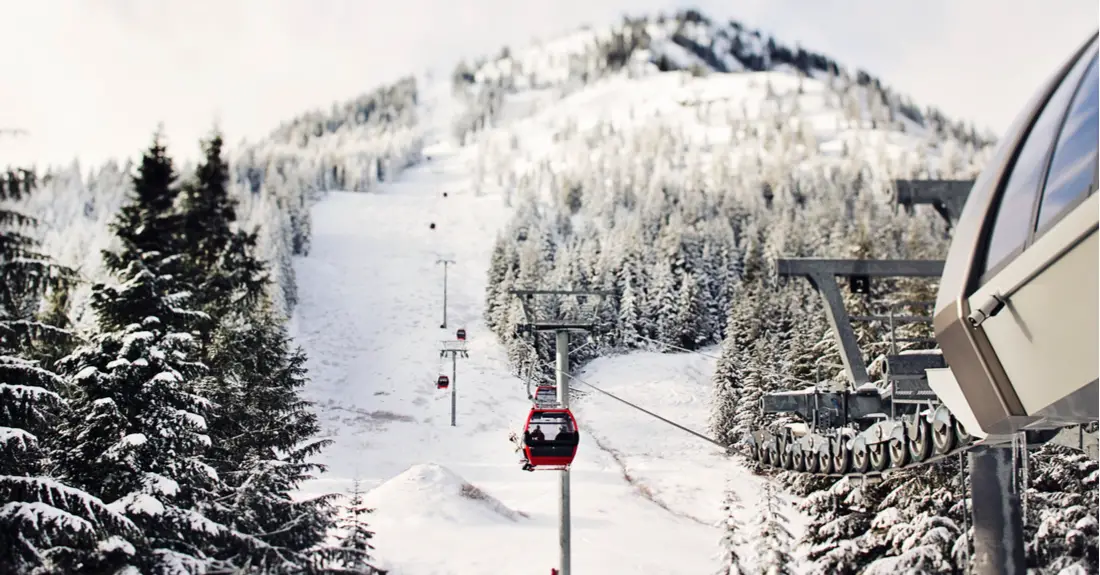 Crystal Mountain
Crystal Mountain, Washington (3,100 vertical feet) 
Less than a two-hour drive from Seattle, Crystal Mountain Resort lies on the sunny side of Mt. Rainier. Washington's largest ski resort, with great on- and off-piste skiing, boasts 2,600 acres of terrain suited to every ability – from beginner runs to gnarly Alaska-styled terrain. Steep and pocketed with rocks and trees, some 57 runs offer multiple ways to ski from the peak of the gondola all the way down to the mountain base. Expect a sublime selection of bowls, moguls, groomers, chutes and glades.
With an average 486 inches of snow each year, Crystal Mountain is especially primed for skiers between February and April when the resort has the most snow pack and coverage. Value Season lift tickets are offered at reduced rates March 23rd through April 12th.
Springtime on the slopes brings Mardi Gras on the Mountain (March 6), a Spring Carnival (March 13), Kayak on the Snow Race (March 21) and Reto Day (March 28).  
Mission Ridge
Wenatchee, Washington (2,250 vertical feet) 
Tucked into the basin on the eastern side of the Cascade Mountains, Mission Ridge's 2,000 sprawling, sun-filled acres and 36 runs offer up shred-worthy terrain for intermediate and advanced riders (the majority of trails are wide, fast blues). For beginners there are spacious and gentle groomers.  
The resort gets its name from a B-24 Liberator Bomber that crashed here. In late September of 1944, the B-24 was conducting a night training mission out of Walla Walla Army Air Base and, unfortunately, veered off course during a storm. Remains of the crew and wreckage were recovered, but the bulk of the bomber was left on the mountain. You'll find a memorial to the bomber crew and a section of the wing displayed on the slopes. Legend has it that rubbing the wing brings snow to the resort. 
A low cost Spring Break Bonus Day and Bomber Banked Slalom snowboard race (March 14) add to the fun. Look out for the low cost Spring Pass, as it lets you ski every day for the remainder of the season.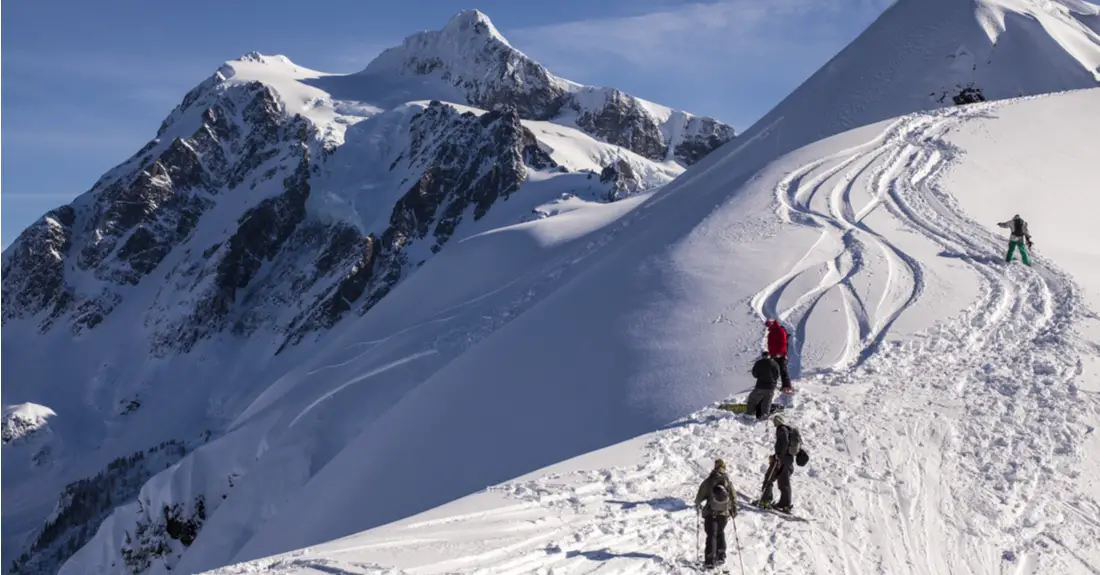 Mount Baker
Bellingham, Washington (1,588 vertical feet) 
Open through April (and possibly longer), Mount Baker's legendary snowfalls dump more than 600 inches each year, while its awesome steeps, chutes and backcountry terrain are hard to beat. 
Located just east of the quintessential college town of Bellingham, Mount Baker has just one way in and out: a two lane highway snaking through idyllic countryside along the Nooksack River before winding its way up to Artist Point at 5100 feet. Low-key, small but sweet, with just 1,000 skiable acres and 10 lifts, Mount Baker and its terrain may be mostly below the treeline, but it is mega challenging. 
For spring adventure, scout for 6,000 eggs hidden on the slopes at the Golden Egg Hunt (April 11), there is a head-to-head moguls contest and retro costume contest at Retroactive Day (April 18) plus special deals and events during Family Week.